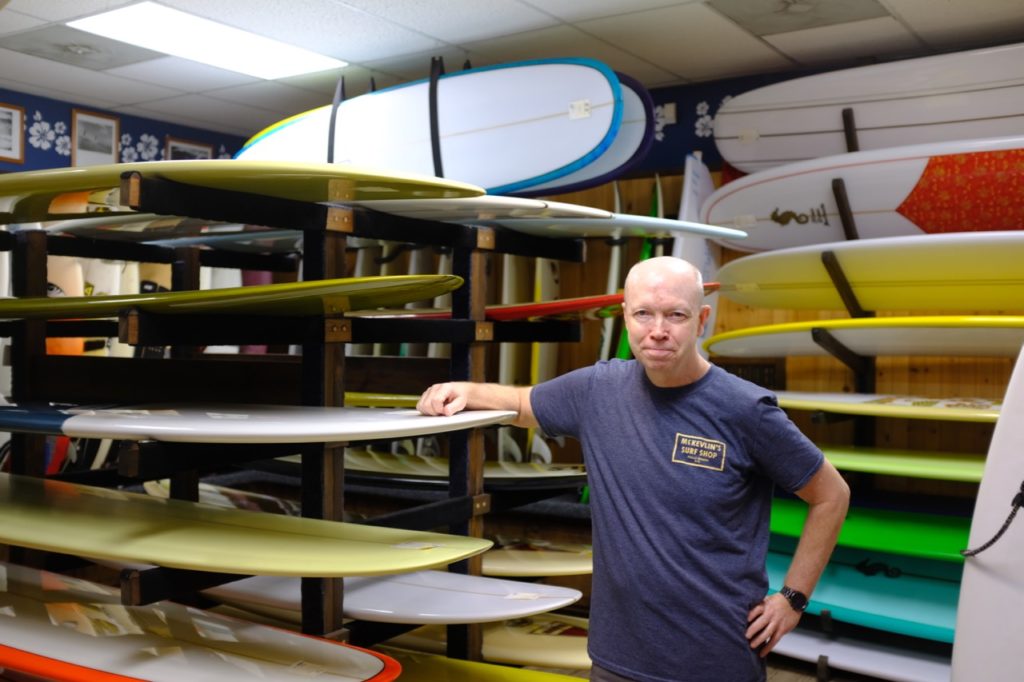 Tim McKevlin, owner of McKevlin's Surf Shop in Folly Beach, South Carolina - Photo by Chris Muldrow for SES
McKevlin's Surf Shop's Winning, Rebellious, Retail Formula – SES Podcast
McKevlin's Surf Shop's Winning, Rebellious, Retail Formula – SES Podcast
I finally got a chance to talk in depth with Tim McKevlin, the owner of McKevlin's Surf Shop in Folly Beach, South Carolina.
I've been charmed for years by the shop's newsletter, which combines old school rebellion against corporate takeover of the surf industry with hometown charm.
Tim has a very distinct philosophy that he sticks to – he does not carry any of the big apparel brands that overdistribute and he sells only hand shaped boards rather than mass-produced ones.
His formula also includes a huge private label program, and the store stocks smaller brands that don't sell to everyone.
The formula seems to be working – McKevlin's is having its best year ever. And that's on top of the best year ever last year.
I was stunned to hear about some of the brands that are selling well in tiny Folly Beach, including fashion forward ones like The Critical Slide Society and Vuori.
We talk to Tim about all that and more, including why he thinks his store is outperforming general retail trends.
More podcasts
See more podcasts…