Birdwell CEO Talks Strategy for the Fast-Growing Legacy Brand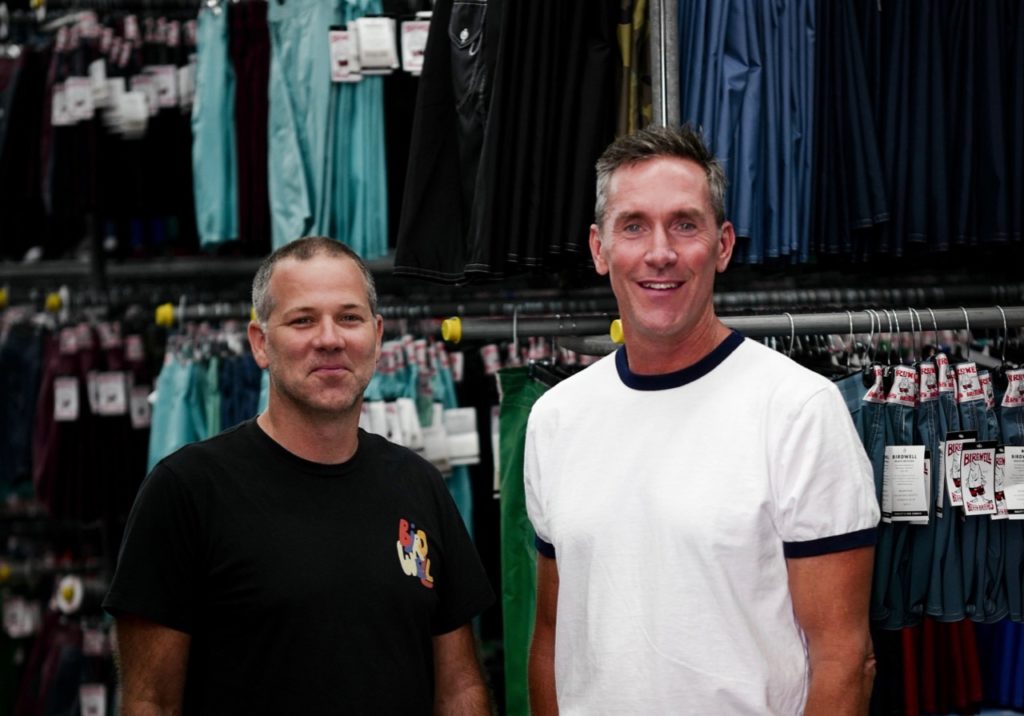 CEO Geoff Clawson and President and Co-COO Brett Reynolds - Photo courtesy of Birdwell
It may be the perfect formula for building a heritage brand in the modern world.
Take a group of investors with deep pockets, a passion for surfing and unsurpassed digital expertise from their years working at Facebook and Instagram. Add a classic and authentic, yet dormant, brand with a rich heritage that has not been sullied by bad distribution deals, either domestically or internationally.
Mix those two together and you get the current state of Birdwell Beach Britches, which has morphed into a mostly direct-to-consumer business.
Majority owner Matt Jacobson was the eighth employee at Facebook, and still works there as Head of Market and Culture Development. He is such a bigwig in Hollywood and Silicon Valley, the New York Times wrote a profile about him and how he dresses.
Jacobson, who ran Quiksilver Entertainment with Danny Kwock before joining Facebook, tapped a group of friends to buy Birdwell in 2014, including current Birdwell CEO Geoff Clawson, also a Facebook and Instagram alumnus.
Jacobson, who loved Birdwell as a kid, bought the brand from the Birdwell family, which was still servicing a handful of wholesale accounts and lifeguard programs. However, the brand was mostly dormant, with the company only open for business part of the year.
While the new team has used its vast knowledge of the digital space to focus mostly on the DTC business, Birdwell does sell select wholesale accounts globally, Geoff said. That includes long-time surf shop customers in addition to top tier men's boutiques, which are attracted to Birdwell's authenticity and classic products that are made in the U.S.A.
"I'm proud to say we have about 55 or 60 wholesale accounts around the world, some of which have been buying Birdwell for 50 years," Geoff said. "That includes lifeguard teams from around the U.S. that have been wearing Birdwell for 40 to 50 years."
Some of Birdwell's biggest wholesale accounts are international, including menswear shop Jinji in Paris, Beams, B-Shop, and Surf & Tailor Moat in Japan, Surf Code in South Korea, and Noosa Longboards in Australia. Birdwell is servicing the international business, both DTC and wholesale, from the U.S.
"It's a luxury we have right now," Geoff said. "We want to keep as much of it in-house and under the same roof for as long as possible. How we show up is crucial for us, and we feel like we are best positioned to manage that from here."
On the product front, the new ownership team is helping Birdwell grow beyond men's boardshorts. They have tapped into the Birdwell archives to bring back updated versions of Birdwell's Competition jacket and corduroy shorts, for example, and expanded for the first time into women's.
The new team sees lots of opportunity in women's – they are having a hard time keeping a women's boardshort with stretch fabric in stock. The newest women's product, the SurfStretch Wrap, a skirt that works as a coverup, is also a hot seller.
Birdwell will move into other categories for both genders that make sense for the coastal lifestyle, such as shorts, T's, knit tops, fleece and wovens.
Birdwell is looking to keep its classic silhouettes relevant by adding different colors, prints and materials and through collaborations, such as the most recent one with Pilgrim Surf + Supply. Birdwell has also collaborated with J Crew, RVCA and Greg Lauren, the nephew of Ralph Lauren.
A key selling point for Birdwell is that the company makes its products in the U.S. It has its own manufacturing facility in Santa Ana that focuses on boardshorts, in addition to utilizing other apparel manufacturers based in Southern California.
Birdwell also offers a lifetime guarantee on its products with the goal of encouraging customers to "buy less by buying better."
The new strategy appears to be working. While the company declined to provide revenue figures, Geoff said Birdwell has recorded a 100% compounded growth rate since acquisition in 2014.
We spoke with Geoff and President/Co-COO Brett Reynolds about the Birdwell revival and the go-forward strategy. Brett joined Birdwell earlier this year after working as Global Category Director for Men's Footwear at Toms.
How did you both get involved with Birdwell?
Geoff Clawson: I first got involved on the ownership side in 2014 when Matt Jacobson, the majority investor, first acquired the brand from the family. He turned to a group of close friends and industry insiders and asked if they were interested in bringing the brand back and helping it to achieve the fullest expression of itself.
I jumped at the chance, and invested in Birdwell in 2014.
I was working at Facebook and Instagram until 2016. I was at a place at Facebook where I had been there for five years, and it was time for something new. While I had my dream job at Facebook, the opportunity to jump in and run day-to-day operations at Birdwell was just too good to pass up.
Brett Reynolds: I joined the team in January of this year. I have been friends with Matt for more than 25 years. I was at Toms for quite awhile in a great job, but when I saw the opportunity to work for a brand like Birdwell with such a great legacy and rich heritage it was hard to pass up, as was the strategic growth opportunity that Matt and I talked about.
I have to ask you Geoff – did people ever say to you, 'Really? You left Facebook and Instagram to go work at a surf company?'
Geoff Clawson: I heard that question a lot, including from family members. I still really believe in Facebook and their mission. But I grew up surfing in Texas on the Gulf Coast. When I was a kid, all the older surfers, the guys I looked up to, wore Birdwell in the lineup.
I'm an avid surfer, I live in Manhattan Beach for a reason. I viewed it as an opportunity to work at the intersection of personal passion, lifestyle and my professional experience. I had already invested in Birdwell so I had a material interest in growing it and making it successful.
The opportunity to take everything I learned over the past 20-plus years and put it into Birdwell and run the company and bring that vision and leadership to something I was personally invested in – it was a great opportunity and perfect timing.
What is the main way you are marketing the brand?
Geoff Clawson: We focus a lot of our attention and resources on digital marketing where we can measure, optimize and allocate resources accordingly. We believe our core competency is digital and being able to use our Silicon Valley technology and media expertise and apply that to tell the Birdwell story.
That's not to say we don't do other forms of marketing, but those are harder to measure.
What about team riders and sponsored athletes?
Geoff Clawson: We do have good friends we flow products to – they are athletes but I'd hesitate to put them in a category of team riders in the traditional sense. Birdwell's history is not on the competition side of surf, and we followed their lead.
How are you picking the accounts you sell to on the wholesale level? I hear you are being very selective.
Brett Reynolds: The amazing thing the new leadership team has done up to this point is they cleaned up distribution. We are being really strategic about what partners we bring on. We want to work with retailers who are going to partner with us in telling the Birdwell story. We don't want to end up on a boardshorts wall, for example.
We have such a generational brand – we have grandfathers, fathers and sons wearing the brand. We can tell a unique story and we are working with those specialty boutiques, those tier zero, tier one accounts that want to partner with us to tell that story.
Geoff Clawson: I would add that we are manufacturers as well and we are making a big portion of our product, so we have to be thoughtful about how we use our capacity – what we are making and where it goes.
Do you get a lot of requests from wholesale accounts that want to sell Birdwell?
Brett Reynolds: Yes. We are saying no a lot more than we are saying yes. That's intentional; we want to be very thoughtful about our retail accounts. We want to continue to expand globally but we will do it strategically.
Geoff Clawson: A mentor once told me, "The road to success is paved with 'no' as much if not more than 'yes,' " and that's something I think about a lot.
We are flattered by the calls we get on a weekly basis. We want to be out in the world and give people more access to the physical product. But to do it right. … That means we can't do it all. When I worked at Facebook, Sheryl Sandberg had this idea of 'ruthless prioritization,' to keep us focused on our goals and what is important, and that's something we try to use here.
Since you are manufacturing a lot of the product, does that limit your growth?
Geoff Clawson: No, not yet. Luckily we are in Southern California and we have access to some of the best apparel manufacturers in the world. In addition to our factory, we partner with those manufactures here. We think the same way about our manufacturers as we do about wholesale accounts – we look for partnerships. So far, it hasn't been a problem to scale the business.
Other brands say it is impossible to manufacture in the U.S., that it's too expensive. How are you able to do it?
Geoff Clawson: I agree that it is a challenge. But you have to consider the scale. We are not operating on the scale of a Quiksilver or Billabong, and it is not our intention to operate at that scale. We are very focused on producing smaller batches, just-in-time and keeping our inventory very tight and based on demand at any one time.
We are not trying to overbuild it and they will come.
Because we have that approach, we're able to make the U.S. supply chain work very well for us. There may be a time when that isn't true, but it's not now and not in the near term.
As surfers, you have been around the industry for a long time, now you are running a surf brand. What do you think of the current business climate in the industry?
Geoff Clawson: From a customer perspective, I think customers have never been savvier, and they are looking for true differentiation and authenticity. That's created room for smaller brands like Birdwell. We're not the only ones, there are a bunch of smaller brands that have a really interesting point of view on surf and the coastal lifestyle, and that's a net positive.
You know the macro trends better than anybody, you write about it all. The industry seems to be coming out of a pretty long downturn and hangover from the heyday.
What small brands are you referring to?
Geoff Clawson: Brands like our friends at RVCA, which I guess now is not so small, Vissla, Outerknown – we are good friends with John Moore and Kelly and the team there and we think they are doing really interesting stuff. Vuori, which touches on the surf market, Salty Crew. And when I say small, I mean small relative to the behemoths of the industry, I don't mean that in a disparaging way.
An advantage you have is that direct piece. A lot of smaller brands in the industry can't break into surf shops the way they need to because the big guys block them out. It's hindering their growth.
Geoff Clawson: I think it's hard whether it's the direct route, which is fiendishly complicated and constantly changing, or wholesale, which is also hard to grow through because of the relationship and purchasing power the big brands have. So it continues to be difficult no matter the channel.
But I believe there should be a high bar to bringing a brand to the market and having it catch on. Everyone should have to earn their place in the market with the value of your product and the story behind it whether you are big or small.
Where is all this going? You have investors and I'm guessing they want their money back someday?
Geoff Clawson: We want to keep growing and introduce the brand to more people. From a product standpoint, we want add categories that make sense, that are rooted in the Southern California coastal lifestyle and that are built for the lifestyle we are privileged enough to be living.
We see a long runway for growth of the brand, and the return that will generate for the ownership team regardless of the mechanism of that return. We are not at the point of contemplating option A vs. option B vs. option C. We are really focused on Birdwell being the truest expression of the brand it can be and continuing to grow the business.
When Matt reached out to the initial group of investors, all of them were evaluated through the filter of 'Do you believe in the power of the brand and the team's ability to grow the business in whatever timeline that means?'
I believe there are not that many opportunities like Birdwell in the marketplace.
We are very appreciative of what we have and we are not in a hurry. We will do it the right way.
We view ourselves as stewards of the brand, and Matt said that to the family. It's their family name and we take that seriously.