SurfAid Cup Surf Ranch Surpasses 200K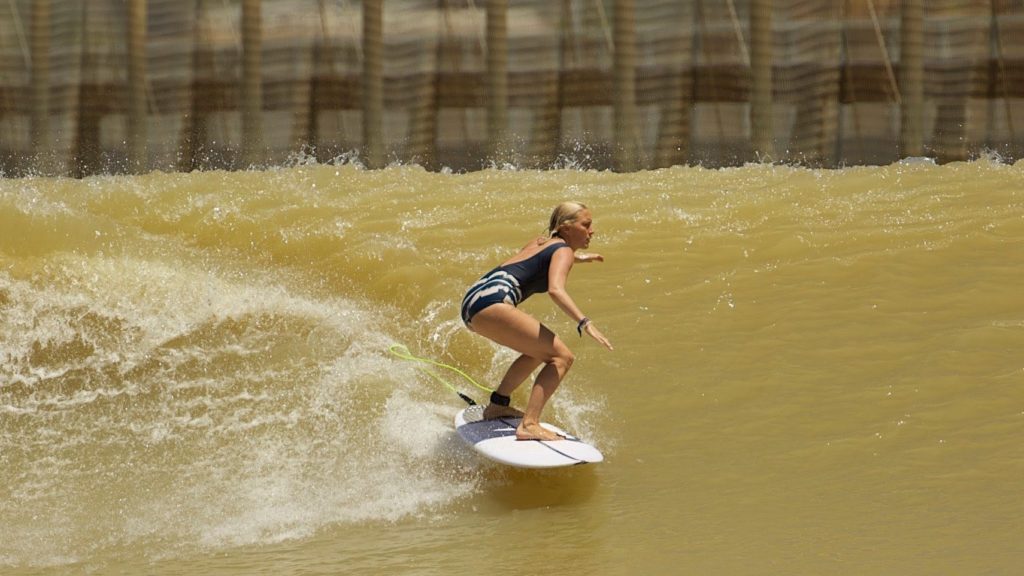 Maggie Gonzalez winner of the SurfAid Stoke Award
Photo: Jerry Jaramillo
"No swell on the horizon, but the forecast looks amazing!" These were the words that launched the record breaking SurfAid Cup at the world famous Surf Ranch in Lemoore, CA on Friday, June 21. Held in partnership with World Surf League (WSL) and Firewire Surfboards, 39 surfers from across the globe worked together to raise an astonishing $217,000 for SurfAid's Mother and Child Health Programs, turning one day of surfing into a lifetime of opportunity for SurfAid partner communities.
Funds from the sold-out event will ensure access to clean water & sanitation, basic healthcare, and improved nutrition in some of the world's most remote locations that are close to places we love to surf. Competitors were treated to a once in a lifetime surf session that included perfect walls to rip apart or the fastest, deepest barrels you can imagine. This surf for SurfAid charity day included recognition for top performance categories both in and out of the water with top fundraisers recognized as well as the top surfers.
Australia's Nick Brown took home the award for Best Barrel along with his teammate's recognition of SurfAid's Triple Crown, for competing in three SurfAid events across the globe in the past three months. The SurfAid Stoke award went to Maggie Gonzalez in recognition of the best female surf session. Maggie had this to say about the event, "I am proud to represent SurfAid as a female surfer. We got to surf some of the best waves of our lives all in the name of a great cause! It was incredible to experience, and it was an honor to be a part of such a special day!"
The day's top honors went to Firewire Surfboards CEO Mark Price for Best Overall Performance and President of SBMT Family Trust Dan Trunk for winning the Fundraising Cup. Dan secured his win thanks to an impressive $30,000 contribution to SurfAid. "At SBMT we look for charities that ensure the money gets where it needs to be, and the results have the largest impact. We've been supporting SurfAid for many years which is outside of our standard giving principles of a max of 2-3 years. Our board is in full agreement that SurfAid is the best charity to get the money where it's needed and years later, we are still amazed at the logistics that go into implementing SurfAid's work in remote communities."
SurfAid Founder, Dr. Dave Jenkins, provided the official welcome and presented trophies to all the honorees. The surf stoke was at an all-time high and Dr. Dave had this to say about the event, "Funds raised through the SurfAid Cup directly translate to transformational change in our communities. SurfAid's hand up, not a hand out, philosophy is built to ensure lasting sustainability in our communities. Days like today show that surfers can make a real difference and save the lives of mums and babies in places they love to surf."
Event hospitality partners included Wahoo's Fish Tacos and Samabazon, with additional support from Sticky Bumps Wax and Accessories, WSL WaveCo., Surfline and The Inertia. Event media provided by Transparentsea Media, Dave "Nelly" Nelson, Chris Chandler, and Jerry Jaramillo.
Winning Lineup:
Best Overall Performance – Mark Price (CA)
Fundraising Cup – Dan Trunk (FL)
Best Barrel – Nick Brown (AU)
Best Left – Jason Boone (AU)
Best Right – Phil Potloff (CA)
Best Poached Wave – Ryan Carr (AU)
Best Wipeout – Mark Nelson (CA)
SurfAid Stoke Award – Maggie Gonzalez (US/DU)
Wildcard Award – Turner Harmon (CA)
SurfAid Triple Crown – John Botella, Jason Boone, Ryan Carr, Nick Brown, Mark Mossop (AU)
About SurfAid:
SurfAid's core mission is to save the lives of women and children in remote areas connected to us by surfing.We specialize in working in very isolated villages where the maternal and child mortality rate is extremely high.
Many in our communities suffer from preventable causes. SurfAid implements a "hand up, not a hand out" philosophy toward aid. Local staff provides advice, training, and expertise, but it is up to the community to implement and embrace change. We educate communities on simple things like washing hands before delivering a baby, sleeping under a mosquito net, exclusive breastfeeding, and improved nutrition. All of which have enormous positive impacts on the health of women and their families.
In Nias Indonesia, working with a population of 10,000, SurfAid has helped to reduce maternal deaths from 8 annually to zero for two years in a row. During the same timeframe, the mortality rate for children under five has all but disappeared with only one death reported last year. That is down from an average of 22 per year at the start of the program in 2012.In the past 18 years, in addition to building award winning health programs, SurfAid has helped communities re-build their lives after five major natural disasters – earthquakes and tsunamis in the area.
About WSL WaveCo powered by Kelly Slater Wave Technology:
WSL WaveCo (WC) is an innovative wave technology company. WC is the first company to develop a formula that combines cutting edge science, engineering and design to create the longest, open-barrel, high-performance wave in existence. The wave system can mimic the power, speed and experience found in the best ocean waves. As envisioned by 11-time world champion Kelly Slater, WC was created to evolve the sport of surfing by making it more accessible. The company is creating world-class, high-performance training centers where top athletes can perfect their talent. In addition, the company is looking at development applications for surfers of any level to enjoy the best man-made waves.
For more information, check out WorldSurfLeague.com and KSWaveCo.com