Team USA Gears Up for ISA World Longboard Surfing Championship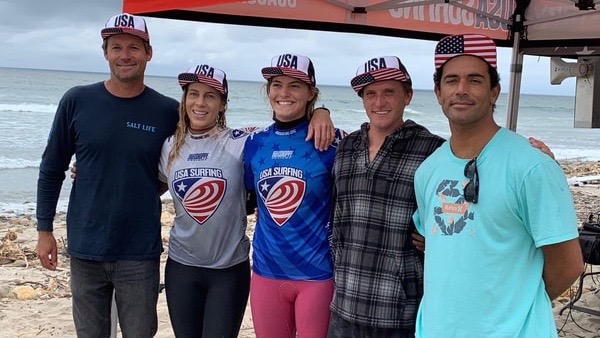 The new 2019 Team USA longboard team is preparing for the International Surfing Association (ISA) World Longboard Surfing Championship, which will be held in Biarritz, France May 26 – June 2. Three-time world champion and returning coach Colin McPhillips says the team is aiming to build on 2018's gold-medal performances.
Team members include Hawaii's Kai Sallas and California's Cole Robbins for men and California's Soleil Errico and Lindsay Steinreide for women. Sallas won gold in the 2018 ISA WLSC. Errico was crowned the WSL's World Longboard Women's Champion.
"I'm really excited heading into the 2019 Championships," coach McPhillips said. "Biarritz is an excellent longboard spot and I'm really looking forward to seeing our stellar men and women show their stuff. I've competed there a bunch, so feel I will have some good insights for our team! We will be up against some of the best surfers in the world, but I'm extremely confident we will all be returning home with sweet gold!"
The team was selected following a trial event at San Onofre State Park's Church Beach. Participants included all of the 2018 WSL World Longboard Championship surfers and 2018 ISA World Longboard Championship surfers from the mainland USA and Hawaii. The 2019 ISA WLSC is a Pan American Games qualifier so USA and Hawaii will surf as Team USA teammates (previously they surfed under separate flags).
In 2019, the WLSC will feature a gender equal format for the second consecutive year. Each team will be able to field up to two men and two women, once more highlighting the ISA's commitment to promote gender equality across its entire championship series.
Côte des Basques in Biarritz has played a historic role in the development of surfing in France – as well as Europe as a whole. Considered the birthplace of European Surfing in 1957, the long, gentle waves of Côte des Basques have made it an iconic spot for longboard surfing and it has hosted numerous global longboard competitions throughout the years.
A full panel of WSL/ISA certified judges oversaw the trial event, including the top WSL North America Priority Judge. Round one heats were seeded by WSL Ratings and round two heats were seeded based on round one results. Surfers then took their top two scores from rounds one and two and the top surfers moved on to the final. The top two men and women from the finals made the team.
Team USA has a strong track record. At the 2018 WLSC, USA's Tory Gilkerson led Team USA to the gold medal position, and in doing so earned personal World Champion honors in the Women's Division. Hawaii's Kai Sallas earned gold among the Men.
USA Surfing is the National Governing Body for surfing in the United States, recognized by the International Surfing Association (ISA) and the United States Olympic Committee (USOC). USA Surfing's mission is to promote and grow the sport of surfing and support United States athletes of all backgrounds to achieve sustained competitive excellence in Olympic, Paralympic, Pan American and Parapan American competition. USA Surfing will oversee and support America's Olympic team as surfing makes its debut in the 2020 Tokyo Olympics, and surfing and stand-up paddleboarding athletes compete in the 2019 Pan American Games.