Team USA "Best of April" Award Finalists Named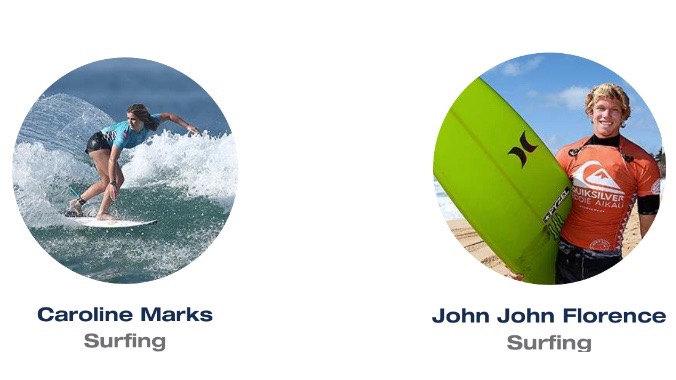 The United States Olympic Committee named Caroline Marks and John John Florence finalists for Team USA's "Best of April" award, which recognizes the outstanding achievements of prospective Team USA Olympic athletes. The Team USA "best of" distinction is shared with athletes who are top in their sports, including five-time Masters winner Tiger Woods and Pan Am wrestling gold medalist Adeline Gray.
Surf fans are encouraged to vote for Caroline Marks and John John Florence at https://awards.teamusa.org/vote
"We were beyond stoked to nominate Caroline Marks and John John Florence," said USA Surfing CEO Greg Cruse. "Their performances at the start of this year's Olympic qualifying season were electrifying. This season is off to an exciting start for Team USA Olympic hopefuls." American women make up five of the top six in the World Surf League rankings and American men and women logged nine additional top- 10 finishes to start the season.
As the youngest surfer on tour, 17-year-old Marks won the first event of the World Surf League season and placed third in the second event to clinch the No. 1 spot in the world rankings. Her powerful, slashing backhand turns destroy wave faces and demonstrate an athleticism well beyond her years. USA Surfing has known Marks since her first competitive surfing years. She was the youngest surfer to qualify for the WSL Championship Tour while she was still competing in USA Surfing Prime Series events.
"Caroline came out of the gate swinging," said USA Surfing assistant coach Brett Simpson. "She's clearly made a lot of head way in the off season. Her boards and confidence are through the roof. She's definitely caught the eyes of the surfing world… and her competitors!"
After being sidelined for nearly a year, Florence is back on top of the world surf rankings. Florence won the Rip Curl Pro April 26 at Bells Beach in Australia, beating reigning world champion Gabriel Medina in the quarter-final, 2017 Bells Beach champion Jordy Smith in the semi-final and Filipe Toledo in the final.
Florence is a two-time World Surf League champion and one to watch this Olympic qualifying season. "After nearly a year of being sidelined with an ACL injury, any lingering questions were put to bed to with his attack on big unruly Bells Beach," said USA Surfing head coach Chris Stone. "He has a very quiet, casual approach until he lays into his turns where he just attacks! His signature layback turn was the big-scoring move throughout the event, leaving his competitors looking for answers."
According to the USOC's press release the selection process is based on a mix of votes: "Each National Governing Body may nominate one female, one male and one team per sport discipline. An internal nominating committee selects finalists to advance to the voting round. Votes received from NGB representatives and select members of the media account for 50 percent of the final tally, with the other half determined by online fan voting via TeamUSA.org/Awards."