Stance Opens Pop-Up at Nordstrom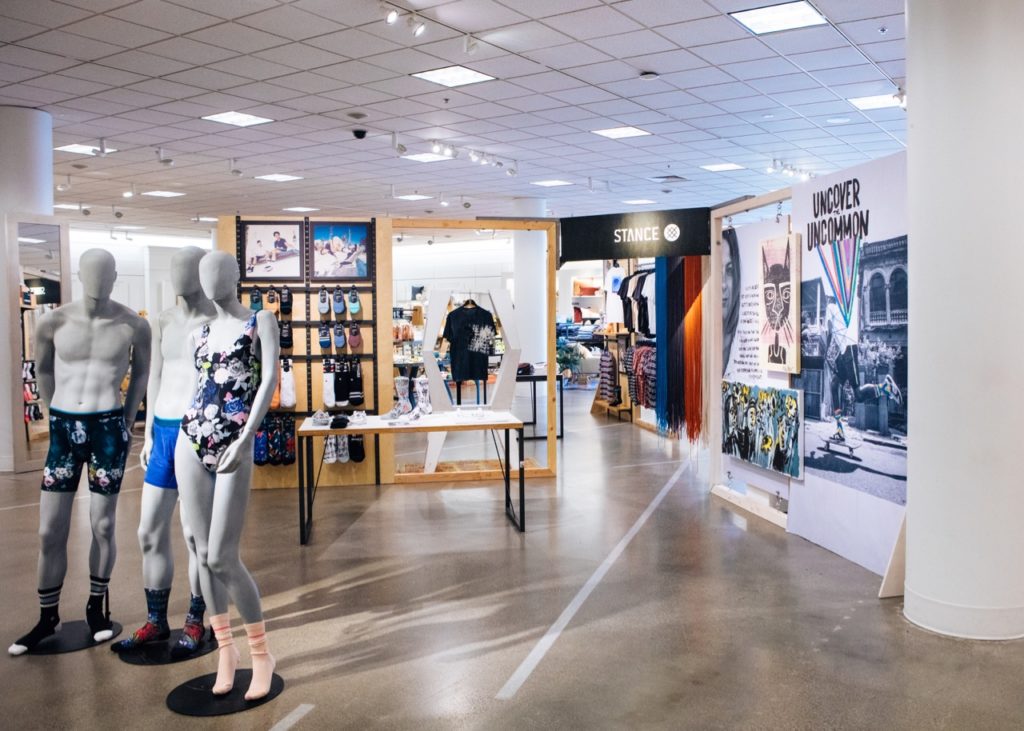 The Stance Pop-Up at Nordstrom Irvine Spectrum - Photo courtesy of Stance
Stance currently has a very large pop-up shop inside Nordstrom at the Irvine Spectrum that is showcasing a wide range of Stance product.
We touched back with Stance Senior Key Account Director Domonique Checkwood to find out more.
How did the Stance pop-up with Nordstrom at Irvine Spectrum come about?
Domonique Checkwood: Nordstrom and Stance have a solid partnership across multiple departments.
When we started to discuss how we best talk to our customer and give them the full brand experience, it made sense to test out bringing all categories and departments together into one space.
What is involved with the pop-up? What categories, etc.?
Domonique Checkwood: Stance is showcasing the following products at the Irvine Spectrum pop-up: Men's Socks and Underwear, Women's Socks and Intimates, and Kids' socks.
We will also be launching our newest category, T-shirts, across 25 Nordstrom stores in July.
We celebrated the coming launch at the pop-up with a live custom screen-printing event with artist Gregory Siff.
Gregory Siff has a full collection launching with Stance for summer and it was a fun way to talk about that collaboration to our customers.
Where is the pop-up inside Nordstrom? How long will it last?
Domonique Checkwood: The pop-up is live April 15 thru May 15th and is located on the second floor at the top of the escalator.
Why was the Nordstrom at Irvine Spectrum chosen for the event?
Domonique Checkwood: The Spectrum is in Stance's backyard. It is a great place to test out a concept like this with a great partner in a market where the brand recognition is strong.
Will the Stance store at Irvine Spectrum tie into the pop-up in any way?
Domonique Checkwood: The Stance store is a brand touchpoint within the Spectrum, but there won't be a direct tie to Nordstrom and Stance retail.