MERGE4 Collaborates With Top Action Sports Brands
MERGE4 is proud to announce a collaboration with three of the most respected brands in the action/adventure sports world: Surfer, Powder and Skateboarder. Each magazine has pulled from their extensive archives to partner with MERGE4 to produce high quality socks featuring iconic cover shots and legends from the best of their pages in the worlds of skate, snow and ski.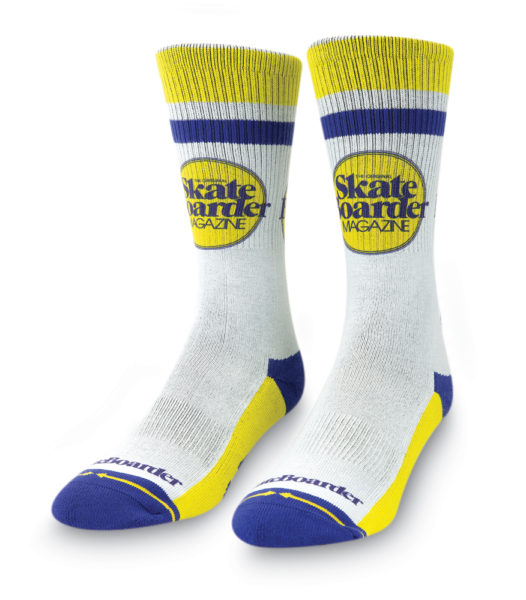 MERGE4 founder Cindi Ferreira-Busenhart is excited by the collaboration: "I have been involved in action sports all my life and know and love all of these brands. I couldn't be happier than to have MERGE4 feature socks from brands that almost every surfer, skateboarder, skier or snowboarder enthusiast has read or watched and found their heroes."
Action socks for action sports.
Surfer, Powder and Skateboarder – will be released Spring 2019.
Surfer Magazine has been the "Bible of the Sport" since its inception in 1960. Founder John Severson began the magazine with a timeless quote: "In this crowded world the surfer can still seek and find the perfect day, the perfect wave, and be alone with the surf and his thoughts." As a visual tribute to Severson's quote, the Surfer sock features a montage of the perfect waves that all surfers dream about – and continue to seek.
Powder – the Skier's Magazine was founded by the Moe Brothers in 1972 and has been covering perfect powder days ever since, inspiring generations of skiers to hit the slopes. The MERGE4 collaboration captures one of those days, in blue and powder. The perfect day.
Skateboarder Magazine is one of the most iconic brands in skateboarding. The MERGE4 sock features the classic, yellow-dot Skateboarder logo – which compliments MERGE4's Skateboard Hall of Fame collaborators Steve Caballero, Christian Hosoi, Steve Alba, Mofo and Eric Dressen and a Mofo sock featuring Natas Kaupas.
MERGE4 socks are comfortable, cozy, durable and stylish. The graphics are all laid down on a classic crew sock; soft combed cotton, moisture wicking terry loop under foot, self-adjusting welt cuff, reinforced heel for durability and hand linked toe for comfort, dynamic arch support and awesome fitting y-heel design – for wearing in and out of snowboard, ski and motocross boots, skate shoes or for surfers who actually wear socks.
Available at www.merge4.com/collab-socks/photographer/surfer-skateboarder-powder.html
About MERGE4
MERGE4 is a sock company based out of Santa Cruz, California that is a Certified B Corporation using business as a force for doing good. Beyond magnificent in appearance, style and comfort, MERGE4 socks are constructed like no other. Your soles are GRIPPED by our deviously interesting 'CULT-WEAVE'. MERGE4's 'CULT-WEAVE' cushions what is sometimes called the 'arch' area. YES, you heard correctly; MERGE4 "GRIPS YOUR SOLE".
About Adventure Sports Network Group
American Media, LLC's Adventure Sports Network Group is the world's premier network of enthusiast brands in the action/outdoor market, featuring leading brands such as Adventure Sports Network, Surfer, Powder, Dew Tour, TransWorld Skateboarding, and Bike. With 10 brands reaching more than 30 million enthusiasts monthly, ASN inspires enthusiasts to pursue their passions. For more information, visit www.adventuresportsnetwork.com.