2019 ISA World Longboard Surfing Championship Breaks Records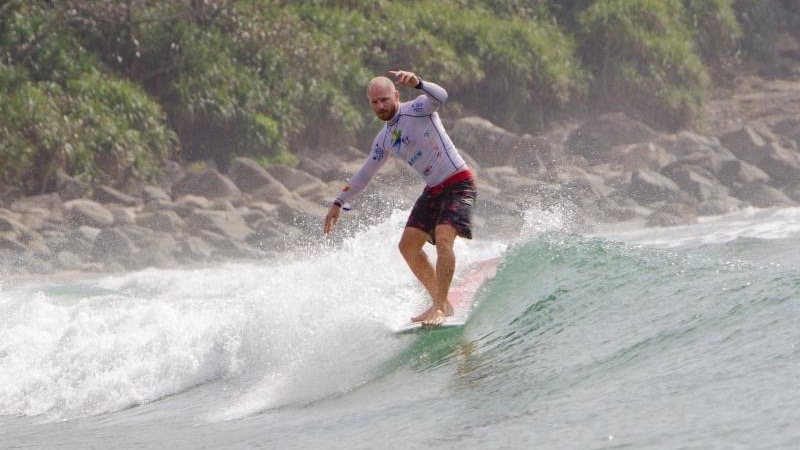 Brazil's Phil Rajzman will be looking for his first ISA Gold Medal.
Photo: ISA / Tim Hain
The 2019 ISA World Longboard Surfing Championship (WLSC) is set to become the biggest edition to date – breaking records for country, athlete and women participation.
104 athletes –  46 of whom are women – from 32 countries will represent their nations and go for Gold between May 26 and June 2 in Biarritz, France.
The record-breaking 2019 edition eclipses the 2018 edition in Wanning, China, which featured a then-record 71 athletes from 22 nations. The year-on-year growth once more emphasises the successful growth and development of surfing around the globe – particularly in non-traditionally surfing nations – after the sport's inclusion on the Tokyo 2020 Sports Program in 2016. The debut appearances in Biarritz of Afghanistan, Belgium and the Netherlands in this year's event further attest to this growth.
Among the record-number of athletes are eight past ISA medalists including Chloe Calmon (BRA), Phil Rajzman (BRA), Thomas King(RSA), Kai Sallas (USA), Benoit Clemente (PER), and Natsumi Taoka (JPN).
The host nation Team France will be led by two medalists of their own – two-time ISA World Champion Antoine Delpero (2009, 2013) and Justine Dupont. Edouard Delpero and first-time ISA competitor Alice Leimogne will round out the squad.
The 2018 Team World Champion USA will arrive in Biarritz with an all new roster of athletes after last year's in Wanning, China. Kai Sallas, who earned the Men's Gold competing for Hawaii in 2018, will spearhead the new-look Team USA, joined by Soleil Errico and Lindsay Steinriede in the Women's Division and Cole Robbins in the Men's.
The 2019 WLSC will serve as a qualifying event for Surfing's debut (shortboard, longboard, SUP surfing, and SUP racing) in the Lima 2019 Pan American Games as well as the 2019 ANOC World Beach Games in San Diego, USA. As a result, only nations with National Olympic Committees can participate, hence Team Hawaii's 2018 World Champion Sallas competing under the USA flag in 2019.
The record participation of women in the event comes during an ISA push for gender equality across all disciplines of the sport. Starting in 2018, all ISA Global Events featured gender parity, offering equal competition slots for men and women.
The ISA's return to Biarritz comes just two years after the ISA's last successful championship in the city. The 2017 ISA World Surfing Games featured massive fan attendance and country participation, leaving its imprint on Biarritz's rich surf culture and history.
ISA President Fernando Aguerre said:
"We are delighted to return to Biarritz with another ISA World Championship. Biarritz is the epicenter and birth place of European Surfing, so it's exciting to see Surfing's original discipline celebrated on its shores.
"After inclusion in the Olympic Games, all of surfing's disciplines have experienced an explosion in growth all around the globe, and longboard is no exception. It's fantastic to see another record-breaking edition of this event, especially ahead of Longboard's debut in the Lima Pan American Games in July."
About The International Surfing Association:
The International Surfing Association (ISA), founded in 1964, is recognized by the International Olympic Committee as the World Governing Authority for Surfing. The ISA governs and defines Surfing as Shortboard, Longboard & Bodyboarding, StandUp Paddle (SUP) Racing and Surfing, Bodysurfing, Wakesurfing, and all other wave riding activities on any type of waves, and on flat water using wave riding equipment. The ISA crowned its first Men's and Women's World Champions in 1964. It crowned the first Big Wave World Champion in 1965; World Junior Champion in 1980; World Kneeboard Champions in 1982; World Longboard Surfing and World Bodyboard Champions in 1988; World Tandem Surfing Champions in 2006; World Masters Champions in 2007; and World StandUp Paddle (SUP, both surfing and racing) and Paddleboard Champions in 2012.
ISA membership includes the surfing National Federations of 106 countries on five continents. The ISA is presided over by Fernando Aguerre (ARG). The Executive Committee includes four Vice-Presidents Karín Sierralta (PER), Kirsty Coventry (ZIM), Casper Steinfath (DEN) and Barbara Kendall (NZL), Athletes' Commission Chair Justine Dupont (FRA), Regular Members Atsushi Sakai (JPN) and Jean Luc Arassus (FRA) and ISA Executive Director Robert Fasulo as Ex-officio Member.
Its headquarters are located in La Jolla, California (USA).
For more information, please visit www.isasurf.org