Spring Report from Aqua East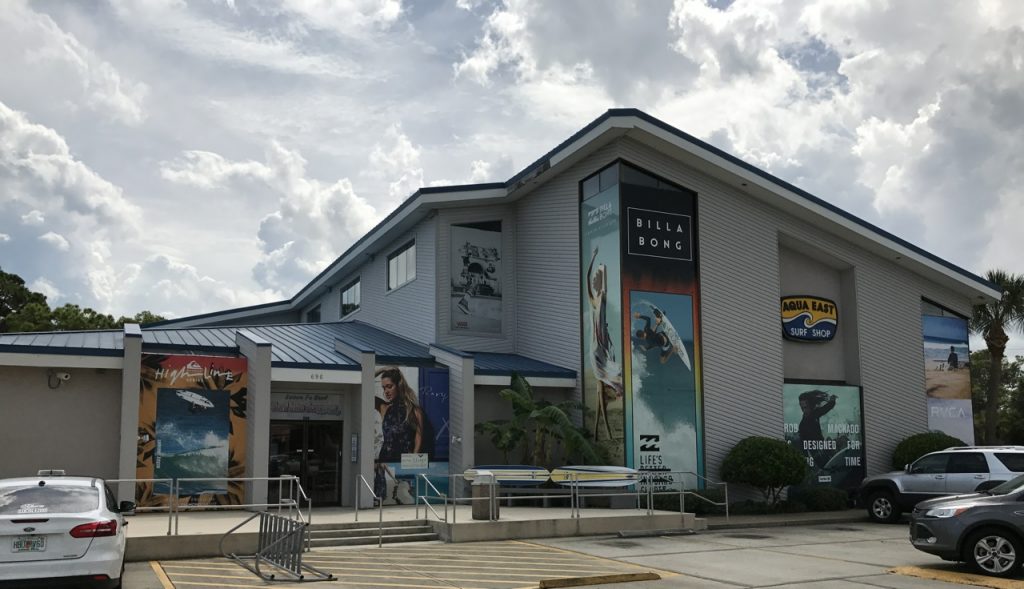 The Aqua East store in Jacksonville, Florida - SES file photo
As the remaining spring breaks come to an end this week, we checked in with Aqua East Head Buyer Susan Wallace to see what is selling at this important core account in Jacksonville, Florida.
How are spring sales turning out? Are people shopping and spending?
Susan Wallace: We are even to last year, with hardgoods hurting.
Any interesting hot trends or brands in women's?
Susan Wallace: Billabong Junior's continues to soar.  Their Sincerely Jules roll out was a tremendous success.
O'Neill Juniors is doing well.
Tops and shorts are picking up the lost dollars from dresses.
Any interesting hot trends or brands in men's?
Susan Wallace: Men's is up overall and looks good going forward.
Elastic-waist swim and volleys are a nice addition to our men's business.
Shorter lengths in boardshorts are appealing to all age groups. 18 inches seems to be the new standard.
Wovens are up significantly, and boardshorts are also up.
How are swim sales going? Any surprises there in women's/juniors? 
Susan Wallace: Swim is flat overall. Billabong Junior's and Body Glove are leading in sales – both of them are up.
Girls swimwear (for kids) is up, as is boys.
Spring tends to be a big sandal buying season. Any standouts there?
Susan Wallace: The standout is Reef making their sales numbers!
Olukai continues to grow.
Stance is slowing overall.
How are sunglass sales?
Susan Wallace: Sunglasses has two strong vendors – Costa and Fortress (Crush and Kreed).
Anything interesting happening in accessories? Are water bottle sales still going strong? Do you sell Pura Vida, and if so, is demand still there?
Susan Wallace: Corkcicle is doing well, with Yeti still producing and growing.
Pura Vida is up and doing well, they continue to expand and grow their business.
If you have had any hot sellers, have you been able to chase inventory with vendors? Are you getting the merchandise you need?
Susan Wallace: Yes, I have been able to fill in – not on everything, but we have been able to keep the ball rolling.