Igloo Collaborates With Independent Truck Co.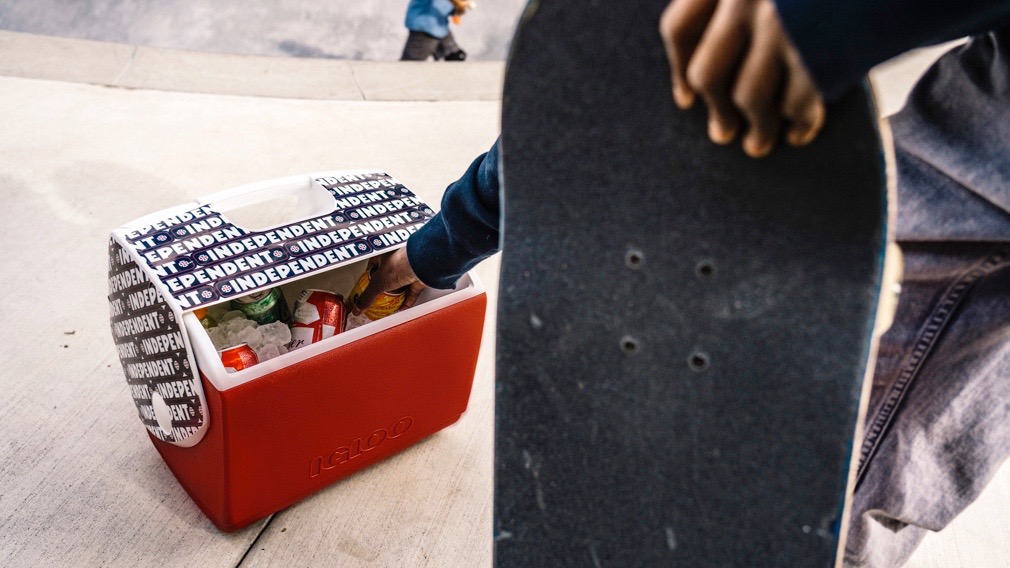 Igloo is proud to announce our latest collaboration with the iconic Independent Truck Co.  The Igloo x Independent collaboration is made to endure – coolers, lunch bags, and tumblers to keep your beverage of choice cool when you need it most.
To help celebrate the launch of this project, Igloo and several of Independent team put the products to good use with a backyard bowl jam.
Lance Mountain, Peter Hewitt, Evan Smith, Chris Gregson, Nicole Hause, Cedric Pabich, and young Kader Sylla were all there and ripping. Check out the session on Instagram @igloocoolers.
Independent Truck Co. is one of skateboarding's most iconic brands and leading manufacturers of skateboard trucks since 1978. The Igloo and Independent Truck Co. collection includes:
– Independent Limited Edition Icon Daytripper Backpack – $99.99
– Independent Playmate Elite Limited Edition Icon 16 QT Cooler – $49.99
– Indpendent Playmate Mini Limited Edition Icon 4 QT Cooler – $29.99
– Independent Limited Edition Zine Commuter Cooler Bag – $45.99
– Independent Playmate Gripper Limited Edition Zine Cooler – $39.99
– Independent Limited Edition Zine Rolltop Lunch Bag – $14.99
– Independent Limited Edition Icon Rolltop Lunch Bag – $14.99
– Independent Limited Edition 64 OZ Growler (Black or White) – $34.99
For more information on the Igloo x Independent Truck Co. collaboration, please visit https://www.igloocoolers.com/pages/independent-collection
About Igloo:
Born from a modest metalworking shop back in 1947, Igloo has been instrumental in redefining how we live, work and play. What began with bringing clean water to the worksite quickly moved into super-functional, best in class ice chests. Igloo products made the family outdoor recreation movement of the 20th century possible. Suddenly, taking your kids camping on the weekend became easy and cross-country road trips became a summer vacation staple.
As we approach our next century, Igloo is 1500 employees strong. We are proud to call—a 1.8 million square-foot, three-building facility in—Katy, Texas home. With more than 500 products sold at thousands of retailers around the globe, we can confidently call ourselves the number one cooler manufacturer in the world.
And through it all we haven't lost sight of our original goal—to create products that enable the pursuit of happiness (however you define it). That's why we're still working hard every day to innovate, create, and make it easier for you to get out, work hard and play even harder.