Caroline Marks Wins Historic Champion Title
At just 17 years old, surfing prodigy Caroline Marks just made another massive step in her already impressive career by winning her first ever Champion title on the WSL Women's Championship Tour.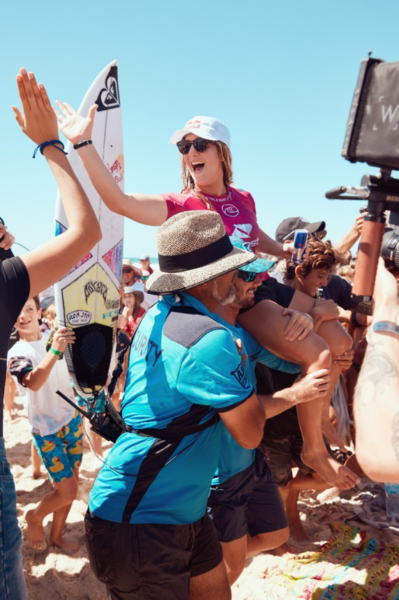 After beating the 7 x World Champion, ROXY's very own Stephanie Gilmore in the quarterfinals, Marks defeated Hawaiian surfer Carissa Moore with a final score of 13.83. Most importantly: Marks takes the win in the first ever WSL event offering equal prize money for men and women. A historic moment in women's sports.
"I was super emotional afterwards and it hasn't sunk in yet but absolutely the best day of my life! I beat one of my heroes, it's such an incredible feeling, I'm on top of the moon right now!" – Caroline Marks
This is only Marks' second year on the tour: 2018 saw her enter the WSL Championship Tour as a rookie at the age of 16. The Florida-born athlete had already given a peak at what was to come, landing 3rd place in three events that year (Bells Beach, US Open of Surfing, Surf Ranch Pro).
Marks takes the lead on the leader board and will be wearing the yellow jersey next week, in Bells Beach.
About Caroline Marks:
Caroline grew up in Melbourne Beach, Florida where she learned to surf with her brothers when she was 8 years old. In 2014 she made the move to split her time between Florida and California, making the most of San Clemente's World class waves and year-round surf, helping to improve her technique.
As the youngest surfer selected for the USA National Team, the youngest NSSA Open Women's Champion and the youngest wildcard competitor in history to score a spot in the 2015 Swatch Women's Pro at Trestles, it's easy to understand why Caroline Marks has been dubbed the "Next World Champion."
About ROXY:
ROXY, a brand of Boardriders, Inc., has been empowering female pioneers since 1990. The first and only exclusively-female global action sports brand, ROXY specializes in the development and design of trend-leading, technically innovative lifestyle and performance wear inspired by the Mountain & the Wave. By creating first-of-its-kind products designed for surfing, winter sports, fitness and yoga & cultivating a breed of female pioneers who changed the course of sport, ROXY has empowered all women to challenge the status quo in every arena of their lives.