SDSI's Eye of the Innovator at Belly Up Tavern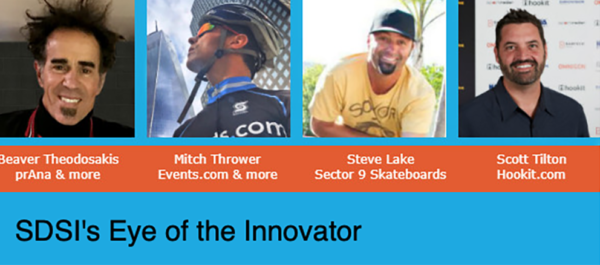 Join us for an inspirational afternoon tipped off by Basketball Hall of Famer and San Diego Sport Innovators (SDSI) Executive Chairman Bill Walton and get a glimpse into the brain of a successful entrepreneur… or rather, 4 of them!
SDSI will present the first ever Eye of the Innovator panel on April 2, 2019, honoring several of San Diego's premier Innovators, for a fascinating look into the hurdles and rewards that come along with the disruptive forces of brand creation.
Moderated by Denise Lee Yohn, author of bestselling book What Great Brands Do: the Seven Brand-Building Principles that Separate the Best from the Rest, as well as the new book FUSION: How Integrating Brand and Culture Powers the World's Greatest Companies.
This event will feature panelists from the tech and consumer products sectors including:
Beaver Theodosoakis: prAna, Life's a Beach, Bad Boy Club, Spy
Mitch Thrower: Events.com, Active Network
Steve Lake: Sector 9 Skateboard
Scott Tilton: Hookit.com
When: Tuesday April 2, 2019 from 2:00 PM to 5:00 PM
Where: Belly Up Tavern
143 South Cedros Ave,
Solana Beach, 92075
What: SDSI's Eye of the Innovator
Register early, the price increases March 22nd!
Thank you to our event sponsors:
Morgan Stanley and Elevated Internet Marketing for making this event possible 
SDSI is a not-for-profit organization of like minded individuals on a mission to establish San Diego as the home of Sports and Active Lifestyle Industry (SAL). We support healthy living companies in all stages by fostering innovation, providing business mentorship and building communities. www.sdsportinnovators.org