Nikita Sponsors Ms. Superpark 2019
Nikita Clothing is proud to announce their role in presenting Ms. Superpark for 2019. Along with SNOWBOARDER Magazine, Monster Energy and Big Boulder Park, the women's freestyle event kicks off on Monday, March 11 in Big Boulder, PA. Widely viewed as the premier platform for the progression of female snowboarding, the four-day event will bring top talent from around the world to Big Boulder Park to reset the standard for creative and exciting park riding.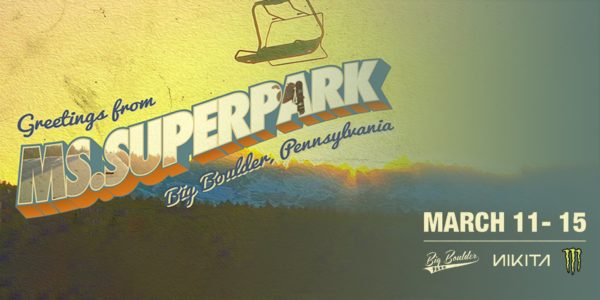 Ms. Superpark offers a unique opportunity for snowboarding's up-and-coming amateur riders to shine alongside their peers as well as the industry's top professionals. The progression focused format sets the stage for the current generation to display their park prowess and to show what truly is possible when the best in women's snowboarding are given the opportunity to ride together.
"Superpark is an iconic event, one that every snowboarder drops everything to watch" said Nikita Brand Manager, Jenna Kuklinski. "Supporting the return of Ms. Superpark and contributing to the progression of female snowboarding aligns perfectly with our values at Nikita. We're always on the look-out for opportunities to rally our community, to foster the rebellious confidence in each of them and to support Girls Who Ride."
Nikita's sponsorship of Ms. Superpark exemplifies the brand's goal of promoting female athletes and creating opportunities for them to showcase their talent. From an event partnership with Exposure Skate to the global activation of the G.W.R. (Girls Who Ride) Tour, a grassroots, community based progression session for female skiers and snowboarders, to creating amateur skate and snow events at the Summer and Winter Dew Tours, Nikita is committed to building confidence in girls through positive experiences in action sports.
SNOWBOARDER Magazine's Ms. Superpark 2019 at Big Boulder, PA is made possible by the sponsorship support of Nikita Clothing and Monster Energy. To keep up with all the action, follow @nikitaclothing, @snowboardermag, @bigboulderpark, , @monsterenergy and #mssuperpark for the latest imagery from this one-of-a-kind session.
About Nikita
Nikita is an iconic streetwear and outerwear brand that brings style and attitude to girls from the streets to the mountains. From our humble beginnings in the back of a skate shop, we started with a single purpose; to make clothes FOR GIRLS WHO RIDE.
For more information, please visit www.nikitaclothing.com