ROXY Takes a Stand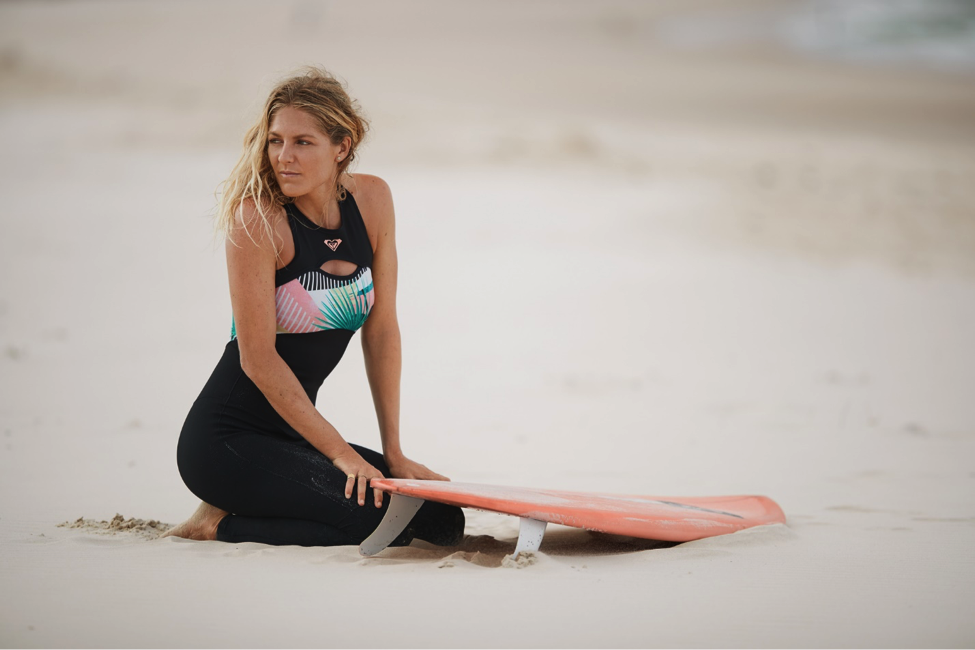 Never have the mountains and the waves been under such attack: oceans suffocate in a world of plastic, snow caps are melted by the rising temperatures inflicted by global warming.
ROXY girls around the world see firsthand what catastrophic changes have been brought on by pollution. Each one of them has worked hard at educating others, at fighting for a cleaner world. ROXY stands by their side and unveils the new eco-fabricated Pop Surf collection, a first step in the right direction.
Eco-friendly technologies
The new POP Surf collection is made from sustainable techno-fabrics including nylon made from 100% regenerated polyamide. And this technology makes no concessions: ROXY's sustainable Lycra is twice as resistant to chlorine, suntan cream and oils.
Wetsuits have not been left out of the equation.
ROXY has adopted a new water-based glue which eliminates toxic solvents that harm the environment.
Black wetsuit dyeing has been reviewed to involve dope-dye yarn, a process that cuts down water and waste, saves energy and adds extra pop to your surf gear.
Our wetsuits feature both neoprene made 100% from limestone and polyester made from recycled plastic bottles. This process keeps plastic out of the oceans and reduces material consumption as well.
What this truly means
600 grams of solvent / VOC eliminated per wetsuit
104L of water resources saved per kilogram of fabric
25 plastic bottles recycled per wetsuit
A step in the right direction
Working together
The 2019 POP Surf collection is a proud partner of the Surfrider Foundation, an environmental not-for-profit organization that aims at defending the ocean and the coastline, waves in a sustainable manner.
"When it comes to protecting the ocean, we all have a role to play. On the basis of this principle, Surfrider develops collaborations with stakeholders in our community who wish to commit themselves and assume their share of responsibility. We are therefore very happy to partner with Roxy who, through its desire to raise awareness in its own community, provides us a great opportunity to strengthen the dissemination of our messages by allowing us to benefit from its network and the notoriety of its athletes." – The Surfrider Foundation
What's next
We have a long way to go and it is but the first of many adjustments ROXY will make to improve sustainability efforts within the brand. From an eco-fabricated snow range later in 2019 to educational partnerships and events with minor environmental impact, ROXY takes a stand with its athletes to fight for improvement and for more awareness about what it truly takes to make a change for the better.
ABOUT ROXY
ROXY, a brand of Boardriders, Inc., has been empowering female pioneers since 1990. The first and only exclusively-female global action sports brand, ROXY specializes in the development and design of trend-leading, technically innovative lifestyle and performance wear inspired by the Mountain & the Wave. By creating first-of-its-kind products designed for surfing, winter sports, fitness and yoga & cultivating a breed of female pioneers who changed the course of sport, ROXY has empowered all women to challenge the status quo in every arena of their lives.
ABOUT THE SURFRIDER FOUNDATION
The Surfrider Foundation is a worldwide not-for-profit organization dedicated to the protection and enjoyment of the world's ocean, waves and beaches through a powerful volunteer chapters network. It gathers a community of everyday people who passionately protect their playground. Since its creation in the 80's, Surfrider has raised awareness among thousands of citizens and had highly contributed to regulation enhancement regarding water quality, marine litter pollution and coastal planning.