Vans Versa Franchise Introduces Checkerboard for Spring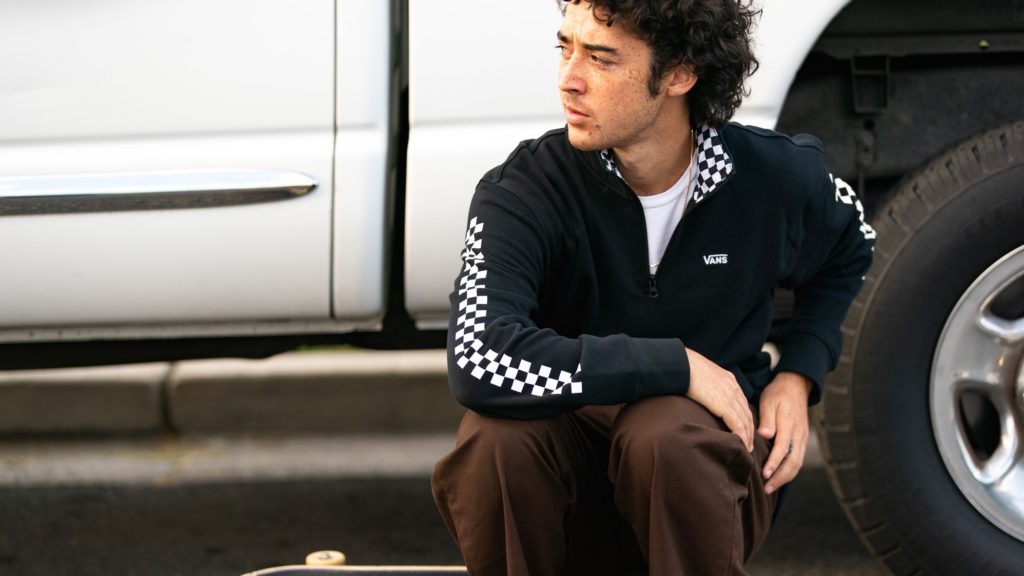 Continuing to build on franchise success from past seasons, this spring Vans expands the Versa QZP offering, introducing a mock-neck silhouette to compliment the Versa Hoodie's subtle technical benefits. The Versa QZP brings purposeful innovation into a classic fleece design that embraces timeless style and skateboard functionality all-in-one.
Vans designers continue to focus on creating a garment that is fully functional and versatile in various climates. Pro-built with a super-durable fleece fabric construction, the Versa QZP features a Storm Cotton™ finish to repel water and keep you dry. The Versa QZP's new checkerboard details line the fleece's sleeves and interior collar, injecting Vans ubiquitous aesthetic into the franchise staple.
In addition, the Versa QZP features a patent-pending hidden media pocket offering additional utility, a front kangaroo pocket and a low-profile drawstring hem.
The latest Versa QZP style is available now. To learn more about the Versa and where to purchase, please visit Vans.com/versa.
About Vans
Vans®, a VF Corporation (NYSE: VFC) brand, is the original action sports footwear, apparel and accessories brand. Vans® authentic collections are sold in 84 countries through a network of subsidiaries, distributors and international offices. Vans® has over 2,000 retail locations globally including owned, concession and partnership doors. The Vans® brand promotes creative self-expression in youth culture across action sports, art, music and street culture and delivers progressive platforms such as the Vans Park Series, Vans Triple Crown of Surfing®, Vans Pool Party, Vans Custom Culture, and Vans' cultural hub and international music venue, House of Vans.
Vans, "Off The Wall" Since '66

www.vans.com
youtube.com/vans
instagram.com/vans
facebook.com/vans
twitter.com/vans_66
vans.tumblr.com