Surf Expo's January 2019 Show Kicks Off This Week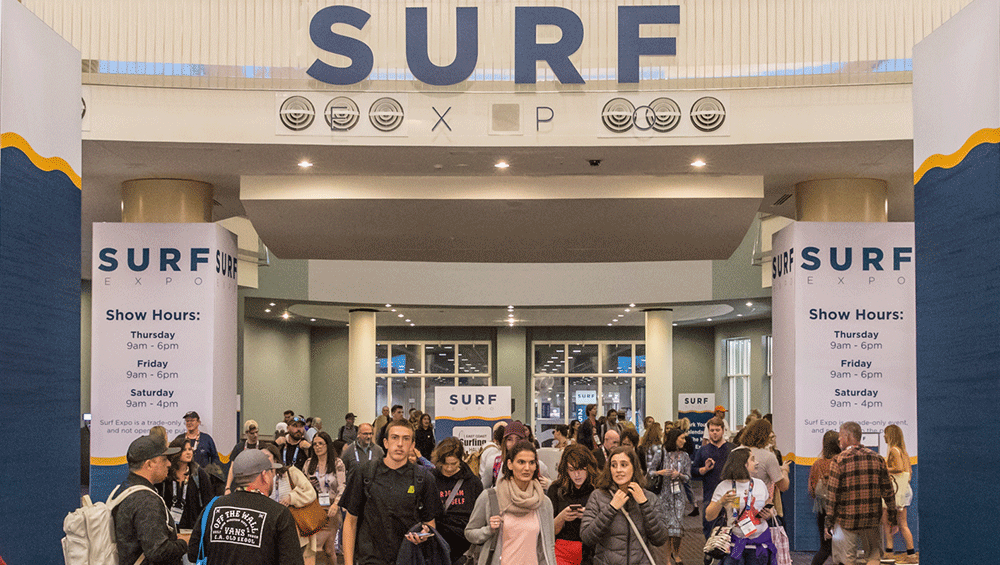 Surf Expo kicks off January 10-12, 2019 with a robust line up of brands, surfboards and surfboard shaping and LOTS of special events. Retailers can register now for free, and pick up their badge on site.
See the major brands including Billabong, Reef, O'Neill, RVCA, Body Glove, Vissla, Sanuk, Dakine, Hurley, Rusty, Salty Crew, Sector 9, SISSTR, Smith, Surftech, VonZipper. Plus see California lifestyle brands including Duvin, Dark Seas, Banks Journal, AMUSE, Dragon, Electric, Howler Brothers, Herschel Supply Co, Jetty, Katin, Lira, OTIS, Richer Poorer, Rhythm, Roark, Tavik, Turq, United By Blue and many more!
With the free Surf Expo Learning Labs, attendees can hone their skills from experts and industry leaders on topics including Driving Sales Through Influencer Marketing, Repricing on Amazon to win the Buy Box, Hydrofoiling, How to Lower Small Parcel and Freight Costs and Insurance Best Practices for Rental, Events & Guiding. View the full agenda here.
Features & Events
Stab Magazine's Stab in the Dark Display
3 Continents, 11 murdered out surfboards, 1 winner. This year the mystery surfer is Mick Fanning. See the boards at Surf Expo and catch the world premiere of the extended trailer for the new Stab in the Dark film on Friday at 4:45 in the Movie Lounge.
SIMA Awards Nominated Surfboards on Display
The SIMA Awards-nominated surfboards from the world-class shapers who are exhibiting will be on display at the show.  Nominees in the Performance Shortboard Model of the Year category on display are SKX by Firewire Surfboards, The Ghost by Pyzel Surfboards, SD by Rusty Surfboards, Cymatic by Slater Designs and Disco Inferno Dual-Core by Surftech x Sharp Eye. Alternative Surfboard Model of the Year Nominees on display  include: Go Fish by Firewire Surfboards, Chupacabra by Rusty Surfboards, Modern 2 by Surftech x Sharp Eye and Captains Log by Wave Riding Vehicles.
The Florida Shape Off presented by VISSLA features defending champion Stu Sharpe (Sharpe Surfboards), Tom Bracht (Brother Surf Craft), Allen White (Allen White Surfboards), Jay Gordon (Shapes by JT), John Oppito, (Rozbern Surfboards), Josh Peterson (PTRSN Surfboards) and Shawn O'Donnell (Savage Surfboards) competing to shape a board in honor of Pat O'Hare for a $1,000 prize.
The Surf Expo Industry Party Returns sponsored by 4Ocean
On Friday 4Ocean hosts the Surf Industry Party with live music from NC-based Flannel Rebellion.  4Ocean founders Alex and Andrew will be featured guests, to share their message about how we can solve the ocean plastic pollution crisis. Through worldwide support and the purchase of bracelets, 4Ocean has pulled more than 2,613,904 pounds of trash from the oceans and coastlines to date!
15 Surfboards by 15 Shapers, The Surfboard Art Project by Tony Arruza
West Palm Beach-based photographer and surfer Arruza spent five years collaborating with 15 different surfboard shapers to bring his photos to life on 15 distinctly shaped boards. See the boards on display on The Avenue in the Surf section.
Eastern Surfing Association (ESA) introduces the next generation of young surfing hopefuls at the 2019 ESA All Star Team Induction Ceremony on The Stage, Friday at 5pm
In the Mini Ramp Madness Jam presented by All I Need Skateboards, shop skate teams will compete for cash and prizes on a Mini Ramp by Team Pain.
For complete show info, list of exhibitors and schedule of events, or to register to attend go to www.surfexpo.com.