MERGE4 Partners With The Expendables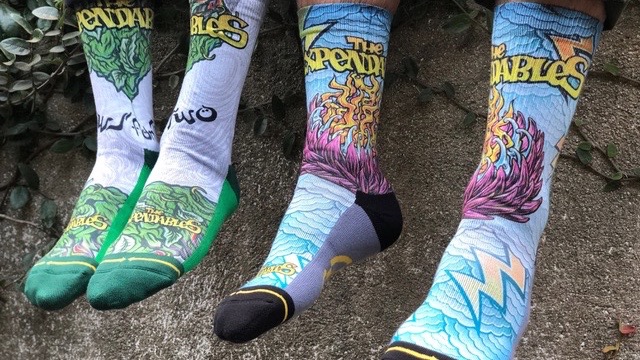 MERGE4 is proud to announce a graphic sock collaboration with The Expendables – a band inspired by the surf and skate lifestyle, producing an alchemy of reggae, ska, surf rock, and punk rock. The surf/skate music of The Expendables fit perfectly with the philosophy of MERGE4 – warm, comfortable, durable, thoroughly modern socks decorated with graphics from legends in the world of action sports, music and art.
The four longtime friends who make up The Expendables – Geoff Weers (guitar and vocals), Adam Patterson (drums and vocals), Raul Bianchi (lead guitar) and Ryan DeMars (bass) – were inspired by a culture where surfing, skating, partying, and playing music were commonplace. Since 1997, The Expendables have staked their claim in the California surf/rock genre by headlining venues from coast to coast. Blending reggae, punk rock, and 80s style dueling guitar solos, The Expendables have made heads turn and floors shake for years.
The Expendables have had playable hits like Bowl for Two and Sacrifice in their eight albums – with album #9 on the way
The Expendables Bowl for Two sock features The Expendables logo over some leafy greens. The second Expendables sock also features the logo over exotic flora in purple and yellow. In addition to the usual spots that you can purchase MERGE4/The Expendables socks you will find them at California Roots Music Festival in Monterey and One Love Music Festival in Long Beach.
MERGE4 founder Cindi Ferreira-Busenhart said: "These socks are going to be a home run because the graphics are designed by MERGE4 collaborating artist Shaun Logan. This is a nice extension of the MERGE4 family."
Available at www.merge4.com
About MERGE4:
MERGE4 is a sock company based out of Santa Cruz, California that is a Certified B Corporation using business as a force for doing good. MERGE4 collaborates with athletes, musicians and artists for graphics, but also for good: MERGE4 donates socks to Stanford's Lucile Packard's Children's Hospital to bring color and warmth to kids who are there for extended care with a focus on transplant. Beyond magnificent in appearance, style and comfort, MERGE4 socks are constructed like no other. Your soles are GRIPPED by our deviously interesting 'CULT-WEAVE'. MERGE4's 'CULT-WEAVE' cushions what is sometimes called the 'arch' area. YES, you heard correctly; MERGE4 "GRIPS YOUR SOLE".