Macy's Misses Holiday Sales Target
Macy's, Inc. (NYSE:M) is announcing sales results for the months of November and December 2018. The company is also providing updated annual guidance and additional detail on anticipated fiscal 2018 performance.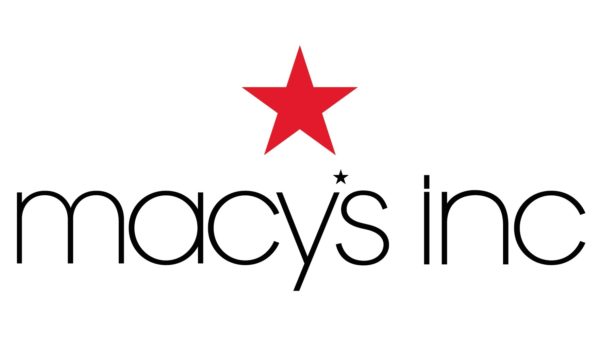 "We delivered our second consecutive year of positive holiday comparable sales, driven largely by the traction of our strategic initiatives: Backstage, Vendor Direct, Store Pickup, Loyalty and Growth50. We experienced another period of double-digit growth in our digital business and continued strength in the Growth50 stores.
"The holiday season began strong – particularly during Black Friday and the following Cyber Week, but weakened in the mid-December period and did not return to expected patterns until the week of Christmas," said Jeff Gennette, chairman and chief executive officer of Macy's, Inc.
"In the holiday period, we saw strong performance across a number of categories (fine jewelry, women's shoes, fragrance, dresses, outerwear, active and home). This sales growth was largely offset by: underperformance of other categories (women's sportswear, seasonal sleepwear, fashion jewelry, fashion watches and cosmetics); temporary fulfillment challenges following the fire in our West Virginia distribution center; and underestimation of the impact of changes to our pre-Christmas earn & redeem promotional event."
"We are revising the guidance we provided in November and will continue to take the necessary steps in January to ensure a clean inventory position as we enter fiscal 2019," Gennette continued. "Looking back at 2018, we met our goal of returning the company to growth. Our revised guidance is above the expectations we set at the start of the fiscal year, and we expect to deliver our fifth consecutive quarter of positive comparable sales, including 'comping the comp' of the 2017 holiday season. The North Star Strategy is gaining traction, and the entire organization is engaged and motivated to continue improving our performance in 2019."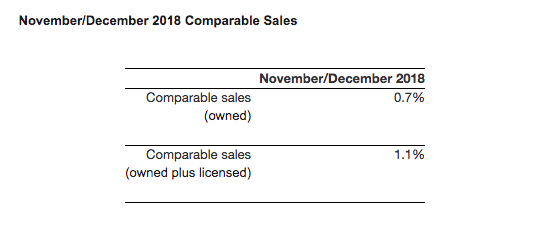 2018 Annual Guidance
Macy's, Inc. is revising sales and earnings guidance. The company is also providing additional detail on the company's anticipated annual performance for fiscal 2018, noting that there are several weeks left in the quarter. As the company has not completed its quarter close, the data presented in this press release may change.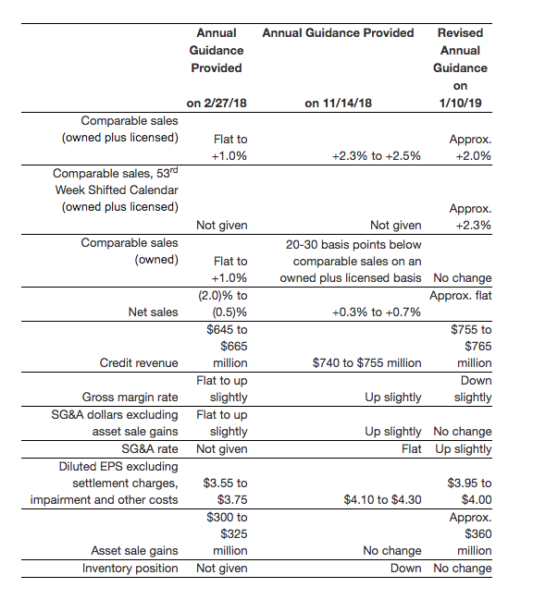 Annual diluted EPS guidance includes 37 cents, or approximately $155 million, from the gain on the anticipated sale of the former I. Magnin building in San Francisco. However, the completion of this transaction may shift into fiscal 2019.
Net sales guidance is provided on a 52-week basis in 2018 compared to a 53-week basis in 2017. Comparable sales guidance is provided on a 52-week basis in both 2018 and 2017. In addition, the company's 2018 results and guidance for fiscal 2018 reflect the new accounting standards related to revenue recognition and retirement benefits.Macy's, Inc. has recast its quarterly income statements and balance sheets for 2016 and 2017 to reflect adoption of these new standards. These documents can be found on the investor relations page at www.macysinc.com.
Comparable Sales Shift
Macy's, Inc. is also providing additional detail on the impact of the 53rd week on its reported comparable sales for fiscal 2018.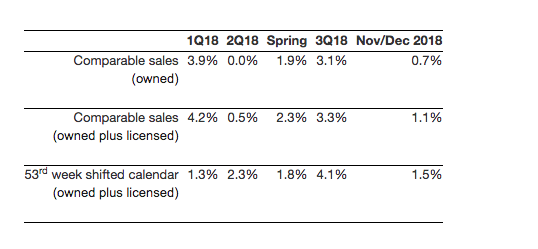 Comparable sales adjusted for the impact of the 53rd week reflect a shift of the company's fiscal 2017 calendar to align with fiscal 2018 on a like-for-like basis. Additionally, as previously reported, the 53rd week in 2017 shifted the spring Friends and Family promotion, which positively impacted first quarter 2018 owned plus licensed comparable sales by approximately 250 basis points and negatively impacted second quarter 2018 owned plus licensed comparable sales by approximately 240 basis points.
Fourth Quarter Earnings Announcement
Macy's, Inc. is scheduled to report fourth quarter sales and earnings on February 26, 2019. Additional detail on financial performance will be provided at that time. The company will webcast a call with financial analysts and investors at 9:30 a.m. ET on February 26, 2019. Macy's, Inc.'s webcast is accessible to the media and general public via the company's website at www.macysinc.com. Analysts and investors may call in on 800-281-7973, passcode 2586485. A replay of the conference call can be accessed on the website or by calling 888-203-1112, passcode 2586485, about two hours after the conclusion of the call.
About Macy's, Inc.
Macy's, Inc. is one of the nation's premier retailers. With fiscal 2017 sales of $24.837 billion and approximately 130,000 employees, the company operates approximately 690 department stores under the nameplates Macy's and Bloomingdale's, and more than 180 specialty stores that include Bloomingdale's The Outlet, Bluemercury, Macy's Backstage and STORY. Macy's, Inc. operates stores in 44 states, the District of Columbia, Guamand Puerto Rico, as well as macys.com, bloomingdales.com and bluemercury.com. Bloomingdale's stores in Dubai and Kuwait are operated by Al Tayer Group LLC under license agreements. Macy's, Inc. has corporate offices in Cincinnati, Ohio, and New York, New York.