Lots New at Richer Poorer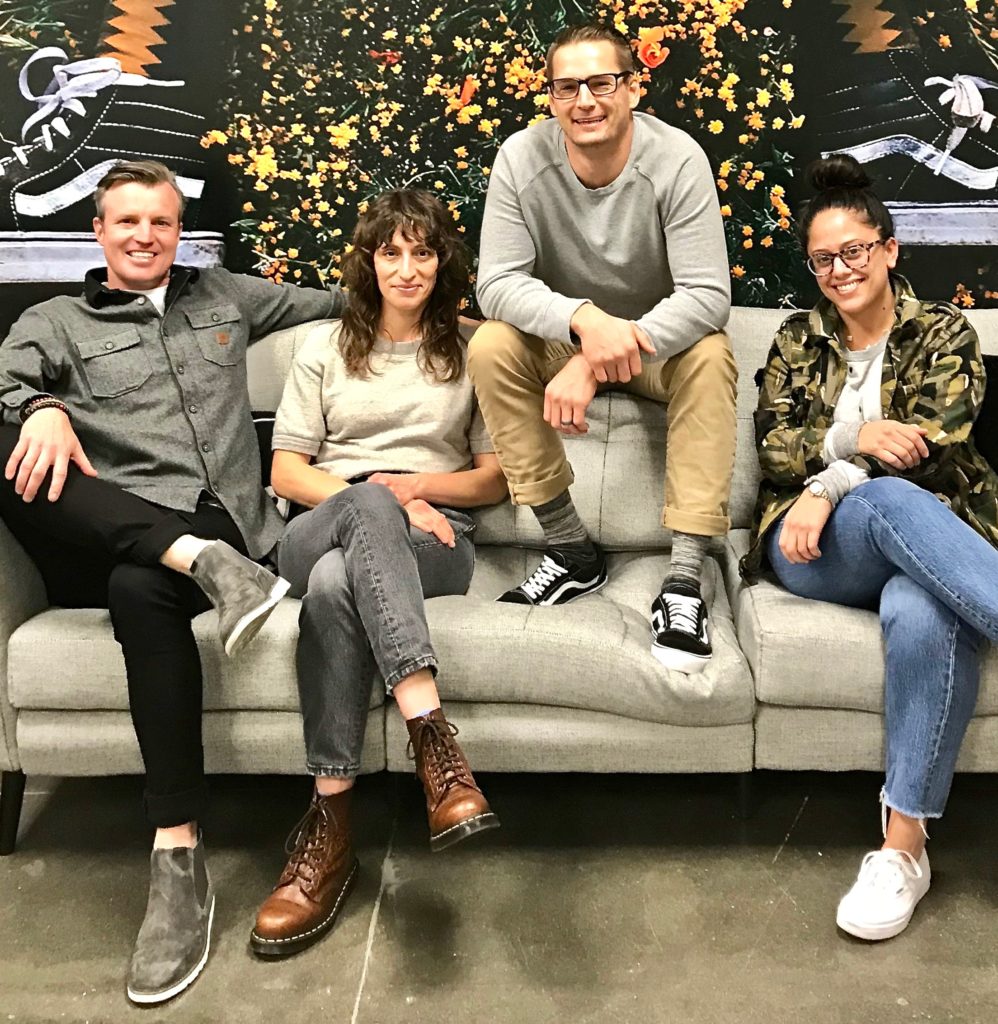 President Tim Morse with some newer team members Sara Woolsey, Tobias Coffman, and Melissa Goldfischer
The team at Richer Poorer has been busy. The brand brought on several new hires in key positions, refined its approach to e-commerce and digital, and is expanding its apparel program.
We asked President Tim Morse some questions to find out more about what's new with Richer Poorer.
Can you tell us about who has joined the company in key positions and where they come from? Also, have you added new positions or are they filling vacant ones?
Richer Poorer President Tim Morse: We've done both. In senior leadership, we've brought in a new Creative Director, Marketing Director and Sales Director. These all filled seats we already had, but the jobs themselves had changed tremendously with the shift of our business to a larger emphasis on women's, apparel and digital.
What worked for us two or three years ago no longer does, so those positions have really changed. We've also brought in a few new roles in both our e-commerce and sales ops departments to better manage growth strategically, and better service our wholesale partners.
Sara Woolsey joined us as our full-time Creative Director this past summer. She was the freelance designer we worked with who developed our cult-favorite bralette a few years ago, and she has been a consistent part of the RP design family since. She came to us with over a decade of experience in both action sports and contemporary, working with brands like Quiksilver, RVCA, Jen's Pirate Booty, etc, and had a really strong design point of view. In her role, she is overseeing all product development, design and overall brand direction.
Tobias Coffman is our new Marketing Director who joined us last year to oversee all brand and digital marketing efforts, along with e-commerce – which is no easy feat. Tobias has a really diverse background that allows him to lead these initiatives for us. He began his career in brand management and PR at Quiksilver, then to the tech world in product and partnerships at ManCrates.com, and finally product marketing at Jawbone before landing at Richer Poorer.
Melissa Goldfischer just came onboard a few months ago as Sales Director, leading the continued push for us in the women's market. Melissa most recently came from Miansai, heading up their sales for six years. She brings with her process and strategy we are now using to go after channel expansion. Her experience in both the contemporary market as well as selling across the men's and women's channels has armed her to lead the sales team.
What changes have you made on the e-commerce and digital marketing front and why?
Tim Morse: Before the beginning of last year, we worked with an outside team that handled the entire e-commerce side of the business. We have since brought all of that in-house and only work with an outside digital marketing agency that assists in ad spend.
Our experience as a team was always stronger on the brand building and wholesale side of the business, so our assumption was that we needed the support of an outside group to help us scale the e-commerce channel.
We quickly figured out this wasn't the case, and that nobody knows our brand and its needs better than we do. While it was a difficult task to find the right people, once we did, it has proven to be really effective. We are continuing to keep our foot on the gas with e-commerce growth, but are spending 2019 using our learnings to apply them to the wholesale channel and grow that digitally as well.
How has the expansion into apparel gone and have you tweaked the approach?
Tim Morse: The apparel expansion has been really strong for us, and we're continuing to heavily invest in the categories of T-shirts and fleece.
Last year we introduced some silhouettes that went beyond a true basic, and had a hint of trend incorporated, like our crop T-shirt assortment, and we had a lot of success there. This is our sweet spot as a brand and we are introducing more of this in our future seasons.
Our focus moving forward is taking the collection just beyond the basics to be trend aware, while maintaining great quality, an attainable price point, and of course a strong California point of view.
I hear the women's side of your business is doing well. What products are working and how has that helped your distribution possibilities?
Tim Morse: We are consistently seeing the most growth coming from our women's division, both in wholesale and e-commerce.
Our leading category is still intimates, followed by our T's. Our current top selling SKU has been the new Femme Boxer we launched in the fall. It quickly became our top selling style online, and our top booked style for this spring in wholesale.
Our crop T-shirt collection continues to have strong growth across all channels, and we are launching an entirely revamped fleece program for both men and women in April. This has allowed us to open a lot of great women's specialty retailers over the back half of last year, and are we are continuing to keep our focus there for 2019.
Can you explain what happened when that online retailer acquired the brand and then something changed? What happened there, and are you 100 percent independent now?
Tim Morse: We sold to Shoes.com at the end of 2015. The plan was they were going to help us scale the business through e-commerce. They themselves were a few-years-old start up at the time and they had taken on a lot of funding to grow.
As we've seen happen time and again, they simply didn't execute properly and their business started faltering pretty soon after they acquired us. We saw this happening and ended up buying Richer Poorer from Shoes.com with investors at the end of 2016, just before they filed for bankruptcy the following month.
We continued to grow the business with the investors as partners for a year and half, and then CEO Iva Pawling and I bought Richer Poorer back mid-last year.
So after about three years, we are in full control on our own again and enjoying every minute of it. There were many lessons to be learned through the experience, and we are thankful that we got the business back.
What's the biggest challenge right now in growing the business? 
Tim Morse: Figuring out how to bridge the digital divide in wholesale is the biggest challenge facing all brands right now, us included.
Trade shows are slowing down, but we firmly believe retail is not, and there is still a significant opportunity for brands that are willing to invest in wholesale.
We are currently navigating how to apply the right digital strategy to get in front of the right retailers – who have a strong business, curate well and focus on the customer experience – while not overextending our operations to ensure we grow responsibly.