Billabong Men's Marketing From the North Shore: Joel and More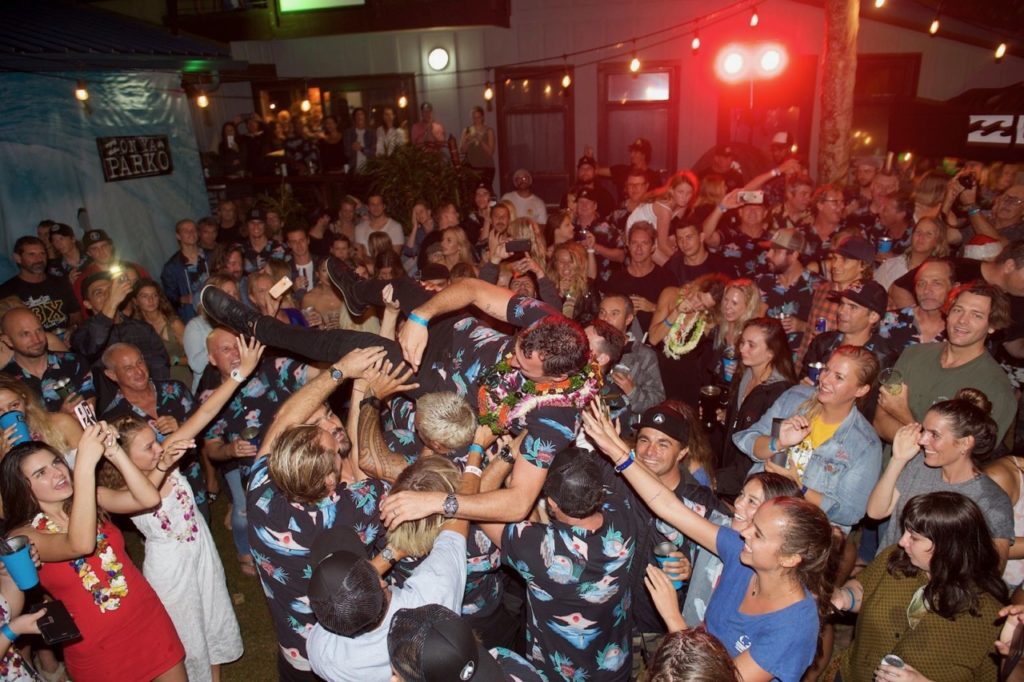 Today we check in with Scott Hargreaves, Billabong Men's Global VP of Marketing, to find out more about the brand's approach this year on the North Shore during the Billabong Pipe Masters.
What are the key marketing activations for Billabong Men's this year at the Billabong Pipe Masters?
Scott Hargreaves: This week is the culmination of Joel Parkinson's retirement year.
We've sent him out with a party that will go down in the Billabong record books.  WSL lead commentator and close friend of Joel, Ronnie Blakey, hosted the evening.
The party included heartfelt and entertaining speeches from Joel's wife, Monica, and daughter Evie, and close friends Mick Fanning, Makua Rothman and Kieren Perrow also spoke. All of the messages that helped kick off the party expressed love and gratitude for Joel as he has been such an inspiration and icon to so many in the surfing community over the years.
Joel finished the formalities by thanking everyone who was part of his career, and said "I just want to say that I'm proud of myself. I take pride in what I do and what I've achieved. It wasn't until I made this decision to retire that I've been able to appreciate all of that. And I feel happy that I can say this in front of you all without sounding like a big headed pig. I'm f**king proud."
Following the speeches, the party truly began. Four massive rock stars came together as the 'Wedding Band' and put on a special treat for Parko.
What are some other ways you are celebrating his career?
Scott Hargreaves: We released a product capsule featuring a Hawaiian-inspired scenic print that pays tribute to Joel's tour wins around the world throughout his illustrious career.
We've also celebrated his career with a video series called "Parko's Last Lap." The series documents his major milestones and the influence he's had on the surfing world. The final episode of that series drops on the first day of the event.
In addition to the Joel story, what else have you guys been working on?
Scott Hargreaves: We have several other marketing initiatives wrapped around the Billabong Pipe Masters this year. Everything we're doing sits under the umbrella handle of Billabong Tradewinds.
Each Tradewinds story has a connection back to the Hawaiian Islands and our history of being associated with Hawaii as a brand. We've just released our "Life's Better in Boardshorts" campaign for Spring '19 which showcases Hawaiian-inspired prints and colors and is reminiscent of vintage Hawaii. The campaign was all shot in Hawaii with our marquee list of surfers.
Another product marketing story we're releasing this week is a Billabong Adventure Division product collaboration with MultiCam Black that we designed with Shane Dorian. The collection features a unique tactical camo print MultiCam Black across some warm and cold weather Adventure Division products and is aligned to both Shane Dorian and the Hawaiian Water Patrol.
Keeping it close to Hawaii, we're also releasing a really nice video on the Moniz Family and their 15-year relationship with Billabong. Tony Moniz is often referred to as the modern day Duke and the story of him, Tammy and their children is one we're really proud to be associated with as a brand.
Last year we started an event called the Salute to Pipeline where we honored the great names who've stood out at Pipeline and in the Pipe masters. We are continuing the event, and this year we'll be honoring some of the greatest Hawaiian families that have shined at Pipe.
How are you tying what's happening in the water with what is happening with Billabong as a brand?
Scott Hargreaves: Hawaii is the epicenter for professional surfing. It makes and breaks dreams and professional surfing careers.
The Billabong team is once again standing out in front of the pack.
Joel Parkinson may get a movie script ending with a possible fourth Vans Triple Crown in his final event on the world tour.
Italo Ferreira is blowing minds in the water each day and is looking to win his fourth WCT event of the year.
Griffin Colapinto is a real threat of going back-to-back with Triple Crown titles.
Seth Moniz has capped off a breakthrough year and qualified for the 2019 WCT, and he also secured a spot in round 1 of the event, replacing John John Florence, who is out with an injury.
Ryan Callinan has done the unimaginable and got himself back on the championship tour after two crucible years in his life.
Jack Freestone has also found himself in the position of likely getting a spot in the big league in 2019.
All the hard work with our team development program is paying off, and on top of that, all our surfers are wearing our marquee product for the entire time we're activating here.
How are you utilizing those athletes during the event?
Scott Hargreaves: Our team riders are the centerpiece of everything we do during the Pipe Masters. We've got a couple of team traditions we do each year around those who qualify for the WCT and for the entire team. We also bring the group together for a photo moment, BBQ and storytelling session.
We celebrated the opening of our new Billabong Waikiki store with a team surf afternoon, and meet and greet, and media session.
We're producing a ton of content from longer-form pieces to short, real-time pieces of organic social media content.
We have a junior development program called Bloodlines and again this year we have our best kids staying in the Billabong house soaking up all the action.
But again, our biggest team moment this year is all about Joel Parkinson's retirement. We've taken a 360-degree approach to the moment and made sure his career is celebrated in stores, online and on the ground here in Hawaii.
There are lots of brands activating on the North Shore. How are you helping Billabong stand out on social media?
Scott Hargreaves: The Billabong Pipe Masters is obviously the single reason why everyone comes together in Hawaii each year. Having our brand name associated with that centerpiece is a large lever to pull for standing out against our competitors.
From a social media perspective, we over-index at this time of year and we plant a large team of people on the ground to execute our content plan and calendar.
Our goal is to be relentless at posting powerful, authentic moments aligned to our surfers and all the things we have activating in Hawaii.
We want to engage and entertain our audience and following. We want them to feel like they're here on the ground with us, experiencing every piece of the action as it goes down.