Rip Curl Founders Remember the Early Years as 50th Anniversary Nears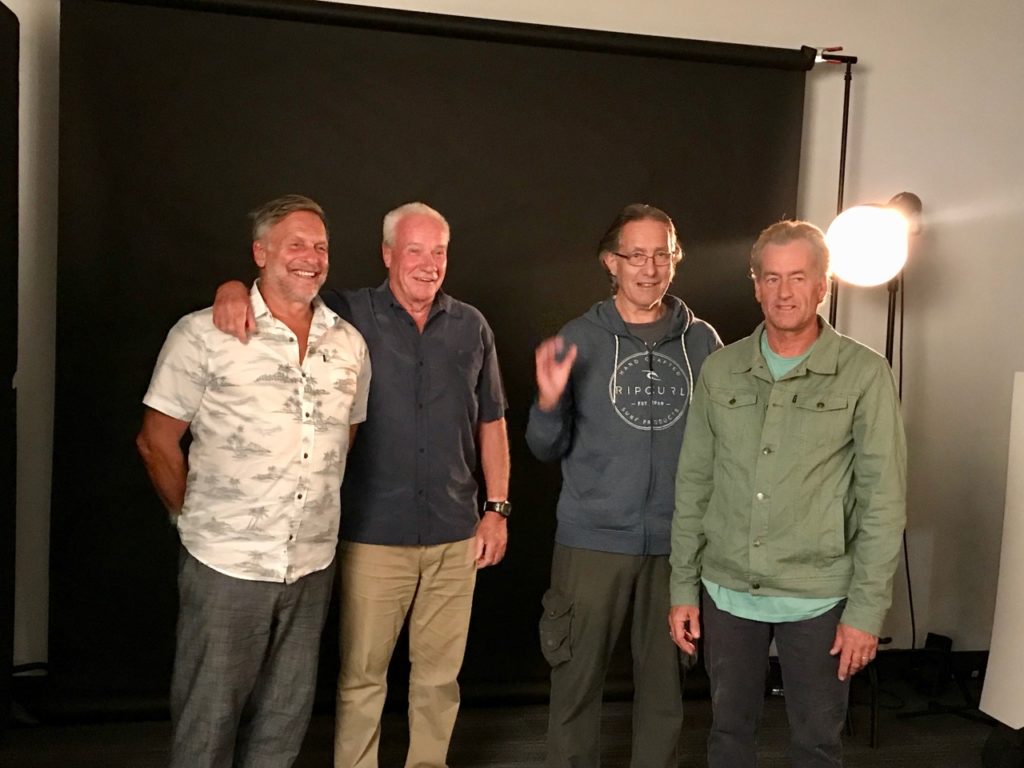 Rip Curl Founders Francois Payot, Brian Singer, Doug "Claw" Warbrick with Rip Curl surfer Tom Curren
Rip Curl Founders Brian Singer, Doug "Claw" Warbrick and Francois Payot are in Orange County for board meetings this week, and Rip Curl USA used the opportunity to host a pre-party for the brand's 50th anniversary, which officially takes place next year.
Brian told great stories about the early days of the company, and also about the trials and tribulations Rip Curl encountered trying to grow the business in the U.S.
He also told a funny story about how Rip Curl came up with its guiding vision – to be the ultimate surfing company.
Here are highlights from Brian's talk. Brian is chairman of the board and is involved in the business side of the company, while Claw is considered the creative visionary and gets involved on the athlete side.
Brian Singer: "It's great we've been here for 50 years, but much better are the interesting times we have had along the way.
"We are all so lucky to work in the surf industry. The life we are able to live, you don't have to put on a suit and shoes to go to work. It's an amazing lifestyle – it's almost like not working half the time.
"The USA – it started in the 1970s. A lot of people were coming to Torquay to surf in the Rip Curl Pro and we started figuring these pro surfers like our wetsuits. So we followed our customers around the world.
"So we came out here in 1979, and I drove around in a car with Jeff Hakman who was at Quiksilver at the time. He introduced me to the top accounts on the West Coast and we took all these orders, which was fantastic.
"Quiksilver was going to do the distribution and they decided not to, so then it was "What are we going to do with all these orders?"
"I called (a surfer), who was well known over here. … And away we went! One thing led to another and here we are today.
USA Leadership Challenges
"We went through several presidents here, a couple of which I chose, and I chose quite poorly. We were losing a lot of money, a lot of money. And we thought, that's not very good!
"Luckily, we cottoned on to Kelly Gibson. We had met Kelly several years' prior but he decided to stick with O'Neill. But this time, we made him an offer he couldn't refuse.
"It's been a fantastic ride with Kelly. He pulled us out of the hole from losing a lot to making money. Now Kelly has passed it to the younger generation with Dylan Slater, which has been a great transition."
The Beginning
"I want to go back to the beginning, Torquay, 1969.
"I was a school teacher, and I had just finished school so I was wearing a tie. I was walking down the main street in Torquay, which is not very big.
"Claw was walking the other way, and he passed me and he said, "Do you want to make surfboards?" And I said "Yes."
"And it's as simple as that.
"We made surfboards, and then wetsuits, and then one thing led to another.
"I often get asked if I thought back then that we would get this big. I was 25. Does a 25-year-old ever think of the future? No, we were thinking about how can we make a little money so we can go surfing next week, or for our next trip.
"So the answer is of course not."
The Vision Statement
"Fifteen or 20 years ago, we were working on writing down our vision, and going through all this really corporate stuff.
"We had this guy Hodge who worked on our watches, and he looked at what we had and said, "What is all this shit? We are just a f***ing surfing company."
"So our vision is pretty simple. Who are we? We just want to be the ultimate surfing company."
See photos from the evening in our slide show.