Remembering Nike's Sandy Bodecker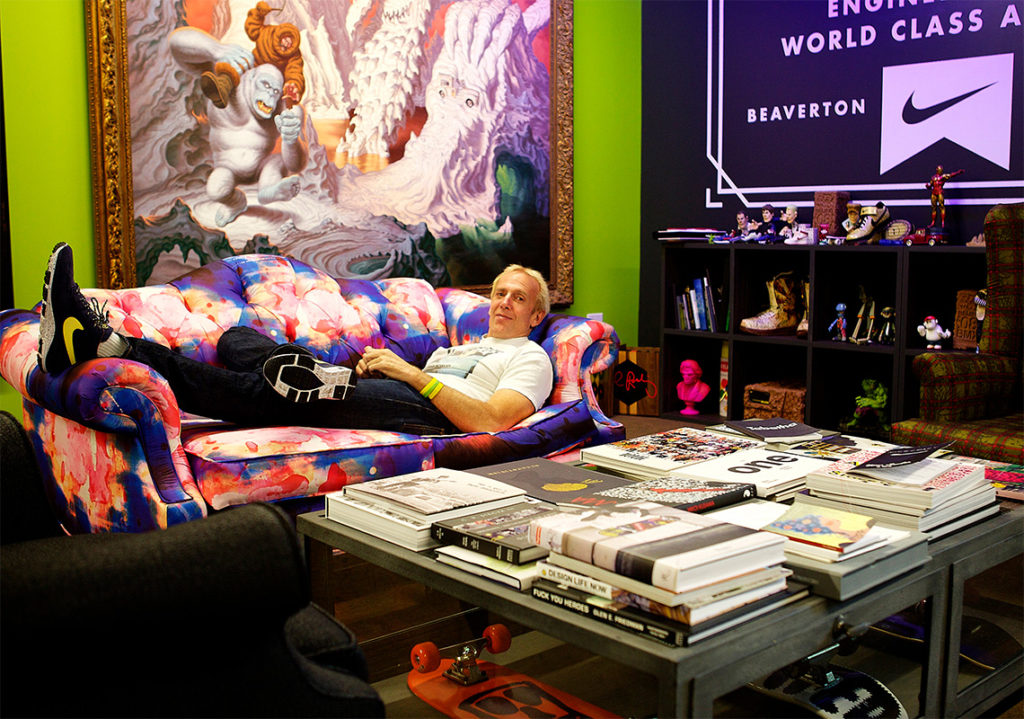 Photo courtesy of Sneaker News
I was so sorry to hear yesterday about the death of Sandy Bodecker, a key executive at Nike for decades.
I have not seen a firm cause of death released. Previously, he had had a very long battle with throat cancer.
Sandy accomplished many big things at Nike, including creating the winning formula that finally allowed Nike to crack the skateboarding market.
Sandy also was the architect of Nike's entry into soccer, where it is now one of the dominant players.
He also held titles such as VP of Design for all of Nike and more recently, VP of Special Projects.
Sandy was in Nike's inner circle and was very close to CEO Mark Parker. He was also good friends with Roger Wyett, a former top Nike executive who also led Hurley for years.
Mark Parker released the following statement about Sandy: "We are deeply saddened by the loss of Sandy Bodecker. Over his 36 years at Nike, Sandy made an impact in every position he held.  He lived to serve the athlete. From footballers to skaters to marathoners, Sandy's enthusiasm inspired everyone."
Since Sandy was known for his strategic thinking, I thought it would be good to revisit an in-depth interview I had with Sandy in 2011 in his office at Nike headquarters.
At the time, Nike had decided to eliminate Nike 6.0 in favor of just Nike while keeping Nike SB.
In the interview, he talks about how the strategy developed to crack the soccer market and the skateboarding market. He offered some great insight into why the strategies worked.
(Of course, some things they planned for Nike surf and snowboarding outlined in this interview did not end up working out but the interview still gives a great glimpse into Sandy and his thinking).
I'm sending my best wishes to his family, his friends, and his colleagues at Nike, with an extra big hug for my friend Roger Wyett today.
SES Interview with Sandy Bodecker in 2011
Nike action sports is embracing the swoosh.
The company is embarking on a major evolution of its action sports strategy with Nike 6.0 and most other subsets fading away and becoming simply Nike.
"Instead of speaking through multiple voices, we will speak through one voice, which is Nike," said Sandy Bodecker, Nike Global Vice President of Action Sports.
Nike SB, however, will still exist as a skate collection at the core.
Nike announced in 2010 that its action sports business, not including Hurley or Converse, totaled $390 million, and the company plans to double that figure in five years.
Going forward, instead of focusing on a wide range of action sports – the Nike 6.0 strategy – the company will target and invest the most in skate, surf and snowboarding, though Nike says it will still support the other sports under the 6.0 umbrella, such as wakeboarding, moto, BMX and skiing.
Nike is focusing on surf, skate and snowboarding the most because they have the highest participation levels – and in the case of surf and snowboarding, the highest percentage of female participation.
"For the health of the action sports industry and to help grow the pie, the easiest way to do that is to focus on the sports with the biggest reach," Sandy said. "It will also allow us to go even deeper and have even more commitment in each of the sports. … There will be an overall thread that ties everything together, but we are committed to being a great skateboard brand, a great surf brand and a great snowboard brand."
I flew up to Oregon and spoke to Nike action sports executives about these changes and much more. Explaining the strategy shift to me were Sandy, Dan Burris, Global General Manger of Nike Action Sports, and Bastien Renard, Global Marketing Director of Nike Action Sports.
Sandy is part of Nike's inner circle of top executives and the architect of Nike's third and only successful entre into action sports, something many in the industry never thought would happen because Nike's size and traditional sports DNA seemed counter to the anti-establishment action sports ethos.
The three told me Nike's product approach in action sports is also changing. Instead of producing multiple lines, Nike will make one line for apparel, one for footwear and one for outerwear. Nike SB will still exist as a collection at the core, though there will be a special assortment of product simply branded Nike at the core as well.
The footwear line will be driven by skateboarding; apparel around surf and skate influences; and outerwear by snowboarding.
The line will be assorted to different channels and types of retailers. Nike footwear, for example, will have different product for the core, for a Jack's level of store, and for a PacSun.
The lines will be assorted for skate specific doors and surf specific doors.
Previously, Nike 6.0, the more widely distributed piece of the company's action sports business, did not cover skateboarding. Nike SB, mostly available only at the core, had that space to itself. Under the new Nike initiative, skateboarding will take on an elevated role.
"Before, you wouldn't see skateboarding communicated at PacSun," Sandy said. "There will not be 100% the same messaging, but there will be a connection with what we do in the core, and drive (that message) down."
Some athletes, such as skaters Paul Rodriguez and Eric Koston, will be elevated to a broader platform, while others will stay focused on the core. The athletes are involved in formulating the strategy specific to them, Sandy said.
Skateboarding is attractive for many reasons, Sandy said. It reaches a diverse group of kids and cultures, you can skate anywhere, and if you're down with skateboarding, you can be a skateboarder, Sandy said.
"There are no barriers to being a skateboarder," he said. "It's a very attractive thing to support that type of interaction and healthy pursuit. That's an awesome thing for the brand to really stand behind."
Sandy stressed that Nike is still very committed to having special product for core retailers, especially the skateboarding community, which has embraced Nike SB and served as Nike's foundation for launching into the larger action sports world.
"We couldn't have been successful without their support and partnership and that will never change," Sandy said.
"We will provide a higher level of service and selection of product that is unique to our core doors at the same time, we want to leverage all the good work we do in the core and bring it down to a generation of kids that is just starting to be introduced to those sports," he said.
… "In the most basic terms we want to make the core retailer profitable. We will have an integrated, 360-degree approach to making sure our relationship with them is a profitable relationship."
Third time's the charm
Nike first dipped its toe in action sports about 13 years ago as a subset of ACG, Nike's outdoor product line. That effort failed because the company was not 100% committed to it, Sandy said.
Next, some folks inside Nike convinced management to give seed money for a completely separate brand, Savier. The feeling was the Nike brand was too omnipresent at the time and would never be accepted in the skate world.
That didn't work either, and CEO Mark Parker approached Sandy about creating a new strategy for Nike's action sports efforts.
Sandy had just come off a sabbatical after launching Nike's revamped strategy for soccer. When Sandy got involved in soccer in 1994, Nike had a $50 million soccer business. In 15 years, soccer grew into a $1.5 billion business for Nike.
At first, Sandy was the only one working on action sports. He spent time investigating the space, and thinking about an approach that would work.
"We all believed if we didn't get it right this time, we would never get it right," Sandy said.
Sandy said that in his career at Nike, he has been involved in launching new business units and said he learned two key lessons.
"One, you have to have great product. If you don't have great product, you don't exist," he said. "Two, to have good product, you have to have a good team."
So he recruited Dan Burris from what Sandy described as a much more prestigious position as Global Director of Footwear Development for all of Nike to come work with him in 2001.
A bit later, Sandy turned to Kevin Imamura to help him connect to the core and to help educate him about the skate world. Kevin knew skateboarding inside and out, having worked at Warp Magazine and launched Transworld Stance Magazine, an action sports lifestyle publication.
Product-wise, instead of reinventing the wheel, they decided to build on Nike shoes that skaters liked, such as the Dunk, and then listened to their athletes about problems they have when skating – turned ankles, heel bruises, etc.
So the team took the Dunk and added Nike Zoom Air technology for cushioning and made a more skateable version of the Dunk.
They then applied storytelling, something Nike is good at, Sandy said. They embarked on Dunk collaborations with artists and skateboard hardgoods companies, and brought the Dunk to life in the skate world.
Sandy remembers Nike's first ASR show, where they had a small booth and one shoe, the Dunk. They won the award for best small booth of the show, he said, and probably surprised people with the modest presentation.
"A lot of people expected us as Nike to come in and spend lots of money and do all the things the big Nike brand would do," he said. "We always felt that was the wrong way. We needed to earn the respect of the core and that happens over a period of time."
This time, Nike took the time to invest in those relationships with retailers and the skate community at large.
"We did a pretty good job of exercising patience and living up to the commitments we made to that part of the business," he said.
The broader action sports world
Once Nike SB was established in skate, Sandy said they started to brainstorm about what to do next and how best to get into action sports in a serious way.
Sandy and his team decided that instead of spending "mad money" for athletes at the very top of their game, it wanted to invest in the next generation.
Part of the thinking derived from what Sandy learned launching Nike's soccer efforts. By a certain age, kids are brand loyal, he believes.
"In (soccer), we had a single target – Adidas – that was so well established, we didn't think we'd convince 16, 17, 18 year olds to change brands."
So instead, Nike invested in the next generation, and grass roots efforts, so the kids would "grow up with us," he said. "You reach a point in time when the generation after them doesn't know a world without Nike in their sport."
That was a key lesson he learned, and they applied it to their action sports efforts.
"It also allows us to really think about the future and how you set yourself up to be leaders and this is also a very important part of who we are as a brand," Sandy said.
Sandy turned internally to Bastien Renard to help him formulate the next phase of the plan. Bastien joined the action sports team in 2003, two years before Nike 6.0 launched.
After talking to kids, he locked into the idea that the perception of action sports was changing with the young. The first generation had a very us vs. them mentality because it had to fight for its place on the mountain, for a place to skate and not be hassled by police, etc.
Those kids in the second and third generations grew up with action sports as part of their lives. Snowboarding is accepted everywhere now, there are skateparks and skate camps. Like soccer moms, you now have surf, skate and snow moms who are encouraging their kids in the sports.
"These kids look at action sports as being part of the larger sports world," Bastien said. "The distinction is not as strong as it used to be. … That gave us the opportunity as Nike as a brand to come in with a different voice and built a relationship and have a conversation with kids that was different."
With the more mainstream acceptance of action sports in the sports world, Sandy said the definition of what a professional is has changed as well. Expectations have risen, and the ability to make a real living has materialized. Kids are taking the sports much more seriously, and realize they can be a pro in snowboarding or surfing the same way they can be a pro baseball player.
And who's the best at best at promoting and supporting athletes? Sandy said "that draws it back to a Nike conversation. They've seen what Nike has done with a Kobe Bryant, a Michael Jordan, a Tiger Woods."
Leveraging the swoosh
There are many reasons for Nike action sports to embrace the swoosh now, Sandy and his team said.
One key reason is that Nike action sports athletes consider themselves Nike athletes rather than Nike SB or Nike 6.0 athletes, which is gratifying, Sandy said.
"It's an acknowledgement of all we invested in the last 10 years to develop trust in us as a brand in their world," he said.
They want to be on the larger Nike stage, and signed with Nike for a reason.
The television commercial and "Just Do It" advertising campaign that launched Thursday is really elevating the action sports athletes to the same level as a Kobe or a Tiger, Sandy said, "which is what they've been asking for," Bastien said.
The extensive global, multi-platform advertising campaign features Nike's action sports athletes such as Paul Rodriquez, Julian Wilson and Peetu Piiroinen in action, shot at night. The television commercials that are being shown during major events such as the NBA finals and in movie theaters during summer blockbusters.
The campaign and leveraging the swoosh in general also allows Nike to connect with the target consumer outside of the action sports community instead of talking only to the people they already know, Bastien said.
"It's really a different opportunity and a different moment in time," Bastien said.
So while the action sports team at Nike is ready to move into the larger Nike fold, Nike as a company is embracing the action sports world as well because it allows them to speak to a new audience in a fresh voice, Sandy said.
Going forward, Nike action sports plans to leverage all that Nike has to offer, including collaborations with other Nike athletes, such as the new Eric Koston/Kobe Bryant limited edition shoe, technology developed in Nike's Innovation Kitchen for other sports applied to action sports product, and more.
"We want to have our own voice that is very specific to action sports, and within that a specific skate voice, a surf voice and a snow voice," Sandy said. "But we also want to leverage the fact that we are Nike."
Apparel plans 
I asked Sandy and the group what Nike action sports stands for. I know what brands like Hurley, and Quiksilver and Volcom, and even Nike stand for, but I realized I was still unclear about the Nike action sports piece.
Sandy said in some ways, Nike action sports is still defining what it is. In depends on the sport as to how far along the brand is in defining that.
"The best way of describing it is how does our performance DNA get filtered through an action lens?," Sandy said.
In apparel, Sandy gave the example of the skaters' uniform – chinos, a T-shirt, and a woven top. If the Chinos have stretch, and the T-shirt has Nike's Dri-Fit technology to wick away sweat, and the woven has stretch, Dri-Fit, and is waterproof, Nike is bringing innovation to that world, but through an action aesthetic, Sandy said.
Hurley has proven with its Phantom boardshort that the action sports consumer has an appetite for innovation and is willing to pay for it, Sandy said.
That's where Nike plans to play – in the premium side of the market.
"We don't want to compete at a $45 vulcanized shoe. That's not who we are as a brand. If we are going to do a vulcanized shoe, we are going to do it really, really well, like the Janoski – durable, great fitting, awesome styling. We will take that approach into apparel and that is what you will see in the future," he said.
I asked how he sees apparel evolving. Will it be as big as footwear someday?
Sandy said footwear will likely always be the largest piece of the business.
But Nike is slowing gaining credibility in apparel and will invest in that, he said.
"Our growth expectations are not to gain 20% market share overnight," he said. "We want to build solid market share, invest in classifications that are most meaningful to the consumer and bring innovation and craftsmanship and a Nike point of view."
I also asked if Nike planned to move into other categories such as sunglasses, accessories, and hardgoods.
I got a definite "No" on hardgoods. As far as the others, at this point, Sandy believes it would be a distraction. Once Nike solidifies its footwear and apparel business, it can start to look at new opportunities, he said.
The global picture
Nike thinks globally, so I was curious how Nike action sports was doing internationally.
Right now, Nike action sports is focused on North America as its biggest opportunity and Western Europe as its second biggest. But Nike Inc. operates in 160 countries around the world.
In the future, Nike action sports sees a big opportunity in Brazil, with its healthy surf and skate culture, its action sports distribution, its line up of sporting events coming – the World Cup in 2014, the Olympics in 2016 – and its robust economy.
Australia and New Zealand will also be a focus. Although the size of the opportunity is not as big as Brazil, it has one of the most authentic action sports cultures in the world, Sandy said.
The potential in China is unlimited, he said.
"The youth consumer there has shown if you paint the picture for them, they are interested in participating in what you paint," Sandy said.
Central and Eastern Europe and Russia will also be a target, especially in snow and heading into the Winter Olympics in Sochi Russia in 2014.
The big picture 
Finally, I asked Sandy and his team what is the ultimate goal for Nike action sports. Do they want to be the No. 1 action sports brand? Become a major business unit for Nike? Where is it all going?
"At the end of the day, we want to be the best action sports brand," Sandy said. "If you do that, you can achieve being the No. 1 action sports brand. But we want to do that defined by the box we play in. Are we going to go down and sell $35 and $30 shoes and create a bunch of volume? No. That's not who we are as a brand. We are a premium brand, and we will only be a premium brand.
"We believe we can be a leader in the action sports community, we believe we can be the best action sports brand in the business over time, and that's certainly one (goal) that we set out for ourselves.
"Can we contribute financially to Nike overall? Absolutely. Is there room for us to grow financially? Absolutely. It's less about a financial target and more a qualitative target," Sandy said. "We want to build a long term, sustainable, healthy action sports business."