POW Action Fund Billboards Call Out Rep. Tom McClintock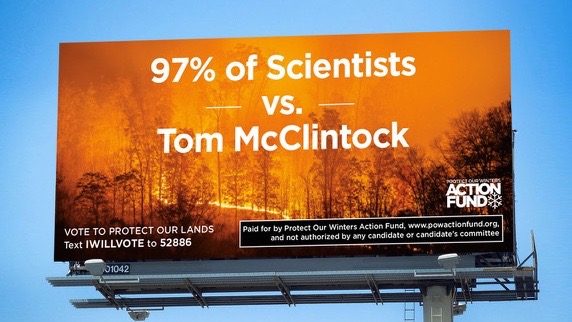 Even as wildfires closed Yosemite National Park, and ski resorts surrounding Lake Tahoe have been forced to shutter mid-winter, California's 4th District Rep. Tom McClintock continues to blindly deny that climate change is happening. Skiers, snowboarders, climbers, and those who rely on snow and the outdoors throughout the Sierras have had enough of climate change's impact on their economies, jobs, and way of life. Specifically, these California residents have had enough of Tom McClintock. Five crowd-funded billboards from the POW Action Fund are going up in CA-04 starting October 15 through election day calling out McClintock's reckless, out-of-step views on climate. These billboards are expected to receive more than 1,000,000 views.
"Rep. McClintock loves to talk about protecting jobs, but then he goes to D.C. and votes for backward-looking policies that put our district's thriving outdoor recreation industry and tens of thousands of jobs in immediate jeopardy," said Jeremy Jones, Truckee-based pro snowboarder and Board Chair of the POW Action Fund. "Our district is home to many of the state's most important outdoor recreation communities, outdoor companies, and the snowpack that helps to sustain our state's water supply throughout the year. Jessica Morse is one of us. She knows this district having hiked it along the Pacific Crest Trail from North of Lake Tahoe to Mt. Whitney and is committed to defending its public lands, growing our district's 13,000 clean energy jobs, and working to reduce greenhouse gas emissions."
California's 4th District is home to 7,107,805 acres of national forests, parks, and monuments, 10 ski areas, and a constituency of tens of thousands of passionate outdoor people. Despite that, Tom McClintock, a climate change denier with a four-percent rating from the League of Conservation Voters, has represented the district for nearly a decade. The new POW Action Fund just released its first ever Voter Guide including and is working on education, registration, and GOTV efforts in targeted midterm races, including CA-04.