Cold Front Tour Celebrates Start of the Winter Season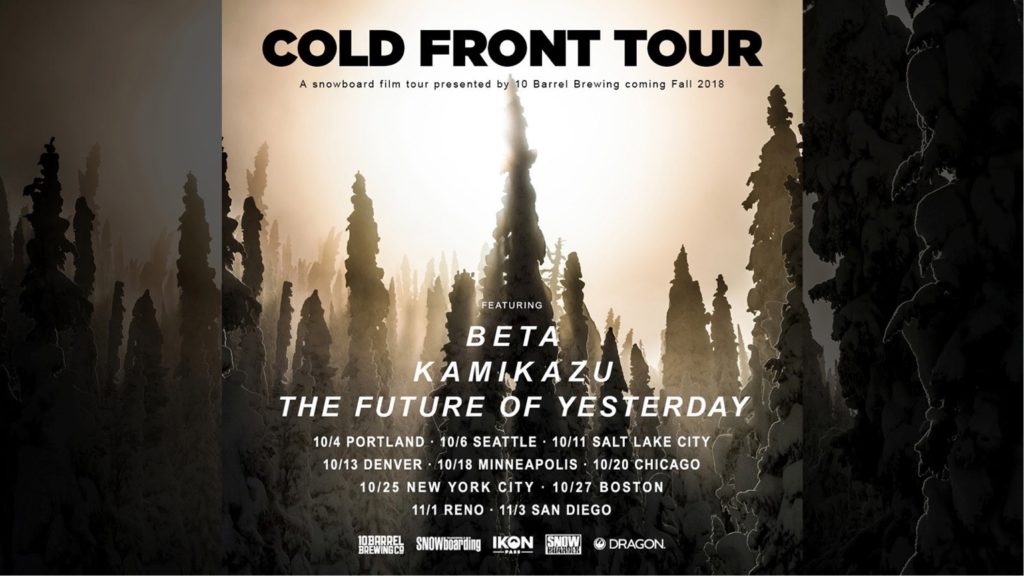 The 2018 Cold Front Tour is bringing the ultimate season kickoff event to a city and big screen near you. TransWorld SNOWboarding and SNOWBOARDER magazines have collaborated to share their latest films with the masses thanks to generous support from 10 Barrel Brewing, The Ikon Pass & The Dragon Alliance. Each tour stop features top athletes, giveaways, after parties, and more.
Canvasing the country, the Cold Front Tour will be making stops in Portland, OR, Seattle, WA, Salt Lake City, UT, Denver, CO, Minneapolis, MN, Chicago, IL, New York City, NY, Boston, MA, Reno, NV & San Diego, CA. According to SNOWBOARDER's Creative Director, Pat Bridges, "The Cold Front Tour is providing us with an ideal opportunity to spread the stoke to our audience within an intimate, experiential gathering where the action on the screen gets everyone hyped to spend another winter living the riding life." Nick Hamilton, TransWorld's Content Director, adds, "We are excited to share our new movies firsthand with snowboarding fans. There is no better pre-winter experience than watching mind-blowing snowboarding on a giant screen, surrounded by fellow cheering snowboarding fans."
About Kamikazu:
Starring modern day snowboarding legend Kazu Kokubo, Kamikazu documents some of the best backcountry riding in history, in deep mountain locations around the globe, from snowboarders hand-selected by Kazu based on style and originality. Kazu's uncommon vision has carried him to an illustrious place few modern riders have reached. Perspective and unwavering commitment to doing what he wants, how he wants, have cemented Kazu's place as one of snowboarding's modern icons. These traits guide the direction for his well-deserved signature film project.
About Beta:
With Beta, SNOWBOARDER has assembled an eclectic crew of disrupters who are striving to change the game. Volatile and charismatic, this cadre of riders spent 2018 sending it further, stomping cleaner and pushing progression harder than ever. Directed by Tyler Orton, Beta features Brock Crouch, Nik Baden, Gabe Ferguson, Brandon Davis, Finn Westbury, Gab Jacques, Jacob Krugmire, Benny Milam, Jared Elston & Reid Smith.
About The Future Of Yesterday:
This past season The Future Of Yesterday crew traveled to Japan, then Italy, survived the European RV Tour of Depression, posted up in LAAX, and sent it in numerous locales in between, before finally wrapping up in Oregon. They did what they wanted without worrying about hangups like schedules or deadlines that often take priority while making a snowboard film. Enjoy this HD look into the season of Halldór Helgason, Tor Lundstrom, Kevin Backstrom, Ulrik Badertscher, Ethan Morgan, Eiki Helgason, and Max Buri, directed by Theo Muse.
About TEN: Sports & Entertainment Group
TEN: Sports & Entertainment is the world's premier network of enthusiast brands in the action/outdoor market, featuring leading brands such as Adventure Sports Network, Dew Tour, Surfer, Powder, TransWorld Skateboarding, and TransWorld Snowboarding. With 13 brands reaching more than 38 million enthusiasts monthly, TEN inspires enthusiasts to pursue their passions. For more information, visit enthusiastnetwork.com.