Surftech Introduces the 2019 prAna Collection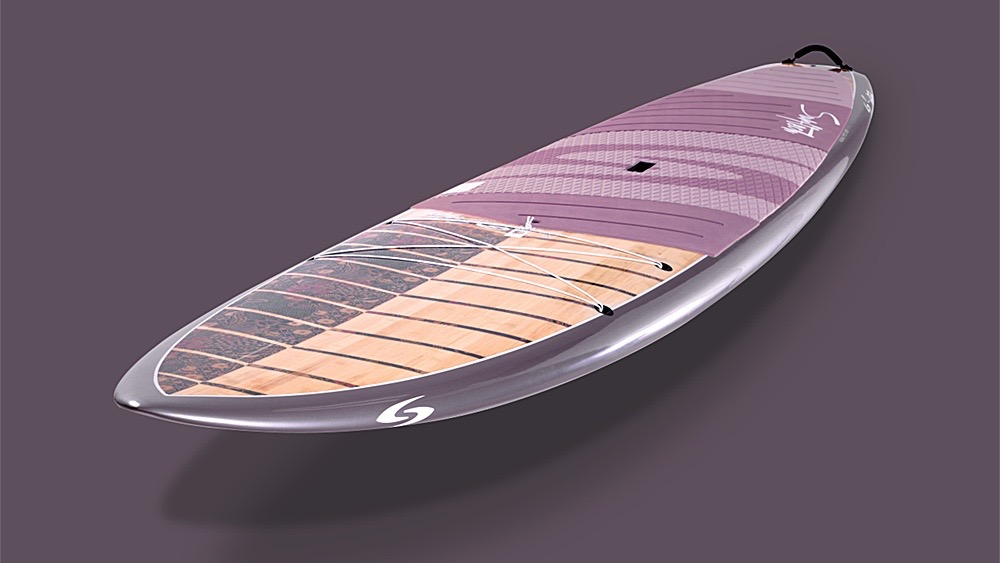 Surftech and prAna collaborated to created the ultimate line of Stand-Up Paddle (SUP) boards, paddles, and accessories. Blending prAna's versatility and Surftech's art of technology, together we are proudly introducing a collection with amazing aesthetics, proprietary constructions, and sustainability features. The vivid line consists of 6 unique SUP boards, 3 paddles, 3 leashes, and matching prAna swimwear (available spring 2019 at prAna dealers).
The Aleka Tuflite V-Tech is the perfect board for any paddler that wants to do it all. Joe BARK shaped the Aleka to be stable enough for flat-water cruising plus it still performs well in small to medium surf. The prAna collaboration offers up an aesthetic that looks amazing on the Aleka and ties back to the 2019 prAna swim collection. The Tuflite V-Tech utilizes a lightweight bamboo veneer construction, with 0-waste molded EPS core, quality fiberglass, and Greenpoxy bio-resin for durability and weight reduction. The Aleka's also feature a ¾  thermal debossed Bloom Foam deck pad (made from eco Algea), deck tie downs, ledge handle, and rear padded handle.
The Alta Horchata Air-Travel was designed for any type of paddler providing the best option for their recreational and touring adventures. The Alta boards combine progressive outlines, deck tie downs, Bloom Foam deck pad (made from Eco Algae), and prAna collab graphic.
The Alta Kona Air-Travel utilizes the most advanced drop stitch technology to create a lightweight and rigid All-Around / Yoga board for getting to that magical spot for your yoga experience. Plus, the prAna collaboration offers up an aesthetic that looks amazing.
New for 2019, the Catalyst Tuflite V-Tech was shaped by Joe BARK for the whole family. The Catalyst was designed with plenty of volume and width which provides stability in flat-water and small surf. The Surftech Tuflite V-Tech construction makes it light and durable for what ever you wanted to throw at this All-Around board. The Catalyst also utilizes a print from prAna's 2019 men's swim collection.
Also New for 2019, the High Seas Air-Travel has a wide outline which makes it perfect for every member of the family. Featuring a Bloom Foam deck pad (made from Eco Algae), a high pressure valve (15 to 18psi), deck tie downs, redesigned backpack, pump, fin, patch kit, and a prAna 2019 collab graphic the High Seas is the ultimate inflatable SUP.
2019 prAna COLLAB ACCESSORIES
CATALYST PADDLE
Blade: 88 Sq. In.
Adjustable Shaft: 180 – 220cm
Shaft Diameter: 28mm
Material: 3K Carbon
KONA & HORCHATA PADDLES
Blade: 86 Sq. In.
Adjustable Shaft: 180 – 220cm
Shaft Diameter: 26mm
Material: 3K Carbon
KEY PADDLE FEATURES:
• EVA Comfort Grip handle • ABS Blade edge protection • Pre-preg molded carbon • Anti-twist grooved shaft • Carbon blade reinforcements • CNC HD-foam core • 2-piece adjustable shaft
2019 11ft COIL LEASHES:
• 7mm diameter thickness • Coil design for SUP boards • Ankle cuff • prAna printed neoprene cuff for comfort • Stainless Steel Double swivel • Rail saver • Key pocket.
Check out the 2019 catalog here.
About Surf Technicians 
Shaping the Art of Technology:  Surf Technicians was founded in 1989 in a quest to find and utilize new technologies that would bring game improvement to surfers of all abilities everywhere.  We build boards for many of the best and most popular surfboard brands on the planet and we were the first to do it!  Today we continue to employ the most advanced materials and manufacturing techniques available.  We continue to push every boundary utilized in manufacturing, while also attaining a high level of sustainability.  We build what others can only dream of doing.  Visit us at www.surftech.com for additional information.