Sheckler Foundation's Gala Surpasses Last Year's Total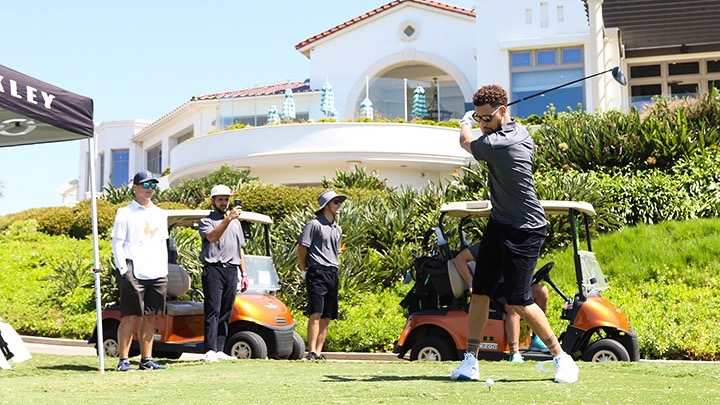 NBA All-Star and Golden State Warrior's Shooting Guard Klay Thompson tees off at shotgun start.
Over the last two days, professional athletes, celebrities and over 400 faithful supporters came together in support of Ryan Sheckler's Gala and 11th Annual Golf Tournament sponsored by Oakley. The two-day event held at the AAA 5-Diamond Award Winning Monarch Beach Resort and Golf Links in Dana Point, California hosted professional athletes like NBA All-Star Klay Thompson, Football Hall of Famer Andre Reed and Actor Cris Judd along with members of Linkin Park, Green Day, Of Mice and Men, and Avenged Sevenfold who golfed and raised $380,000 to benefit the Sheckler Foundation's "Be the Change" initiative. Check out the video recap here: https://youtu.be/mFDEesY2bE8.
The excitement kicked off Sunday evening with the 4th Annual Gala where attendees were welcomed to the Mardi Gras themed evening with a red-carpet entrance and a cocktail reception with music performed by New Orleans natives Kings of Brass. In addition to the live entertainment, the sold-out gala included a live auction and special moment in which the Sheckler Foundation honored Julian Jones (best known as JJ) for his unconditional and unwavering support to the foundation.
The excitement poured over into Monday where celebrities, athletes and loyal supporters arrived at the Mardi Gras themed golf tournament. Golfers started the morning by putting their skills to the test at the $10,000 putting contest sponsored by Art of Sport (AOS).
As the tournament ended, golfers mingled and enjoyed the Red Bull cocktail hour and watched in anticipation of the Red Bull Helicopter Ball Drop. Mike Glennie, Brock Crouch (Professional Snowboarder and Avalanche survivor), AJ Sjostrom and Jered Stone (pictured below) closed out the night and took home 1st place with a winning score of 51. Second place went to Matt Sanders (Avenged Sevenfold) team and third place went to Clay Hensley's (Former Padres' Pitcher) foursome.
The Sheckler Foundation would like to give a big, warm thank you to all of those who helped and participated in the two-day event. Ryan and the Sheckler Foundation would like to recognize all of the dedicated volunteers, attendees, loyal supporters and sponsors who made for a successful golf tournament and gala.
For additional info on The Sheckler Foundation, stay tuned to: Facebook, Instagram, Twitter, LinkedIn, and visit:shecklerfoundation.org.
About Sheckler Foundation:
Founded in 2008, The Sheckler Foundation was created as an avenue for Ryan Sheckler, his family, friends and business associates to give back to the community and industry that they are so grateful for. Fueled by the desire to contribute to the many causes that directly benefit and enrich the lives of children and injured action sports athletes, the Sheckler Foundation will produce fundraising events, passion projects and web-based initiatives to raise capital and awareness. Our ultimate goal is to empower our community to "Be the Change!"