ROTH Capital Partners Acts as Co-Manager for Tilly's Inc. in its $117 Million Secondary Offering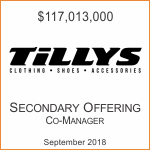 Transaction Information
Tilly's, Inc. (NYSE:TLYS) has closed a registered public offering by certain selling stockholders, including entities affiliated with Hezy Shaked and Tilly Levine, of 6,325,000 shares of Class A common stock, which includes 825,000 additional shares pursuant to the full exercise of the over-allotment option. The shares were sold at the public offering price of $18.50 per share, resulting in the gross proceeds of approximately $117 Million. Tilly's, Inc. did not sell any shares and did not receive any portion of the proceeds from this offering.
ROTH Capital Partners acted as a co-manager for the offering.
About Tillys
Tillys is a leading specialty retailer of casual apparel, footwear and accessories for young men, young women, boys and girls with an extensive assortment of iconic global, emerging, and proprietary brands rooted in an active and social lifestyle. Tillys is headquartered in Irvine, California and currently operates 227 total stores, including three RSQ pop-up stores, across 31 states and its website. For more information, please visit and www.tillys.com. (Source: Company Press Release | 9/6/18)
About ROTH Capital Partners
ROTH Capital Partners, LLC (ROTH), is a relationship-driven investment bank focused on serving emerging growth companies and their investors. As a full-service investment bank, ROTH provides capital raising, M&A advisory, analytical research, trading, market-making services and corporate access. Headquartered in Newport Beach, CA, ROTH is privately-held and employee owned, and maintains offices throughout the U.S. For more information on ROTH, please visit www.roth.com.