Reef Begins to Pivot Product Toward "Beach Freely"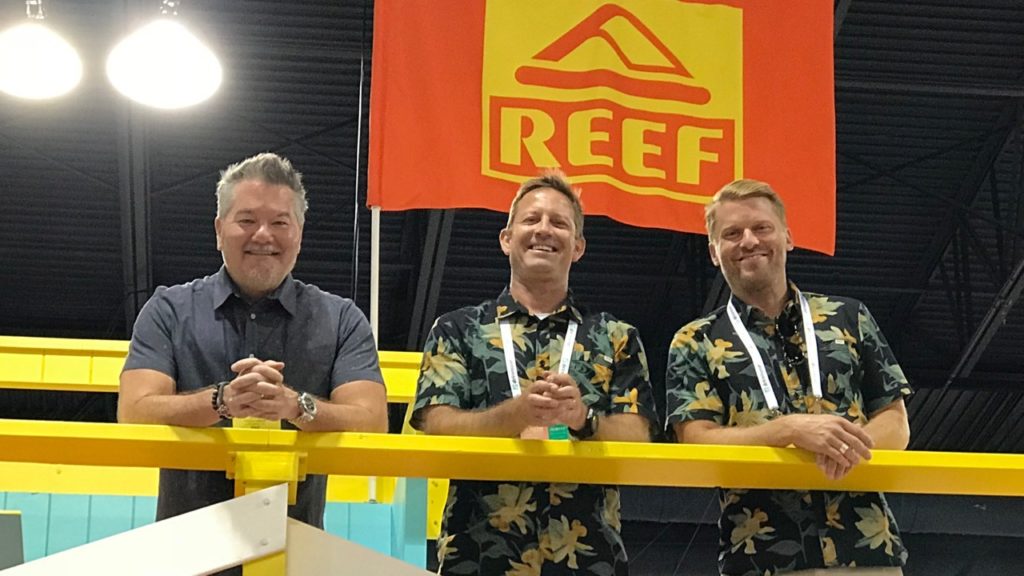 Reef's Roger Spatz, Mike Matey and Tom Cooke - Photo by SES
Reef debuted its eye-catching new trade show booth at OR this summer.
The brand also showcased a new product and brand strategy that is aimed squarely at beach lovers everywhere.
Reef's new brand mantra of "Beach Freely" in place of the travel-oriented "Just Passing Through" has garnered a lot of attention. That's because Reef has used people of color and heavyset people in the ad campaign, which is virtually unheard of in the surf industry.
On the product front, Reef is pivoting toward footwear that people can wear to and near the beach.
That means closed-toe styles like the Rover, which was built around adventure travel, has morphed into the Cruiser with a more relaxed fit and knit upper.
Reef is also expanding its Cushion Bounce franchise because it is selling so well, and is adding styles with orthopedic support.
The Cushion Bounce Phantom was the fastest growing style with the highest sell-through rate this summer of all Reef styles.
New products for Spring '19 include the Escape Sling, which looks like a colorful, peep toe espadrille.
Another major new product launch is the Reef One, a water-friendly, injected dual density, durable, water sandal and slide.
And the Reef Coast, an easy in, easy out, slip on shoe that illustrates where Reef is going with footwear, will also debut.
Reef President Roger Spatz said Reef is just getting starting aligning Reef's sandals, footwear and apparel to the new "Beach Freely" brand mission.
"This is just the beginning as far as product," Roger said "The most important piece so far has been the work the marketing team has done around inclusion, and the ability to talk about the beach as a place of refuge, a place of relaxation.
"The second thing is to pivot our product," Roger said. "So Tom Cooke and his team looked at what are the minimum things we can do in a very short period of time. And then as we plan the future, you will see more and more changes. We are going to be very, very loud in sandals, but you are going to see (the new direction) start weaving into shoes and apparel as well."
The "Beach Freely" campaign is very different, especially for Reef, which is more known for showing stereo-typically beautiful beach people and surfers in its campaigns.
I asked Roger how people and accounts have reacted to the change.
"It's been overwhelmingly positive," Roger said. "We have a few people that don't like it, but the other side of that equation has been overwhelming positive.
" 'Just Passing Through' was not a bad metaphor," he added. "It was just very, very tight. 'Beach Freely' increases our ability to reach more people and tell about the benefits we want to bring to the world.
"We also want to be very crisp in how we share our purpose. We are about uniting the world around the fun, freedom and spirit of the beach."
Editor's note: We spoke to Roger more in depth about Reef's major pivot to "Beach Freely" and what that means in an interview earlier this year. It was a very interesting conversation, and SES members can read that story here.