Grain Surfboards Partners With Glenmorangie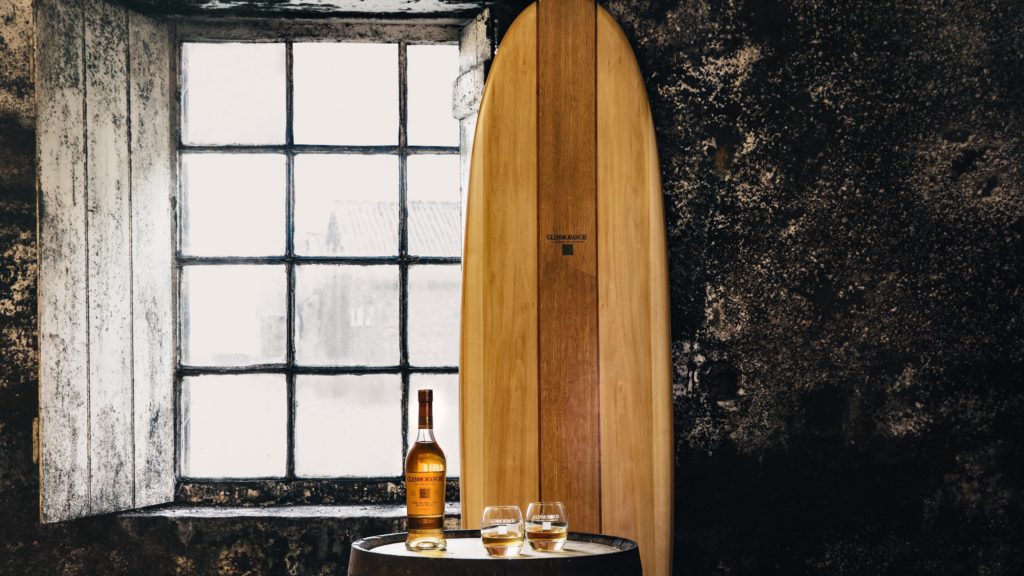 Grain Surfboards of York Maine, builders of custom sustainable wooden surfboards, are proud to announce a creative collaboration with the whisky-makers of Glenmorangie.
The signature white oak casks for Glenmorangie Original are only ever used twice in their whisky-making lifetime, guaranteeing this single malt's famously complex and multifaceted flavour. Now, as part of their Beyond the Cask project, to celebrate the wood that makes the whisky, the dedicated craftspeople at Grain have built a series of exclusive limited-edition Glenmorangie Original wooden surfboards using reclaimed staves from Glenmorangie barrels.
As Grain Surfboards founder Mike LaVecchia explains, the two companies came together over shared ideals:
"We're both strong brands with true craftsmanship at our core, so we were thrilled to work with Glenmorangie on this project. 
"Wood reveals its true nature at every stage of the building process. When you're working with this Glenmorangie cask wood you get a beautiful rich, evocative aroma in the workshop," he adds. "Every time I touch a finished board, it blows me away how gorgeous they are, how much character there is in the oak. It's incredible that you can take a piece of wood that's already had a working life, and when you clean it up a little it's absolutely beautiful and still completely functional."
Together, Grain Surfboards and Glenmorangie present a surfboard that's not just a functional craft but an object with a rich history that brings together many different elements in harmony.
As Dr Bill Lumsden, Glenmorangie's Director of Distilling, Whisky Creation & Whisky Stocks, explains, such special wood deserves another chapter in its story:
"Distillation in Scotland's tallest stills, and ten years of maturation in our ex-Bourbon casks, used only twice, gives Glenmorangie Original an incredibly smooth and round character. 
"But people often ask us what happens to those casks after their whisky-making life is over. Beyond the Cask is our way of working with people who share our creative vision, passion and patience, to take this wood on another step in its journey." 
Like Glenmorangie Original, Grain's surfboards are a product of time, patience and a true affinity for the qualities of wood. Hand-built with an interior framework made from barrel staves and meticulously "bookmatched" cedar and oak planks to showcase continuous patterns, Grain Glenmorangie Original surfboards represent a step away from mass-produced boards and a return to handmade values. Each board unites Grain's signature material, Maine-grown northern white cedar, with reclaimed western red cedar and wood from 12 oak staves – so surfers will be riding the waves on approximately half a cask.
The limited edition Grain Glenmorangie Original surfboards are available to order from www.grainsurfboards.com from September 2018.  You can also view a film about the collaboration, directed by Sébastien Zanella, at www.glenmorangie.com
www.grainsurfboards.com
www.glenmorangie.com
Follow Grain Surfboards on:
Facebook: https://www.facebook.com/grainsurfboards
Instagram: https://www.instagram.com/grainsurfboards/
About Grain Surfboards:
Established in 2005 in Maine, USA, Grain Surfboards formed from a desire to create classic surfboards for an environmentally conscious generation of surfers. With an appreciation for sustainability and heritage at its core, Grain Surfboards create hand-built wooden surfboards using boatbuilding techniques, renewable resources and craftsmanship.
About Glenmorangie:
Glenmorangie Single Malt Scotch Whisky originates in the Scottish Highlands where, at the Glenmorangie Distillery, it is distilled in the tallest malt whisky stills in Scotland for a purer spirit, expertly matured in the finest oak casks for great depth and perfected by the Men of Tain. The Distillery was founded in 1843 and is renowned as a pioneer in its field, uniting tradition with innovation.
Responsible Drinking:
The Glenmorangie Company advocates responsible drinking and suggests that drinkers savour Glenmorangie whiskies in moderation and in line with recommended daily guidelines for alcohol consumption.