Adidas Snowboarding Launches New Collection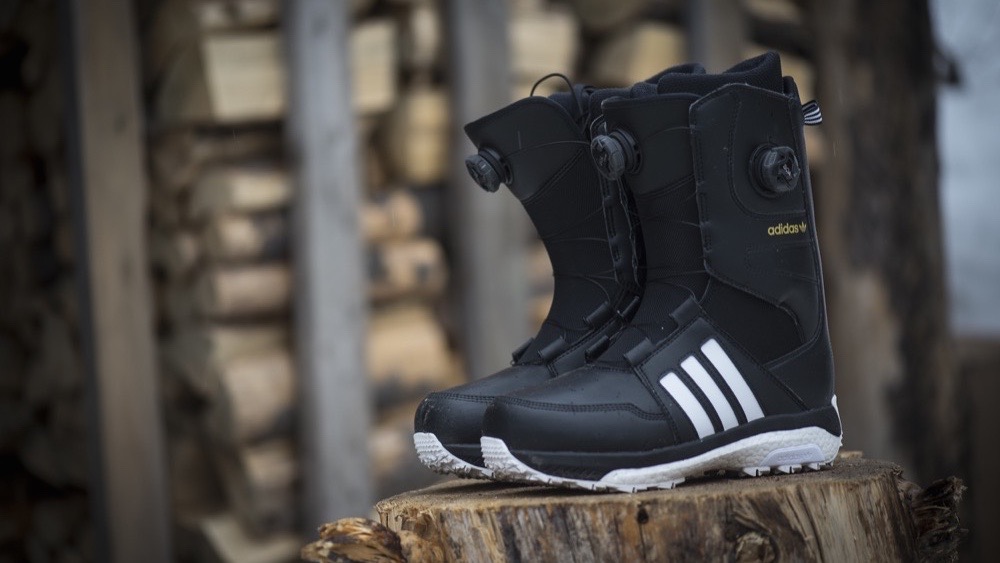 Acerra ADV
Courtesy of adidas Snowboarding
adidas Snowboarding opens Winter 2018 with a curated collection of premium boots and outerwear designed in collaboration with the brand's team riders. The focused collection features offerings comprised of bold, classic kits and silhouettes to match according to style and performance. Employing eco-friendly components throughout the line, the latest collection blends brand heritage with high performance and sustainability.
The latest collection offers six boot styles beginning with the Acerra ADV. The brand's most technically advanced snowboard boot to date, the Acerra ADV ensures unmatched response and control. Features include an innovative, articulated cuff shell design with a 3D molded tongue, a gold level, dual-density, heat moldable Ultralon foam liner that conforms to foot contours, an inner ankle harness coupled with a dual H3 boa lacing system, and a Boost midsole for responsive cushioning and energy return. "The Acerra ADV allows me to customize my boot fit so I can get it extra tight where I need optimal support, and a little looser where I prefer a little space for circulation and comfort. When it comes to the Boost midsole, my feet have never been happier and better supported." says Jake Blauvelt, adidas Snowboarding Pro.
Also back and updated for another season is the latest rendition of the team favorite Tactical ADV boot. "I like the Tactical ADV because it's light, compact and it's laces allow you to tighten the boot with precision, while maintaining a simple and clean, effective design." says adidas Snowboarding Pro, Louif Paradis. This year's offering has been updated with new materials and detailing, along with a minimalistic facade in both a black/white and khaki/white colorway. Additional highlights include a heat-moldable Ultralon liner, grippy rugged multidirectional rubber outsole, and an instep power lacing system.
Complementing  the Winter 2018 collection is a considered outerwear collection infused with iconic adidas heritage DNA and premium materials and design to ensure superior performance. The Premiere Riding Jacket has earned itself as a team favorite for its versatility and durability throughout a variety of winter conditions. "I rode the Premiere Riding Jacket all year. It's warm and lightweight, while it's unrestrictive fit makes it ideal for wearing by itself or for layering up underneath without cramping your style or being uncomfortable," says adidas Snowboard team rider, Nik Baden.
The new collection for Winter 2018 also levels up on sustainability by proudly guaranteeing that 100% of all snowboarding apparel has been designed with recycled or PCF-free materials.
The adidas Snowboarding Winter 2018 collection is now available at Snowboarding retailers worldwide and the adidas Snowboarding website.
For More on adidas Snowboarding
About adidas® Snowboarding
From the streets to the mountains, adidas Snowboarding continues to define the adidas brand. Since its inception in 2012, a team of creators and collaborators are constantly pushing to deliver high performance snowboarding product grounded in iconic adidas heritage DNA. A diverse, sustainable product offering and invaluable team rider input keeps adidas Snowboarding at the forefront of the industry with riders such as Louif Paradis, Jake Blauvelt, and Kazu Kokubo. Adidas Snowboarding is a segment of adidas Originals, a division of the adidas Group.