Z SUPPLY and The Exodus Road Partner Up
Z SUPPLY, the everyday essentials brand focused on simplicity, comfort and effortless style, announces the launch of its Everyday | Everyone campaign, aimed to celebrate the individuals who make up its company and the diversity of their personal stories.  With two limited edition tees, Z SUPPLY will be donating 100% of profits to The Exodus Road, a not-for-profit organization fighting human trafficking worldwide.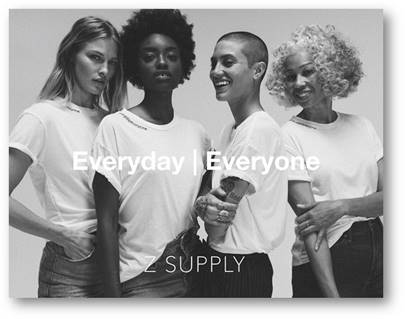 The rumors are true — we make some of the softest essentials ever. But lately, many have asked, "who is Z SUPPLY?"
We're more than a clothing company; we're made up of individuals who all have a different story to tell.  So, we decided to make something special to celebrate just that — a tee to remind us that we all have a story worth sharing.
When you buy our #everydayeveryone Tee, 100% of the profits will be donated to The Exodus Road, a not-for-profit organization fighting human trafficking. By purchasing this limited-edition tee, you will be helping survivors restore strength to their stories.
The campaign kicks off July 12 with a gallery exhibit at the Jason Vass Gallery in Downtown Los Angeles. The exhibit will feature black-and-white portraits of Z SUPPLY team members and a video created by The Exodus Road. Attendees can donate directly to The Exodus Road at the event, which will help Z SUPPLY reach its goal of raising $10,000 over the duration of the campaign. The limited-edition tees will be available for sale starting July 16 on the company's website. In addition, Z SUPPLY has committed to donate $5 for every image posted on social media featuring the tee with the tag @zsupply_ and hashtag #everydayeveryone.
"We really want this campaign to celebrate and highlight the diversity of people's stories," said Beatrice Rosu, Z SUPPLY, LLC's marketing director. "Everyone has something to share and I think that vulnerability is powerful. But we also want this campaign to stand for something – something big, something worth talking about. ​It was surprising to learn how many people, even in our company, were unaware of the magnitude and scope of human trafficking around the world."
The Exodus Road fights human trafficking by helping find and free slaves through strategic action and ordinary people. To date, The Exodus Road has rescued more than 941 individuals and have made almost 410arrests. The team has trained over 600 nationals to recognize and combat human trafficking, and the organization uses technology to make rescues more effective.
"We are so excited about our partnership with Z SUPPLY and the company's passion to fight human trafficking through fashion," said The Exodus Road co-founder Laura Parker, also vice president of communications. "The spirit of their campaign perfectly matches The Exodus Road's belief that justice is in the hands of the ordinary."
The Everyday | Everyone tee will be available beginning July 16 at www.zsupplyclothing.com/everydayeveryone and will retail for $40. To stay social and help Z SUPPLY raise more money for The Exodus Road, follow the story on Instagram @zsuppy_.
The gallery launch event will take place from 7 p.m. to 10 p.m. July 12 at the Jason Vass Gallery, 1452 E. 6th Street in Los Angeles. There will be art, music and sips. RSVP by July 9 to charity@zsupplyllc.com.
ABOUT Z SUPPLY
Established in 2013, the Z Supply collection is designed to seamlessly weave into any wardrobe. With the timeless appeal of simplicity, comfort and a style that speaks to women across generations, Z Supply offers the best in easygoing essentials that fit all shapes and sizes. The Z Supply collection includes dresses, tees, joggers and shorts, and everything can be worn as effortlessly to the gym, as they can be dressed up for date night. The brand sources superior quality fabrics and has developed premium fits, offering beautiful, key pieces for any closet. Whether paired with a classic leather jacket, a fitted blazer or a cozy cardigan, the wardrobe staples add the appearance of uniquely graceful style. Z Supply Clothing has a loyal celebrity following, having been seen on personalities like Kate Hudson, Miley Cyrus, Charlize Theron, Rihanna and Cara Delevingne. For more information visit www.zsupplyclothing.com.
ABOUT THE EXODUS ROAD
The Exodus Road fights human trafficking by helping find and free slaves through strategic action and ordinary people. The organization empowers rescue for current victims of human trafficking, equips nationals to fight slavery in their own communities, and encourages effective collaboration with law enforcement. The Exodus Road also invests in prevention and survivor care projects around the world, so that survivors can transition into a life of true freedom. Founded by Matt and Laura Parker in 2012 after working in a high-risk area of Thailand, the Parkers became an integral part in combatting this modern slavery in areas near the children's home they directed. Since then, The Exodus Road has grown to fight trafficking in six countries. The team has been integral in rescuing more than 900 survivors and arresting more than 400 offenders through intricate operations. Through its programs, The Exodus Road empowers ordinary people, by showing them that justice is also in their hands. For more information, visit www.theexodusroad.com