SHAAC: What an Amazing Night!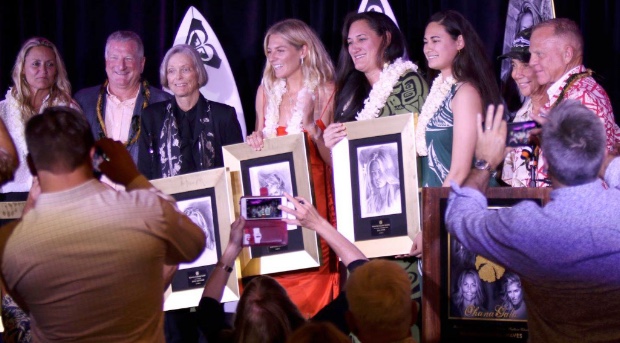 The Honorees and their presenters: Lisa Andersen and Bob McKnight, Joyce Hoffman (not pictured is her presenter, Cory Schumacher), Stephanie Gilmore (presented by Randy Hild, far right), Jan Sunn-Carreira and her daughter, presented by Gerry Lopez. Photo by Jerry Jaramillo.
The Ohana Gala honoring Women Making Waves at The Ranch was an amazing night.
In conjunction with our Gala, our current exhibit focuses on these 4 women (and many more): Honorees Joyce Hoffman, Lisa Andersen, Stephanie Gilmore, and Rell Sunn, recipient of the Lifetime Achievement Award.
The SHACC display of "Women Making Waves" runs through late August 2018.
SHACC thanks Roxy for being our presenting sponsor!
We'd also like to acknowledge the following table sponsors: Billabong · Fuel TV · the Golden Girls · Joyce Hoffman · Walter Hoffman · Jericho Poppler · Roxy · the WSL
Thank you to the following for donating auction items:
Billabong · Hobie surfboards · Channel Islands Surfboards · DHD surfboards · Lopez Lightning Bolt w/artwork from Phil Roberts · Kala Brand Music · Denny Michael · Steve and Debbee Pezman (TSJ) · Spencer Croul · Glenn Brumage· Keith Eshelman · Greg and Cindy Dillion · The Starfysh Girls (Maddy and Alyx) · Fabienne Hanks · Jericho Poppler · Avila's El Ranchito · The Ritz Carlton – Laguna Niguel · GT – Von Zipper · Tom & Barbara Gibbons· Rick Rietveld · Joni Sternbach · Colleen Wilcox · Kelly Keane · Melinda Morey · Heather Ritts · Colleen Gnos · Dana Christine Lewis · Cher Pendarvis · Shannon Glasson · Shane McCatchey · Blakeney Sanford · Art Brewer · Caroline Zimmermann and Lahaina Galleries · Duke's restaurant HB/Peter "PT" Townend · Laird Plumleigh Studios · The California Golden Girls · SHACC/MacGillivray Freeman Films· Scott Griffiths (18/8 Fine Men's Salons) · Stance · Malcolm Wilson · Kailey Skelton · Michael Tilden · Chef Rob Wilson and Fisher & Paykel
And last but far from least, a huge Thank You to our staff, Ohana Committee members and volunteers!
Carlos Amezcua · Lonnie Argabright · Adam Brumage · Glenn Brumage · Tessa Booth · Kris Carlow · Andrea Coleman · Cathey Curtis · Dan Foote · Hal Forsen · Tom Gaikowski · Deana Gibbs · John Gilhooley · Jim Habig · Fabienne & Terry Hanks · Barry Haun · Jake Howard · Matt Hurray · Jerry Jaramillo · Madekine Javier · Stephanie Kasler · Lauren Kalb · Sharon Marshall · Don Meek · Linda Michael · Leanne Milliken · Cragan Mudge · Kara Monaghan · Lara Novak · Ira Opper · Patti Paniccia · Rick Rietveld · Cindy Rincon · Phil Roberts · Ron Sizemore · Kailey Skelton · Cate & Liv Stokes · Nancy Tabeling · Alyx Tortorice · Jee Townend · Kat, Duncan & Malcolm Wilson