PacSun's Impressive Comp Performance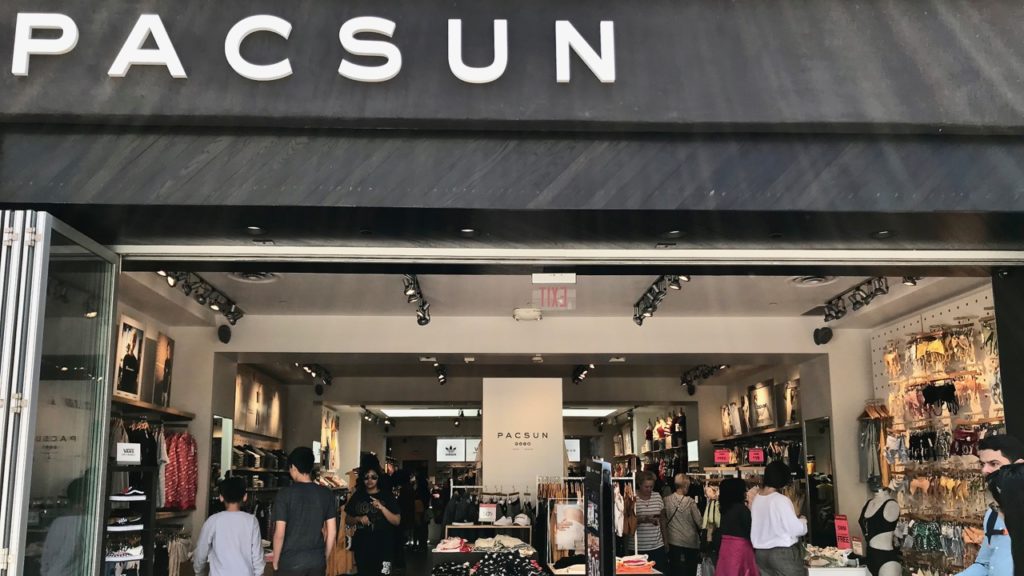 PacSun on the Third Street Promenade in Santa Monica, Calif., on Memorial Day weekend. SES file photo.
Since PacSun went private, it has been difficult to assess how the company's stores are performing.
But owner Golden Gate Capital, the investment firm that owns PacSun, recently released comp store information about PacSun that confirmed what we have noticed when visiting shopping centers – PacSun stores are busy these days.
PacSun comps rose 5% in 2017 according to Golden Gate.
And through May, PacSun's comps were up an impressive 8%.
Golden Gate did not disclose profitability figures, however.
PacSun has completely changed its merchandise mix over the past several years, and the changes seem to be working.
Golden Gate describes PacSun's this way: "A leading specialty retailer offering a cross-section of emerging brands and trending fashion through the lens of Los Angeles."
Golden Gate disclosed PacSun's comps in June while announcing that Golden Gate has created a new operating company that combines Pacific Sunwear and Eddie Bauer, both of which are owned by Golden Gate. We are catching up on the news.
The new entity, called PSEB Group, will operate 700 stores between PacSun and Eddie Bauer and has a target revenue of $1.5 billion in 2018. E-commerce sales for the combined retailers are estimated at $400 million.
The goal of the combination is to leverage backend capabilities to cut costs while keeping brand identities, design, merchandising, marketing, e-commerce and retail operations separate. Golden Gate will invest more equity in the new PSEB to help it grow, the company said.
"Both brands have made great progress in the past 24 months and have generated strong performance," Golden Gate Managing Director Josh Olshansky said in a statement. "Bringing the two brands onto a shared platform will allow us to fuel this momentum and unlock their next stages of growth."
PacSun now has a new boss as well. Mike Egeck, the CEO of Eddie Bauer, will lead the new entity. Egek made a brief stop in the surf industry in his career, when he was CEO of Hurley beginning in late 2011 for about eight months. He left to take the job at Eddie Bauer.
He has also worked at VF Corp. in various roles, including leading the Outdoor & Action Sports coalition.
Jim Gulmi, who had been serving as Interim CEO of PacSun, is leaving the company. Long time PacSun executive Alfred Chang is now President of PacSun. Most recently, Alfred served as Executive Vice President of Men's Merchandising & Design and Chief Brand Officer.
PacSun also announced that Brie Olson has been named Executive Vice President and Chief Merchandising Officer for both Men's and Women's divisions, and Joel Quill has been named Vice President of Stores.
The transaction that combines the two retailers under the PSEB umbrella is expected to close in the third quarter.
Below are photos for the merchandise at PacSun in Santa Monica on Memorial Day weekend.