OR Summer Market's Night of Stoke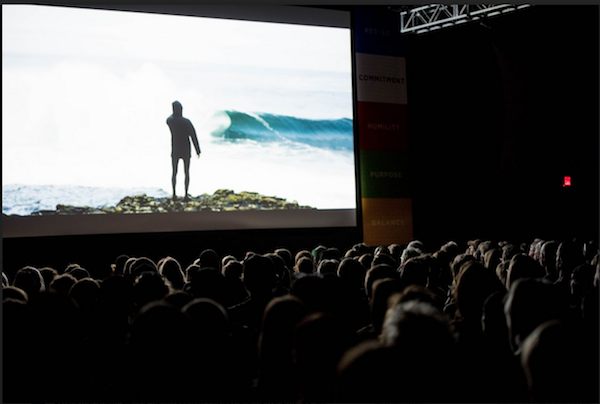 5POINT FILM FESTIVAL, COLORADO OUTDOOR RECREATION INDUSTRY OFFICE AND OUTDOOR RETAILER PRESENT "NIGHT OF STOKE"
Outdoor Retailer and the Colorado Outdoor Recreation Industry Office announce the Night of Stoke presented by 5Point Film Festival at Outdoor Retailer Summer Market on Tuesday, July 24th at the Bellco Theater in Denver.
Doors will open at 6:30 p.m., with the event program set to begin at 7:15 p.m. A portion of the proceeds from the night will benefit the Land and Water Conservation Fund, responsible for protecting parks, trails, wildlife refuges and recreation areas at the federal, state and local level.
Tickets are now available for purchase online at 5pointfilm.org or here.
5Point 2018 Trailer – A Letter to All from 5Point Adventure Film Festival on Vimeo.
Night of Stoke, part of Outdoor Retailer Summer Market, celebrates the stories of individuals who turn passion into action and unites the outdoor industry and recreationists to inspire activism.
This summer's event will focus on the theme "Our Stories, Our Lands," highlighting the ongoing importance of protecting and preserving public lands. Night of Stoke is open to the public and will showcase some of the outdoor industry's most impactful adventure films programmed by 5Point Film, along with a lineup of industry experts and personalities, including filmmakers and film subjects.
"We are excited to include Night of Stoke in our summer line-up," said Jennifer Holcomb, Senior Marketing Director for Outdoor Retailer.
"Coming together to listen to the storytellers, adventurers and people all making such an incredibly positive impact is what makes this industry so inspiring. Night of Stoke is an opportunity, when the entire industry is together for just a few days, to celebrate the people who evoke the pursuit of adventure in all of us."
This summer's Night of Stoke film program, hosted by Luis Benitez, director of the Outdoor Recreation Industry Office for the State of Colorado, and 5Point emcee, Paddy O'Connell, will include: "Beyond the Horizon," "The Mirnavator," and "The Frenchy," along with a special film tribute to legendary environmental activist Katie Lee, who passed away in 2017.
Among the filmmaker guests and industry experts scheduled to attend are: Mirna Valerio, star of the film "The Mirnavator;" Carbondale, Colo., filmmaker and photographer, Michelle Smith, alongside the subject of her film "The Frenchy," Jacques Houot; alongside many other guests.
5Point Film Festival was founded in 2008 by Julie Kennedy, former Climbing Magazine owner, and Yvon Chouinard, founder of outdoor brand Patagonia. The experience offers audiences a taste of adventure through the lens, with a compelling program of short films, panel discussions and high-profile special guests as part of the show.
"When it came to the summer version of Night of Stoke, the choice of curator was clear. 5Point Film Festival needed to be our summer platform," said Benitez.
"Their five pillars, focusing on purpose, commitment, respect, humility and balance help us define the why behind Night of Stoke."
5Point aims to take its audience on a trip to places they may have never been, challenge their stereotypes, educate them about public lands and have them walk away from the show more enriched and as an informed steward of their environment. 5Point Film is built on five guiding principles: respect, commitment, humility, purpose and balance. 5Point believes these same principles also form the foundation for individuals who lead lives of adventure and connect all who share an elemental passion to explore and expand boundaries.
5Point Film Festival Night of Stoke at Outdoor Retailer Summer Market
Bellco Theatre, Colorado Convention Center, 700 14th St, Denver.
Tuesday, July 24, 2018, Night 2 of Outdoor Retailer Summer Market
Doors Open 6:30 p.m., Program Begins 7:15 p.m.
Tickets: https://www.axs.com/events/357329/night-of-stoke-at-outdoor-retailer-tickets
Please visit www.5pointfilm.org for more information. Follow live 5Point Film updates via Facebook, Instagram and Twitter.
###
About 5Point Film
Established in 2008, 5Point Film is on a mission to inspire adventure of all kinds, to connect generations through shared experience, to engage passion with a conscience, and to educate through film. Creating various events, including an annual four-day film festival in Carbondale, CO and several events across the country, 5Point Film continues to deliver a unique film experience by drawing in passionate athletes, artists, filmmakers, films, and the community around short documentary adventure films. 5Point also facilitates the 5Point Film Fund, and organizes the Dream Project a student scholarship program for high school students. www.5pointfilm.org
About Outdoor Retailer
Outdoor Retailer brings together retailers, manufacturers, industry advocates and media to conduct the business of outdoor recreation through trade shows, Outdoor Retailer Magazine, product demo events, media events and web-based business solutions. The Outdoor Retailer trade shows are the premier outdoor industry events for North America, providing platforms for critical face-to-face business initiatives, line previews, innovations, launches, networking and retailer education. Visit outdoorretailer.com for more information.
Outdoor Retailer is owned by Emerald Expositions, a leading operator of business-to-business trade shows in the United States. The company currently operates more than 55 trade shows, as well as numerous other face-to-face events. In 2017, Emerald's events connected over 500,000 global attendees and exhibitors and occupied more than 6.9 million NSF of exhibition space.
About the Land and Water Conservation Fund (LWCF)
The Land and Water Conservation Fund (LWCF) is America's premier federal program that reinvests offshore energy revenue into conservation to ensure that we all have access to the outdoors. Whether it is a local community park or playground, or the vast expanses of our federal public lands, Congress created the LWCF almost a half-century ago to guarantee America's natural, historical and outdoor recreation heritage. https://outdoorindustry.org/lwcf/