Moshi Takes On Summer Excursions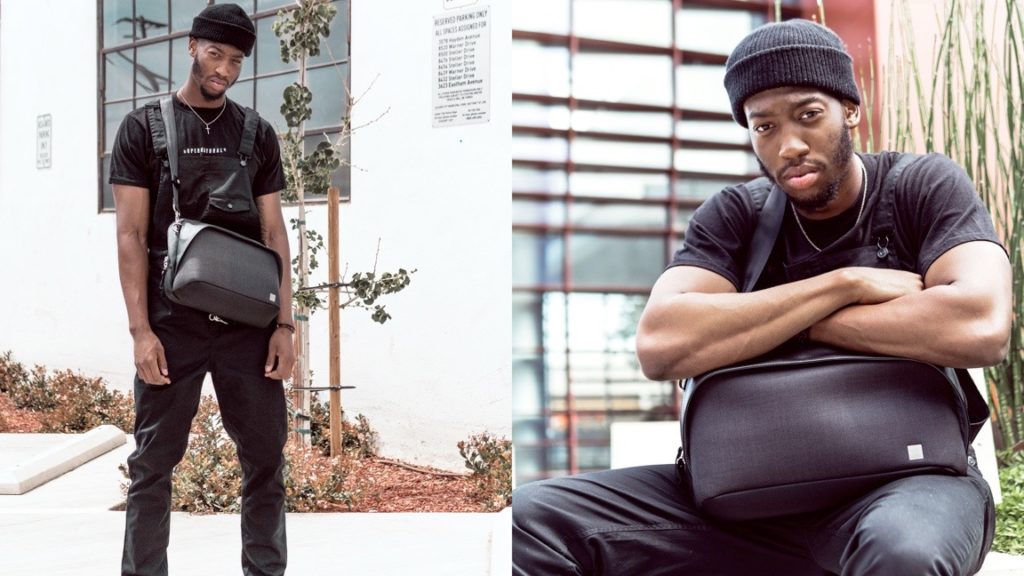 Today, Moshi launched their summer travel collection designed for adventure seekers, city dwellers and country hopping enthusiasts. With a sleek combination of a futuristic style and compact functionality, the travel collection stays true to Moshi's minimalist aesthetics. The collection includes: the Tego Sling Messenger, Tego Slingpack, Tego Backpack and Tego Crossbody Sling. The cut-proof and weather resistant pieces are perfectly tailored for a hike through the woods or an excursion in the city that calls for protection of personal items. All items in the collection are equipped with concealed anti-theft rear zippers along with an RFID shield pocket to protect personal data breaches. Access the Moshi Summer Travel Collection here: https://www.moshi.com/post/moshi-guide-to-summer
Tego Sling Messenger
The perfect blend of functionality with sleek minimalism design is the very essence of the Tego Sling Messenger. Wearable on the left or right shoulder, the crossbody messenger includes a padded sleeve for a laptop up to 13" with additional room for all your essentials.
Tego Sling Messenger – Available in Charcoal Black or Stone Gray – $149.95
Tego Slingpack
Smart, yet refined, the Tego Slingpack includes a compact interior with compartments for smartphones and other devices. The crossbody design has an ActiveStrap which allows for ultimate stability no matter the occasion.
Tego Slingpack – Available in Olive Green, Charcoal Black or Stone Gray – $119.95
Tego Backpack
Ideal for any commute, the Tego Backpack includes a pass-through USB cable that attaches to a portable battery (optional) stored inside your bag. With a spacious interior design, the backpack allows for a 15" laptop with included room for other belongings as well as a microfiber pouch for carrying sunglasses.
Tego Backpack – Available in Charcoal Black or Stone Gray $169.95
Vacanza 
Whether you're heading out on a short business trip or spending a few days in the countryside, the Vacanza is the weekender that takes you there in style. Made from ultra-light, weather-resistant fabric with vegan leather accents, its spacious main compartment holds clothes, shoes, and incidentals, and also expands to fit in any last-minute gifts or souvenirs.
Vacanza – Available in Charcoal Black or Titanium Grey $199.95
Tego Crossbody Sling
Catering to the minimalist traveler, the Tego Crossbody Sling includes a quick release strap which allows for quick and easy access to all essentials. The Crossbody Sling can be worn on either shoulder and includes a padded sleeve for a 10.5-inch iPad Pro.
Tego Crossbody Sling – Available in Charcoal Black or Stone Gray $119.95
Additional Travel Collection Essentials 
Mythro Air – Available in Gunmetal Grey, Jet Silver and Burgundy Red $69.95
IonBank 3K – Available in Onyx Black and Burgundy Red $64.95
Car Vent Mount – Available in Black $29.95
USB-C Car Charger – Available in Black $39.95
USB Cable with Lighting Connector – Available in White or Black $34.95
For more info on Moshi, click here: www.moshi.com.
ABOUT MOSHI
With roots in material sciences and engineering, Moshi's in-house design team has been creating premium accessories and peripherals since 2005. Moshi has over 100 utility and design patents covering 450 different types of products. A hardware development partner with Apple, Microsoft, and the first electronics company to be certified for the Made for Google program, Moshi products are available at over 20,000 points of sale in 90 countries around the world.