Beyond The Streets Extended
Due to an incredibly successful Los Angeles debut, BEYOND THE STREETS (BTS), will be extending through August 26th. Seeing more than 60,000 attendees since its opening on May 6, the immersive museum experience will keep show doors open and deliver an invigorated summer program presented by adidas that includes weekly panel discussions, film screenings, lectures, music performances, limited edition collector's releases, book and print signings, and much more.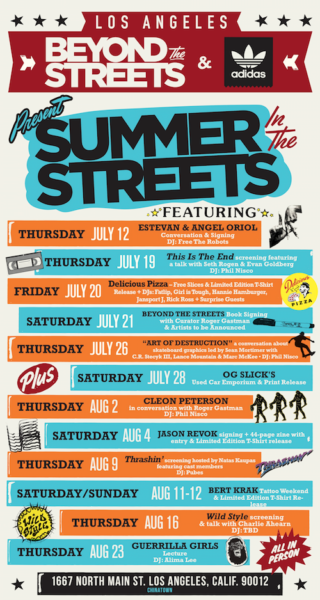 "We originally planned for BEYOND THE STREETS to be open for eight weeks, but the response to the show has been so overwhelmingly positive that we knew we had to stay open longer and give more people the chance to see the show," said Roger Gastman, BTS curator. "And since it's summer, we figured we should add in some special events. We worked with adidas on a whole slate of fun screenings and talks. We're really excited to give the public new ways to engage with the artists and this culture."
Summer in the Streets will play host to a special screening of This Is the End and Q&A with Seth Rogen and director Evan Goldberg (The Interview), discussions with renowned street photographer Estevan Oriol and artist Cleon Peterson along with a Jason REVOK zine signing. Additional highlights also include a screening of Thrashin' with Natas Kaupas and cast, a Guerilla Girls lecture on modern feminism, and screening of cult classic Wild Style with a talk by director Charlie Ahearn, and more.
The premiere exhibit will also expand its presentation with new works from Vhils and Greg "CRAOLA" Simkins, along with other surprises.
BTS is open every Friday, Saturday, and Sunday with special Thursday evening events and weekend surprises to be announced.
Hours:
Friday, Saturday and Sunday – 11am through until 6pm
To reserve tickets:
Fridays, Saturdays, and Sundays here
Weekend events are all day long, and all free with ticket purchase
For Thursday events:
Follow BTS on Instagram (@beyondthestreetsart) for more info on tickets
Download the Summer in the Streets schedule of special events HERE.
For More on adidas Skateboarding
About adidas Skateboarding
Founded in 1998, adidas Skateboarding creates footwear and apparel for skateboarders distributed through a global network of skateboarding retailers. adidas skateboarding supports a group of iconic, elite, and trend setting professional and amateur skateboarders from all over the world including Mark Gonzales, Dennis Busenitz and Na-kel Smith. adidas Skateboarding is a segment of adidas Originals, a division of the adidas Group.
About BEYOND THE STREETS
Curated by author and historian Roger Gastman, graffiti's foremost authority, BEYOND THE STREETS (BTS) celebrates the soaring heights to which the world's most recognizable modern art movement has risen. Original featured works come from SHEPARD FAIREY, JASON REVOK, RETNA, LADY PINK, DASH SNOW, GUERRILLA GIRLS, BARRY McGEE, CHAZ, LEE QUIÑONES, FAILE, SWOON, TAKI 183 plus DENNIS HOPPER, TAKASHI MURAKAMI, AND MANY MORE. 
The one-of-a-kind, touring BTS exhibition debuted in Los Angeles on May 6, 2018 and will run through August 26, 2018. The showcase will then head to New York City with more global locations to be announced.