SUPRA X Chad Muska Collection Crowns the Globe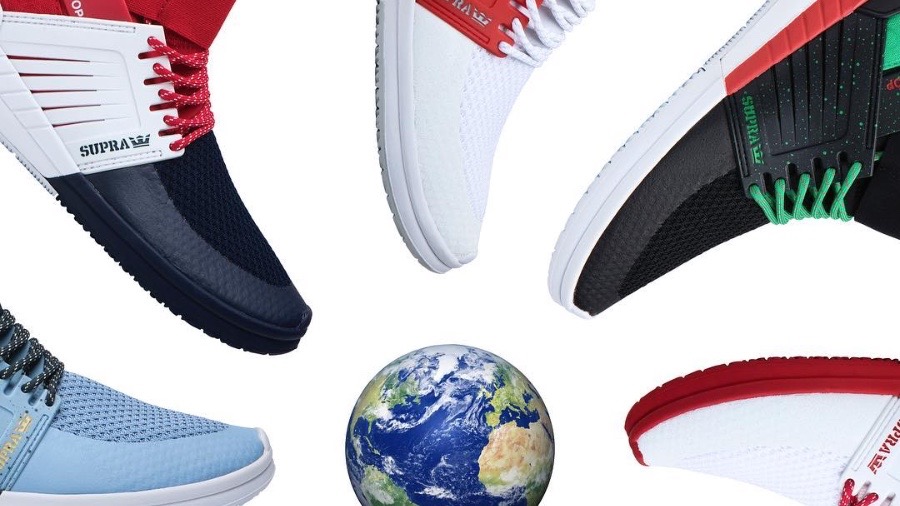 Today, SUPRA celebrates its global reach with its Crown the Globe collection that introduces the Skytop V, Chad Muska's fifth silhouette featuring colorways from nine countries. With creative direction and assets derived from Chad, the collection highlights the following countries: United States, Portugal, Mexico, France, Germany, Japan, Argentina, Chile and England.
"It is an honor that Supra chose the Skytop V to represent the Crown the Globe Collection," said Chad Muska. "Working close with the creative team to come up with the marketing assets has been a fun experience and a reminder of how great our global family truly is. The final products and execution turned out amazing."
Designed and inspired by each of the country's colors and flags, the Crown the Globe collection remains athletically-inspired as a mid-top while forging high fashion and skate aesthetics. The Skytop V features a three-piece cage paired with elastic bands, an internal neoprene bootie for added comfort and support, all while coated with a sandwich mesh to protect the vamp when skated. The Skytop V also rounds things out with a deep heel cup atop a cushioned full-length EVA midsole.
The SUPRA Crown the Globe Collection retails for $125 and is available on SupraFootwear.com. For more information on SUPRA's Crown the Globe collection, search #CrowntheGlobe and follow @suprafootwear | @supraskateboarding
SUPRA
SUPRA is a footwear innovator and global lifestyle brand founded in Southern California in 2006. Inspired by passion and born from skate, SUPRA fuses skateboarding, fashion, music, art, and street to bring classic silhouettes in an innovative way. Today SUPRA operates flagship stores in Mexico City and Tokyo and distributes to over 60 countries through a network of select skate shops and high-end boutiques. SUPRA is owned by KSGB, also known as K-Swiss Inc., a division of E.Land Group, a privately held Korean company.