Superbrand and UNIV Celebrate Collab Saturday in Encinitas
Superbrand is proud to announce a collab project with surf boutique UNIV in Encinitas.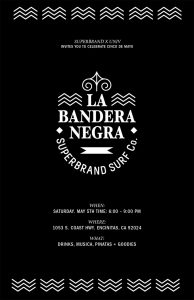 To celebrate the launch of the "Black Banner Surf Club" capsule collection, we are throwing a Cinco de Mayo party at their shop.
The collection consists of a very limited run of resin-tinted surfboards plus tees and hats based around the Black Banner Surf Club.
Come check out our shop-in-shop!
When: Saturday, May 5th. 6 – 9 PM
Where: UNIV – 1053 S. Coast Hwy 101, Encinitas, CA 92024
What: Tacos, drinks, musica, piñatas and goodies
Recent News: