World Surf League and Hurley Announce Partnership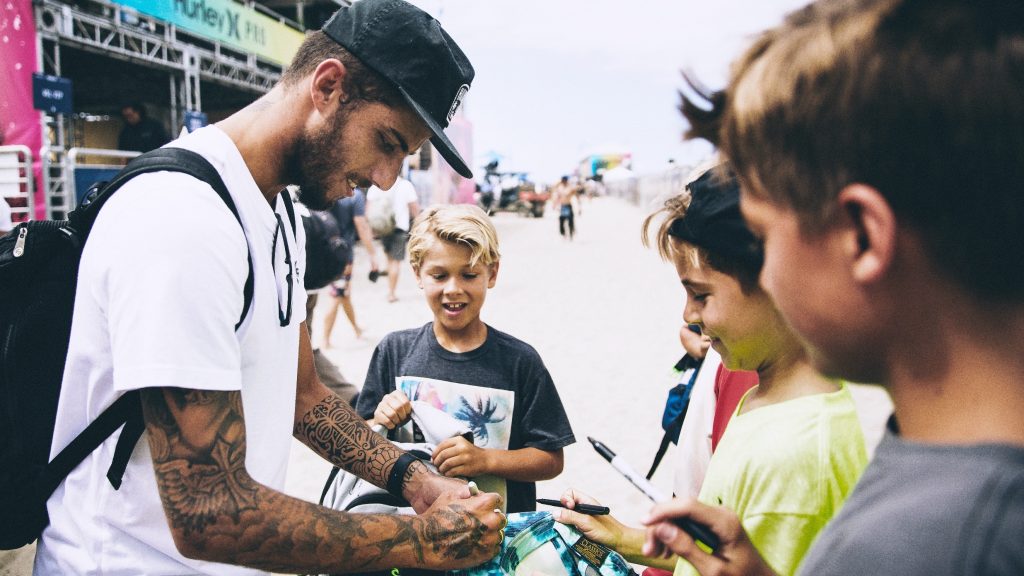 The World Surf League (WSL) and surf brand Hurley are excited to announce a new partnership for the 2018 WSL Championship Tour, collaborating on five of the 11 scheduled events to help enrich the surf-fan experience.
"At Hurley, we are always striving to create product and experiences that help people have more fun in and around the water. This is what our new partnership with the WSL is all about," said Hurley Chief Marketing Officer Jeff Hurley. "Rather than sponsoring one event for a week or so during the year, we are excited to partner with the WSL in a bigger way throughout the year by helping young surfers around the world have fun, get better and make a positive impact in their community."
Inspired by the energy created at last year's Hurley Pro at Trestles, where the region's up-and-coming surfers received free video coaching, tested new equipment and hung out with the world's best surfers on site, the WSL and Hurley plan to expand the "Hurley Surf Club" concept to other key global surf communities.
"The Hurley Surf Club will be a great opportunity to make our Championship Tour events even more special for young surfers around the world," said Sophie Goldschmidt, WSL chief executive officer. "Through Hurley providing exclusive access to the pro surfers and legends, we aim to inspire the next generation of surfers."
Hurley will partner with the WSL at five key Championship Tour locations:  West Australia at the Margaret River Pro; Brazil at the Oi Rio Pro; Bali, Indonesia at the Corona Bali Pro in Keramas; Tahiti at the Tahiti Pro Teahupoo; and California at the Surf Ranch Open. Hurley will be the presenting sponsor of both Bali and Surf Ranch, with Hurley Surf Club activations at all five venues.
Beginning with the Margaret River Pro April 11 – 22, the Hurley Surf Club activation will include an event-site hang-out with a premium view of the live action, outreach to local surf clubs and teams, free video sessions with legends like Rabbit Bartholomew, access to competing Hurley athletes and a give-back component in the surrounding area of each venue. In addition, former WSL Championship Tour surfers like Rob Machado, Brett Simpson and Yadin Nicol will be on hand to pass on knowledge and make sure the Hurley Surf Club experience is unforgettable.
For more information, please visit WorldSurfLeague.com.
About Hurley: 
Founded in Huntington Beach in 1999, Hurley is a surf lifestyle brand which designs, markets and distributes industry-leading apparel, footwear and accessories. Fueled by inclusion, positivity and empowerment of youth, Hurley is a wholly owned subsidiary of Nike Inc. with headquarters in Costa Mesa, CA and offices in Tokyo, Sydney, Barcelona and Bali.
About WSL
The World Surf League (WSL) is dedicated to celebrating the world's best surfing on the world's best waves through a variety of best-in-class audience platforms. The League, headquartered in Santa Monica, is a global sport with regional offices in Australasia, Africa, North America, South America, Hawaii, Japan and Europe.
The WSL has been championing the world's best surfing since 1976, annually running in excess of 180 global events across the Men's and Women's Championship Tours, the Big Wave Tour, Qualifying Series, Junior and Longboard Championships, as well as the WSL Big Wave Awards. The League possesses a deep appreciation for the sport's rich heritage while promoting progression, innovation and performance at the highest levels, and in doing so crowns the undisputed world champions in Men's, Women's across all divisions within the tour.
Showcasing the world's best surfing on its digital platform at WorldSurfLeague.com as well as the free WSL app, the WSL has a passionate global fan base with millions tuning in to see world-class athletes like Tyler Wright, John John Florence, Paige Alms, Kai Lenny, Taylor Jensen, Honolua Blomfield, Mick Fanning, Stephanie Gilmore, Kelly Slater, Carissa Moore, Gabriel Medina, Courtney Conlogue and more battle on the most unpredictable and dynamic field of play of any sport in the world.
For more information, please visit WorldSurfLeague.com