Sector 9 Collaborates With Kookslams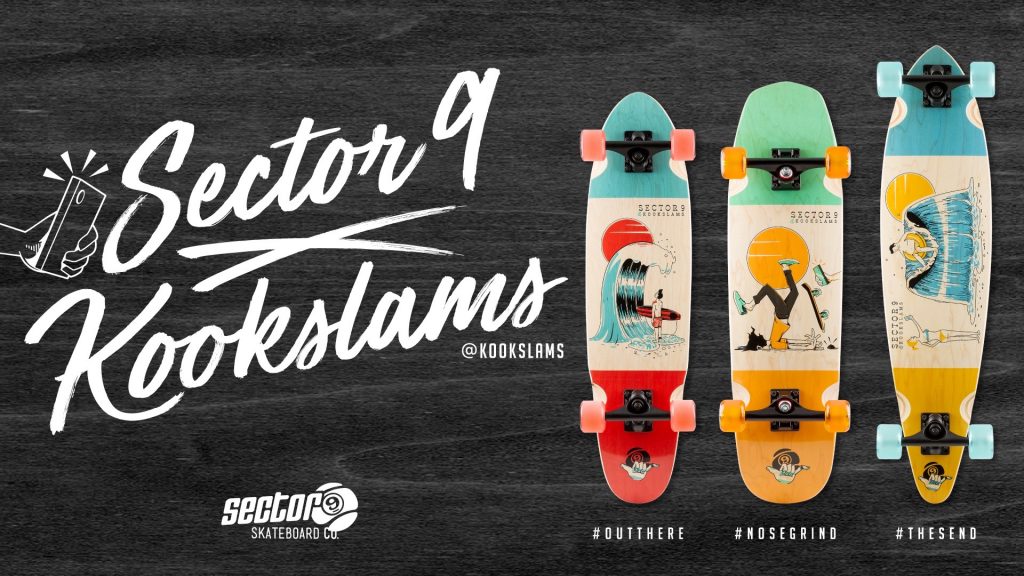 Sector 9 Skateboard Co., preeminent global provider of skateboards, today announced its collaboration with Instagram sensation, Kookslams. The announcement coincides with the release of a three-board collection, now available at authorized Sector 9 dealers, world-wide.
"Since the brand's inception in 1993, one of the most consistent messages Sector 9 has communicated is that we've never taken ourselves too seriously," said Bob Tanner, the company's Director of Global Marketing. "Having fun, while charging hard, has always been front-of-mind for the 9-Ball Crew, but sooner or later we're ALL going to end up looking like a kook while surfing or skating – you just need to embrace it!"
"Kookslams brings this same mentality to life on their Instagram account, every single day, and our Creative Director, Derek Hall, thought they'd make a great collaboration partner. We were stoked to hear Kookslams liked the idea too, and commissioned artist Joshua Ariza to create something special for the graphics," concluded Tanner.
"If you're a surfer who skates, getting a board from Sector 9 is a rite-of-passage," adds Kookslams (who wish to remain anonymous). "We've been fans since we were kids, so we're honored to be working with them and promoting the idea of not being afraid to slam or looking like a kook. For years, Sector 9 has been producing boards with perfect waves and dreamy landscapes on them, and this collaboration flips all of that on its head by showing the comical side of what sometimes happens in the water, on the beach, and while skating," concluded Kookslams.
The boards included in the Kookslams collection are: #OUTTHERE (31.5") $139; #NOSEGRIND (33.0") $145; and #THESEND (34.5") $149. All boards will feature various styles of Gullwing trucks and Nineball wheels.
Complete details of the Sector 9 x Kookslams collaboration are available at https://www.sector9.com/kookslams-series.aspx
About Sector 9 Skateboard Co.:
Sector 9's journey began in La Jolla, CA, in 1993, where our backyard craftsmanship flourished with the desire to skate with more style and to explore the surfing roots skateboarding once used as it's foundation.
Since that time, we've continued to make skateboarding fun by staying committed to creating a wide range of highly functional and innovative products. Over the last twenty-five years, we've become globally known for making high-quality, premium skateboards for the widest range of consumers.