Oakley Campaign Explores Lives and Minds of Athletes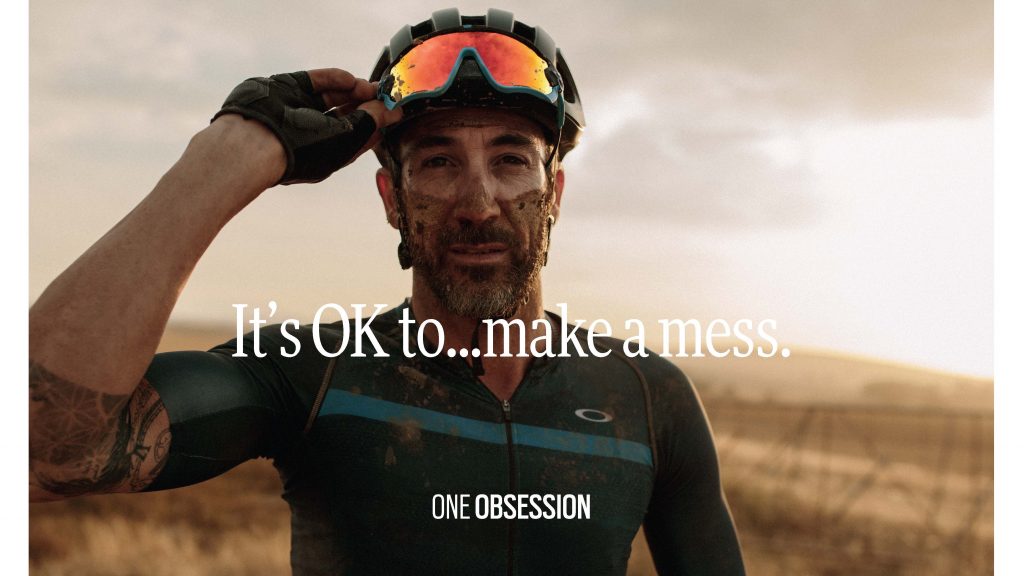 Today, Oakley launched the next chapter of the ONE OBSESSION campaign, encouraging you to make room for your sporting-passions – be it sacrifices in your family-life, career or friendships.
In building the campaign, Oakley created the ONE OBSESSION athlete survey that examines the behaviors and lifestyles of "The Obsessed" – the committed everyday athletes who tirelessly pursue their sport – to find true insights into what drives them.
The brand movement invites athletes of all abilities to join Oakley's global network of renowned ambassadors in celebrating the very real, not always glamourous, moments of pursuing your passion. It's not just about winning and losing. It's about the journey and the lengths you'll go for your sport, and we want to celebrate all of it. IT'S OK, in the name of obsession.
The ONE OBSESSION survey looked into everything from daily routines to the biggest sacrifices – be it time, careers or relationships. It provides a window into the emotional connection we have with the sports we love to pursue.
The findings were very revealing about what's OK in the name of obsession:
They know what work-life balance is all about
–  40% of employed athletes would rather excel at their sport than at their job
–  23% of employed athletes say their sport is more important than receiving awards or recognition at 
work 
The Obsessed are willing to make sacrifices
–  One-third (34%) of athletes who have made sacrifices have let go of romantic relationships for their 
dedication
–  29% of athletes who have made sacrifices think they have given up financial success for athletic 
excellence
–  51% have trained on their birthday and 40% have worked out on major holidays like Christmas or 
Thanksgiving 
For committed athletes, their sport is always on their mind
–  Over in 9 in 10 (91%) think about their sport at least once a day
–  21% say they would be 'completely lost' without their sport
–  15% simply 'don't feel like themselves' when they are not doing their sport 
Whether they are cyclists, golfers, skiers & snowboarders, runners & triathletes, or motorsport athletes, their sport is at the heart of their identity. It's not what they do in their spare time. It's not a 'hobby.' It's truly who they are.
See the full report findings below:
Sacrifices in the Name of Sports
Practicing their sport is where they come alive. Most committed athletes believe their sport is more important than other key areas of their lives.
40% of employed athletes would rather excel at their sport than at their job, and 23% of employed athletes say their sport is more important than receiving awards or recognition at work.
It can impact their personal lives too; many committed athletes claim to have made significant sacrifices to train for their sport. Nearly half (47%) have sacrificed friendships, while one-third (34%) have let go of romantic relationships for their dedication.
Nearly all (88%) of committed athletes would even say farewell to the comforts of their daily lives too, if it meant sport could remain a top priority.
Nearly half (44%) of them over 21 would not drink a drop of alcohol for a month. One in five would sacrifice sex for one month (21%), and 21% of employed athletes would give up two weeks of vacation, if it allowed them unlimited time on the bike or out on the road!
A Day in the Life of The Committed
Maximizing time is everything for these athletes. Nearly two thirds (62%) wake up before 6am to ensure time for their sport, and over a quarter (27%) rise before 4am.
Runners and triathletes are the earliest risers, with 72% waking up before 6am, followed by cyclists (58%) and action sports athletes (57%).
Commitment and obsession constitute 365 days a year for these athletes. More than half (51%) have trained on their birthday, and 40% have played their sport on a major holiday, like Christmas or Thanksgiving. Fifteen percent have even broken a sweat on their wedding day.
"Early to bed, early to rise" is crucial, with committed athletes getting an average of seven hours of sleep each night. 40% go to bed before 10 p.m. each night, and nearly a quarter (23%) actually get into bed before 9 p.m.
And vacations aren't breaks from what they love, as 91% of committed athletes who vacation participate in their sport while they're away, spending close to one quarter (22%) of their vacation time training, on average.
The Benefits of Obsession
 Athletes recognize the positive benefits their sport brings to their lives. 42% percent say their sport provides balance in their life, and one third (33%) say they play their sport because it's the best way to alleviate stress. In fact, 24% admit they're able to sort through most of their personal issues when they're training.
Discover More:
Twitter: @oakley
Instagram: @oakley
Facebook: Facebook.com/Oakley
Methodology
The Oakley ONE OBSESSION survey was conducted by Kelton Global between March 23 and April 8, 2018, among 508 American committed athletes ages 18 and over, using an email invitation and an online survey. Results of any sample are subject to sampling variation. The magnitude of the variation is measurable and is affected by the number of interviews and the level of the percentages expressing the results. In this particular study, the chances are 95 in 100 that a survey result does not vary, plus or minus, by more than 4.4%, from the result that would be obtained if interviews had been conducted with all personas in the universe represented by the sample. The margin of error for any subgroups will be slightly higher.
About Oakley, Inc.
Established in 1975 and headquartered in Southern California, Oakley is one of the leading product design and sport performance brands in the world. The holder of more than 800 patents, Oakley is a culture of creators, inventors, idealists and scientists obsessed with using design and innovation to create products and experiences that inspire greatness. This philosophy has made Oakley one of the most iconic and inimitable brands on the market, with products that world-class athletes around the globe depend on to compete at the highest level possible. Oakley is known for its High Definition Optics®, which features unparalleled optical clarity and precision along with impact resistance and UV protection, incorporated into all of the brand's sun, prescription eyewear and premium goggles. Oakley extended its position as the world's leading sports eyewear brand into apparel and accessories. Oakley has men's and women's product lines that appeal to Sports Performance, Active and Lifestyle consumers. Oakley is a subsidiary of Luxottica Group. Additional information is available at www.oakley.com.
Recent News: