DC Shoes, Inc. And CHALLENGER Collaborate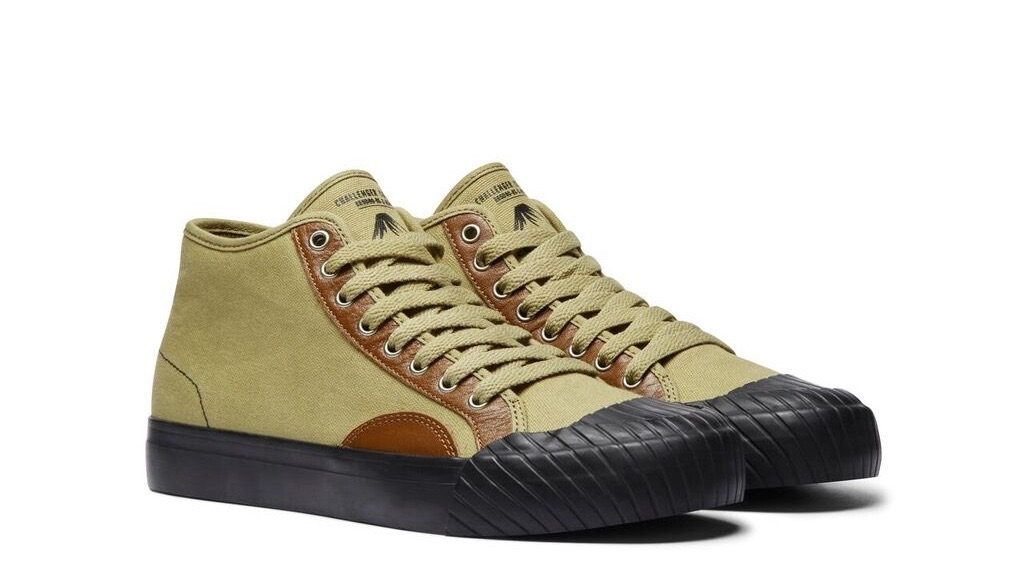 Southern California-based lifestyle and skate brand DC Shoes, Inc. introduces a limited-edition sneaker in collaboration with Tokyo-based apparel brand CHALLENGER. Utilizing one of DC's most iconic silhouettes, the Evan Smith HI ZERO is paired with skilled design elements unique to CHALLENGER. This unique style is a special military-inspired sneaker; suitable for both skateboarding and everyday wear exemplifying both brands' mutual obsession with detail.
"We were eager to work with CHALLENGER, who we admire greatly for the undeniable quality and craftsmanship of their product," says Mike Jensen, DC Shoes Inc.'s Global GM. "As a professional skateboarder and friend of the brand, we felt Satoru was the perfect partner to amplify DC's authentic design position in skate to a broader street lifestyle audience, globally.
In line with DC's renewed emphasis on craftsmanship and commitment to story-telling, the DC Evan HI ZERO is outfitted in authentic CHALLENGER design details, featuring a deconstructed silhouette and a canvas upper with full grain leather accents. The sneaker is fortified with IMPACT-I technology for amazing comfort and, of course, high shock protection. The model also boasts a unique rubber toecap for long-lasting durability. The style is edgy, vibrant and efficient reflecting both brands' skilled artistry in footwear.
"DC Shoes supported me and my career in my early 20s, and that experience made me who I am today and because of that, collaborating with them was an authentic, organic fit for me." says Satoru Taguchi, Founder of CHALLENGER. "I wanted to a shoe that I'd never seen before that I wanted to wear and I think we've accomplished that together."
The DC x CHALLENGER sneaker will retail for $80.00 and will be available in very limited quantities in-store only at Commonwealth LA. To celebrate the collaboration, an exclusive launch event will be held on April 12, 2018 at Commonwealth LA in the Arts District of DTLA. The sneaker will launch in Tokyo on April 22, 2018.
About DC Shoes, Inc.
Founded in 1994 by Ken Block and Damon Way, DC quickly grew as a leader in skateboarding shoes. Today DC is the lifestyle brand amplifying street and skate culture that promotes individuality through distinctive footwear and apparel stories. Rooted in skate, our product line has expanded to include men's, women's and kid's lifestyle and skateboarding shoes, apparel, snowboards, snowboard boots, outerwear, and accessories.
About CHALLENGER
Founded in 2009 by professional skateboarder Satoru Taguchi, CHALLENGER opened its first flagship store in Harajuku, Tokyo. The inspiration behind the brand comes from the American Garage culture, from cars and motorcycles to skateboarding and music, which lead to CHALLENGER's short but rich history of collaborations with reknowned bike builders, skateboarders and musicians.