La Jolla Group Announces Major Executive Changes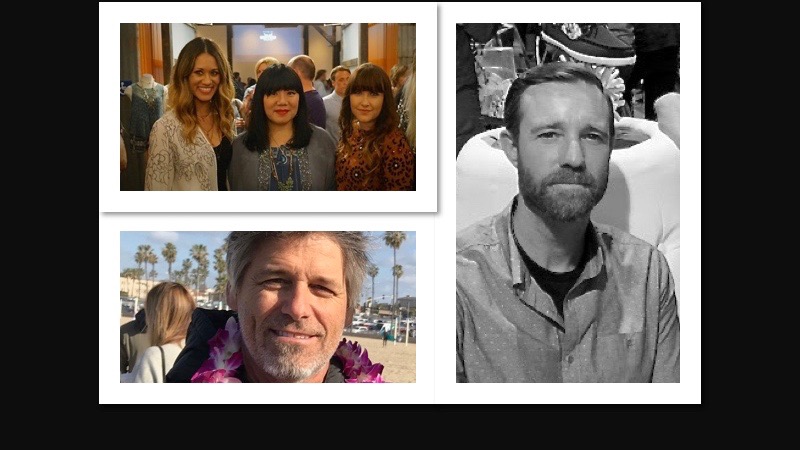 Kari Johnson, top left, with fashion designer Anna Sui and O'Neill's Rachael Hill; Mark Tinkess; O'Neill Men's GM Steve Ward - SES file photos
The La Jolla Group announced a slew of executive changes Monday.
A few of the big moves include:
Kari Johnson will now oversee the creative vision for O'Neill's men and women's businesses and all of the La Jolla Group after successfully leading the O'Neill women's business for several years
Roark President Mark Tinkess will join O'Neill as SVP of Revenue and Marketing Strategy
O'Neill Men's GM Steve Ward will be leaving the business
Michael Pratt, formerly of Nike, has joined as CFO and SVP Strategy.
We reached out to Steve Ward, who has been with O'Neill for more than a decade, and he sent us the following statement:
"The past 14 years has been an incredible ride. Serving as National Sales Manager, VP of Sales and Marketing and most recently General Manager has been an honor. I truly appreciate the friendships forged through the good times as well as the tough times. O'Neill is an incredible brand and I am grateful to have been a part of it for so many years. The La Jolla Group has provided me great experience and great opportunity and I wish them the very best."
Below is the formal announcement from the La Jolla Group, which includes other executive changes and additions.
La Jolla Group Positions Organization For the Future
March 19, 2018 – La Jolla Group today announced an evolution of its organizational structure to better align with the ever-changing consumer landscape.
Having held the license for the O'Neill brand since 1993, La Jolla has historically operated the O'Neill men and women's business as separate business units. Listening to consumers and retailers, La Jolla recognizes the need to have a unified voice for the O'Neill brand from product creation to the marketplace across both genders. As such, La Jolla is consolidating business units and aligning behind functional leadership to support O'Neill. The goal is to make great product for retail partners and support that product with authentic stories that resonate with consumers.
To support this evolution, LJG is announcing several shifts in the leadership team. Kari Johnson will assume the role of Chief Creative Officer of La Jolla Group, overseeing Product and Marketing Creative for the O'Neill brand. Kari has worked at O'Neill over 15 years, most recently serving as the GM of the Women's business. As the leader of O'Neill Women's, Kari defined a vision for the brand and successfully executed strategies that have led to strong sustainable growth.
Working collaboratively with her teams, Kari will be responsible for setting the creative vision for the O'Neill brand and product. Mark Tinkess will join as SVP of Revenue and Marketing Strategy. Mark started his career in Santa Cruz with O'Neill before a long tenure at Billabong. Most recently he served as President of Roark and will be joining the O'Neill brand effective March 29.
Josh Wellington has been elevated to President in addition to his current role as COO of LJG. Kari and Mark will report to Josh, who has been instrumental in driving operational excellence at LJG for the last 13 years.
To support the business, Michael Pratt has joined as CFO and SVP Strategy. Michael spent more than six years at Nike in strategy and finance roles and will partner with the leadership to drive the vision and strategy for LJG.
CEO Daniel Neukomm stated, "We have invested significant time and effort over the last five years in creating a platform of operational excellence. I am excited about the evolution of our organizational structure to support the next phase of our growth."
As part of the reorganization, Steve Ward, GM Men's, and Cristy Abella, Chief Financial Officer, have left the business.
"I want to thank Steve for being a steward of the brand for the last 13-plus years and wish him the best in his future endeavors," Daniel said. "I also want to thank Cristy for her financial guidance and efforts over the last eight years."