Remembering Pierre Agnes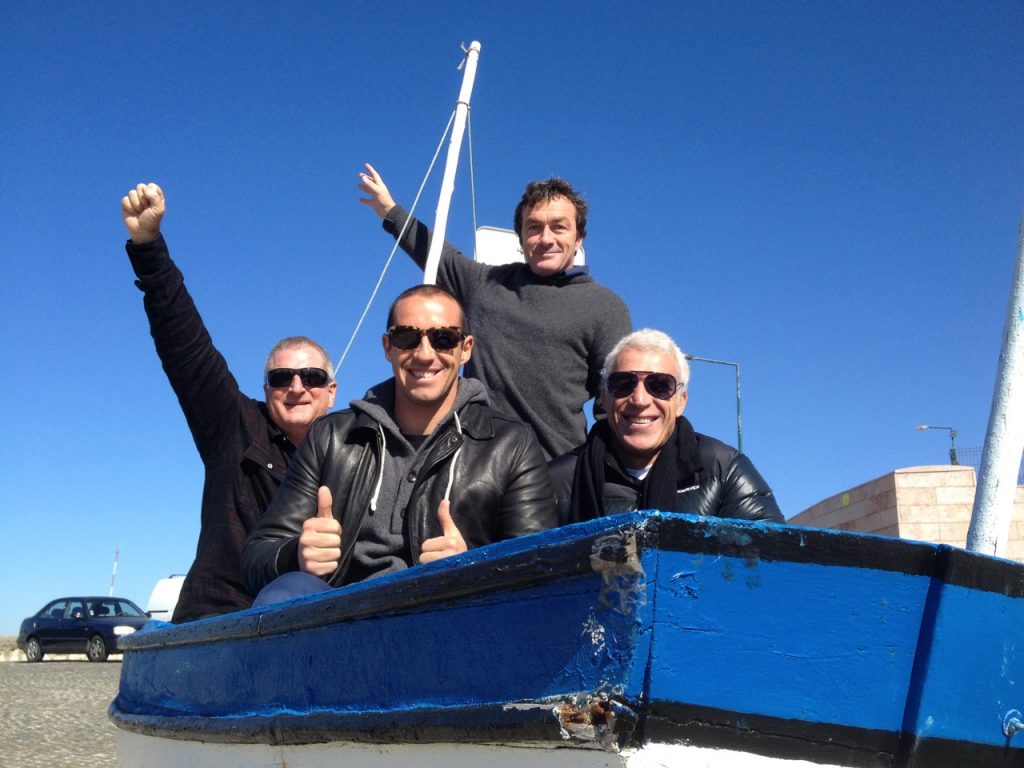 Pierre Agnes was a larger-than-life person with a personality bigger than any room.
His impact on Quiksilver over the years was huge – from launching new categories like eyewear, watches and wetsuits to, in more recent days, stepping in to serve as CEO at very difficult time for the company. Along with President Greg Healy, Pierre steered Quiksilver through a bankruptcy filing and new ownership.
To be honest, I was not sure I could capture his personality and impact on Quiksilver in words. For help, I asked some of his friends and colleagues to share memories and stories of Pierre.
My first call was to Bob McKnight, the longtime former CEO of Quiksilver who knew Pierre for more than 35 years.
Bob described Pierre's relationship with Quiksilver this way:
"He loved Quiksilver from Day 1," Bob said. "He was a surfer, he loved the brand, he was always loyal to it, and he devoted his life to it."
They first met when Pierre was a teenager and an accomplished surfer and team rider for Quiksilver.
Pierre eventually worked for a few years in marketing jobs at Quiksilver France, but was savvy enough to see a bigger opportunity.
He left the company and in 1992 and founded his own company, Omareef, to launch Quiksilver eyewear, watches, and eventually wetsuits, as a licensee.
"He was a real entrepreneurial kid from the beginning," Bob said. "He even started a travel agency because he knew we needed one. He opened our first Quiksilver store, in Biarritz.
"He really pioneered a lot of things in the company," Bob said.
Pierre eventually sold the licensing company to Quiksilver and returned to being an employee in 2003, when he was brought in to run Quiksilver Europe.
Bob came to rely on Pierre over the years. He loved that Pierre was a passionate surfer, but as important were his business skills.
"He could look at a business plan, a balance sheet, and financial statements and know his way around all of them," Bob said. "He asked the CFO all the right questions. Pierre could spot trouble a mile away and know what to do to fix it. He was really, really intuitive."
Bob shared these additional words about Pierre:
"Pierre was mon ami. We worked along side each other, traveled the world together, surfed the four corners of the globe, and spent a lifetime of working, playing, loving our families, and making sure that Quiksilver was always the very best it could be.
"His vision and passion was always to make and keep Quiksilver the number one surf brand, but also he wanted it to be recognized globally as a kind of beacon to represent surf culture to the world.
"His impact on the company and our employees is impossible to put into words. Pierre was key in establishing Quiksilver's dominant position in the market, especially in Europe. And he was always strong and true through good times and the very difficult times.
"Pierre loved France, and his beloved town of Capbreton, and the sea. He also loved his boats, his fast cars, his red wine, his garden, his music (mostly Adele), his Fetes de Bayonne, his iPhone, his surfboards and his life.
"But most of all, Pierre loved his family. He was a wonderful son, a great brother, and a loving husband to Marianne and father to his three kids, Marine, Mathieu and Manon.
"For me, Pierre was a student who became the teacher. I can't thank him enough for being part of my life and teaching me so much.
"I am sure that his persona, his wisdom and his wit will live on through his daughters Marine and Manon, and his son Mathieu."
Greg Healy, President, Boardriders Inc.
"Pierre was a true partner in business and a great mate away from it.
"We were on a mission to do what needed to be done for our company. We lived by a saying of his: 'When you look back at your legacy, you should be proud of what you see.'
"There is no question Pierre can be more than proud."
Juan Gonzalez Vega, former longtime Quiksilver executive who worked closely with Pierre for many years
"Pierre was more than a friend to me, he was my big brother. He had such an impact on me that every time I have to make a decision for my business or in my personal life I wonder if he would agree with it. It's a feeling that I had only shared with my father until I met Pierre.
"Every time we would surf together, or go on the boat, or ride our bikes or just even drive somewhere, it just had to be full-on for him, always flirting with the limits.
"It was the same thing back in the office. We had some close calls but we always ended up on the good side.
"It took me three days to accept the impossible, that he wasn't coming back, and that was extremely hard. To me he was invincible and being by his side gave me so much confidence that I felt anything was possible. We all shared the same feeling while being part of his management team.
"I will miss him dearly, the many great memories that I have will always keep him alive in my spirit.
"The only relief that I have been able to find is that if he had been given the opportunity to chose how he would leave this world, it would have been on his boat navigating the waters of the Bay of Biscay that he loved so much. I only wish that it didn't happen this soon.
"Merci pour tout Pierre."
Charlie Exon, the former longtime head lawyer at Quiksilver who speaks fluent French and became close friends with Pierre.
"When I first came to Quiksilver, Pierre was already one of the company's budding superstars.  Just in his early 30's, Pierre had quickly transformed himself from a very competitive surfer, athlete and team manager into a business savvy head of the Quiksilver European wetsuit and accessories licensee, Omareef.
"It was obvious and inevitable that he would, if he chose to, eventually become a senior executive at Quiksilver, the company. He did, and I was honored and privileged that Pierre made me an official/unofficial part of the European management team.
"I was fortunate to speak French, and after a long day with Anglophones, Pierre liked to kick back and speak his native tongue – even with an American lawyer! 
"We really got to know, trust and respect each other during the difficult post-Rossignol struggles to refinance our U.S. and European operations. 
"Trying to get the American and French banks and regulatory authorities to agree on anything, much less one single plan was a challenge. 
"Pierre was an amazing and true brother-in-arms during that fight.  I couldn't have found a better person to be on Quiksilver's side against all the best and brightest bluebloods than the 'self-taught' surf executive from Capbreton. 
"Tough, confident, determined and supportive, Pierre was at his best in hand-to-hand combat – even if it involved bankers, accountants and lawyers.  Best of all, in the toughest situations he kept his cool and great sense of humor. 
"At a conference table or in a room filled with suits and PowerPoints, you could always count on a sideways look, a knowing wink and grin, and, ultimately, balance and perspective from Pierre.  
"Pierre is legendary for his hospitality. When he became the President of Quiksilver Europe my frequent trips to our French headquarters no longer involved a jet-lagged check-in to a Biarritz hotel. 
"From then on, without fail, I was welcomed in to the Agnes family home in Capbreton.  More often than not on my Sunday arrivals, there would be freshly fished (by Pierre) sea bass, dorade or tuna -simply and perfectly prepared by Marianne or Pierre.  And, always, a Chateau Olivier or two! 
"Once, the Mediateur de Credit had scheduled an important meeting in Paris for the Friday after Thanksgiving Day.  I arrived from the U.S. late Thanksgiving evening to find that Marianne had found the only turkey in Southwest France, and thanks to an internet recipe, had prepared a full traditional Thanksgiving dinner for me to share with the Agnes family.  I was very thankful to have a home in Capbreton!
"When Pierre built the Capbreton house, he had separate guest quarters set up for family and his good friend Kelly Slater and other 'special' visitors who wanted a more private and informal getaway place to stay. 
"Among Pierre's many passions was vegetable gardening, specifically his tomato vines out by Kelly's guest apartment.  In fact, Pierre's tomatoes were unbelievably good.  Simply in a sealed jar with olive oil, they made for an amazing and simple pasta dinner. 
"The tomatoes and Pierre, however, had a natural enemy.  The neighborhood blackbirds were big fans.  Naturally, Pierre developed a predatory dislike for the blackbirds that would drop in on his prized tomatoes. 
"More than once, I woke up to see Pierre lying in wait near the back balcony sniping any thieving blackbirds with a pellet gun he had borrowed from one of his neighbors.
"Another one of my favorite Pierre stories happened in Australia. To many Anglo-Saxons, Pierre could come off as a bit arrogant. 
"In any case, through words or looks, he could clearly communicate his disdain for a particular person or situation.  One time coming from an airport in the Gold Coast, a bunch of us were in a full car and Tom Carroll and Pierre had to share a seat belt. 
"We got stopped by an Aussie cop.  Seat belt sharing was illegal.  The driver, Pierre's best mate Craig Stevenson, who is an Aussie himself, should have gotten the ticket, but Craig pulled out his California driver's license and in his bad and very fake American accent, politely explained that he was 'so sorry' and didn't know Australia law. 
"Tom Carroll was equally polite and, well, it was Tom Carroll in Australia. Both Tom and Craig got off. 
"Pierre, though, had his disdainful look as it all unfolded. He ended up with the ticket!"
Coke Pozo, the Quiksilver licensee from Chile
"We were in a license meeting in Fiji, everybody from Quiksilver around the world was there.
"We were all inside a big hall listening to a long, long speech from a former Quiksilver trademark lawyer talking about counterfeit product, diversion laws, etc. It was really, really boring.
The lawyer talked for hours and hours and at the end, the lawyer asked, 'What do you think Pierre?'
Pierre replied, 'QUOI?' (What?)
"Everybody laughed their asses off!
"Pierre was always rebellious, always natural cool! He never took any bull from anybody.
"Love and respect forever! Bisous mon ami"!
Rob Colby, former Quiksilver Americas President
"Very obviously, there are all of the work stories about Pierre. And I'm sure everyone has recited Pierre's very obvious traits: Hard working, maniacal passion for surfing and Quiksilver, self-assured, crazy driver, etc.  I learned from him in a million ways.
"But, I think the biggest, and most important thing I picked up from Pierre and from the French crew at Quiksilver in a larger sense, is that work and family can blend into one. You get to know the person better by knowing their family – and inviting that person to get to know your family.
"You open up your home and vice versa.  You spend time together outside of work.  Trust starts to really build there.  It becomes very personal, not just business.  And when there's real trust, great things happen."
Duke Edukas, co-owner, Surfside Sports
"I want to make it clear that I only knew Pierre for about three years, far less than many people whose lives he has impacted.
"But I can't stress how much I was, and still am impacted, in a very positive way, by his friendship, integrity, loyalty, and passion for the ocean, mountains, the brand he worked for, and all the athletes he loved.
"Pierre was a 'larger than life' type of individual.  I think that at the end of my days I will reflect on many of the people I have known and loved, and that one of my biggest regrets will be not meeting with, and bonding with Pierre much sooner in life.
"My first meeting with Pierre was in his car on the way to Quiksilver headquarters in the South of France.  I have to admit I was a little intimidated by Pierre at first, and those who know me know that I don't get intimidated very easily.
"First thing that came out of his mouth, in his harsh English, with a gruff tone, was, 'How do you feel about Ron (Abdel) from Jack's?'
"A bit taken a back, my reply was, 'Although Jack's is our biggest, closest competitor, and my life would be much easier if Jack's didn't exist, I have no problem with Ron, Bobby, or Jamal as human beings. As a matter of fact, Ron and I have had some fun times together at the SIMA Surf Summit in Cabo.'
"Pierre replied, 'I am happy to hear that you have no problem with Ron, because he is my American father. When I was a young man, coming to surf in America for the first time, no one ever helped me. Then I met Ron.  He took care of me by feeding me and helping me find housing. My love for him is very deep because of that, and many other things he has done for me.  You need to understand that.'
"That gave me instant respect for Pierre. It showed me how loyal he was to people who he deemed worthy of his trust, respect and affection.
"Throughout that week I spent in Southern France Pierre and I bonded in such a way it was amazing!  The things he liked, I liked. The things he felt were important in life, I felt were important.  His favorite saying was, 'No Bullshit!' and I think that sums up who Pierre was.
(Editor's note: Both Pierre and Duke separately told me about the wine drinking contest below. I asked Duke to retell the story for this tribute)
"Then there that wine drinking contest that happened between us in France – and I don't drink wine.
"On the last night I was in Hosseger, we were invited to go to Pierre's House in Capbreton for a party honoring all the athletes and dignitaries who participated in the surf contest.  Most of the people in our group had never been to Pierre's house, which is really beautiful. I had been there a couple of times just hanging and talking with Pierre throughout the week.
"Pierre gathered us all together and welcomed us. Then, he called me out.  When I was at his house earlier in the week, I refused to drink his precious French wine that he said was the best in the land, and, opted for beer instead.  This had pissed the hell out of Pierre!
"So this night, he announced to everyone, would be different. Pierre said, 'Ah, Duke, you are in my country, you are in my house, so, tonight, f-off on beer! You and I will drink my wine, together!'
"The other people in our group – Taylor Whisenand, Mike Reilly, Tyler Brown, Kevin Morris, and my son, Joe – thought he was seriously pissed at me.  I knew different. Pierre and I were truly friends by this time, and this was simply one friend calling out another for some sort of competition.
"I replied to Pierre, 'I don't want your French wine, Pierre. It will give me a headache in the morning!' Pierre claimed it wouldn't.  Well, to make a long story short, we started this crazy wine-drinking contest designed by Pierre.
"Pierre brought me a huge glass for wine, and he had the identical glass.  He proceeded to measure carefully, and filled our matching glasses up to the exact level with his fine French wine.
"The party wasn't like any gathering I had ever been to.  Every athlete, and surf hero was in attendance. Several politicians from the area were also there, along with the police chief, harbor master, etc.
"I knew many people there, and Pierre introduced me to a lot more. Pierre told me Jeremy Flores was more like a son to him and he held him in high regard. He took me over to where Kelly Slater was hanging out and proceeded to introduce me to Kelly.  Our group was pretty star struck.
"Throughout the night Pierre was mingling and interacting with the many guests in attendance. But whenever Pierre's glass ran dry, he would seek me out, interrupting any conversation I was having with anyone.  Treating this as the priority of the night, he would order me to drink the rest of my wine remaining in my glass, or I was a wimp! (He used another word but let's just say wimp.)
"This went on throughout the night.  I was getting pretty hammered. My son Joe told me that I better slow down. I told him that this was Pierre's idea, not mine, and I refused to lose to him!  As the night went on, Pierre kept on returning to me with his empty glass of wine, all the time ordering me to drink the rest of my wine.
"Toward the end of the night, Pierre's wife approached me.  She said, 'Mr. Duke, please quit this silly contest you and my husband are engaging in.  He can barely stand or talk.' My son Joe in my defense said, 'Mrs. Agnes, please understand, my Dad is an unwilling participant in this event, your husband challenged him!'
"Mrs. Agnes asked Joe, 'How much wine has my husband and your father consumed throughout the night?' Joe replied, 'I've been trying to keep track, and I think about seven bottles!'
"Needless to say, she was not stoked!  Just then Pierre came up to me with another empty glass of wine. Mrs. Agnes was disgusted with both of us and just walked away.  Pierre once again began to fill up both of our glasses.
"I could see, by this time, Pierre could hardly walk. Luckily, he soon realized this needed to stop, and he said, 'Duke, I am done. You are the champion, I must concede defeat. Carry me to my wife and tell her to put me to bed!'
"So I carried him inside.
"The next morning, miraculously, I felt fine.  Pierre had been right – I didn't have a hangover because his wine was the finest in the land!
"Our group headed to the beach for the finals of the contest. When we got to the Quiksilver VIP room over looking the contest, it was filled with dignitaries.  I didn't even see Pierre.
"About 15 minutes went by, then out of the corner of my eye I spied a hunched over individual intently watching the heat. Just then the person turned around, and looked at me.  It was Pierre! And he didn't look too chipper!
"He then came over to me, hugged me, threw up his arms and called for everyone's attention.  'People!' he said with his arm around me. Everyone in the room, there must have been over 30 people, stopped everything they were doing and gave Pierre their attention.
'This is Duke. He is from America, and he is my champion!'
"He then got on his hands and knees and proceeded to bow down in front of me! Needless to say, I was embarrassed as hell.  
"Afterward, I pulled Pierre aside. I said, 'You are a fool Pierre! How did you ever think you could win a drinking contest with me?' I then pointed to him and said, '150 pounds,' then pointed to me and said, '250 pounds.'
"I pointed back to him and said, 'You workout with French wine,' then pointed back to myself and said, 'I workout with Mexican Tequila!'
"We hugged once again, and, I knew for sure, I had a friend for life.
"Rest peacefully mon ami, until we meet again…"
Ronnie Reyes, Boardriders
"So many great stories have been shared through social media and amongst co-workers and friends here. There's not really a lot I can add to the story telling, but I would like to share one feeling I've had during this time.
"I am certain I have never met anyone like Pierre and his passing leaves quite a big hole in our little surf universe. His commitment and passion to Quiksilver and, most importantly, the people, are what kept the brand alive during all the radical times.
"The brand would not be where it is at today without him. He was revered as a leader, but his colleagues and employees around him loved him as a father figure and fellow brother. This is what I found to be so special, and I am sure cannot be replaced."
Steve Tully, former Quiksilver Americas executive
"I met Pierre back in 1988 when he was first getting Quiksilver wetsuits off the ground.  I remember him being steadfastly confident in the wetsuit project, although, in the scheme of things, it got very little attention from the senior leadership in charge at the time.  But as was his nature, Pierre stuck with it and created a viable business.
"Pierre was such an interesting guy.  Fiercely loyal to whatever he thought was in the best interest of Quiksilver, it was never easy to get him to change his mind.   Some viewed him as stubborn; others saw him as staunchly devoted.  I guess he was a lot of both.  As I'm sure many will attest, you always knew where you stood with Pierre – and he didn't suffer fools easily!
"Beyond his incredible professional accomplishments, amongst my fondest memories of Pierre will be the way he celebrated and shared his French Basque heritage.  And, to be sure, he taught many Quiksilver Americas executives – including me – a thing or two about international hospitality.
"As I was exiting the company a few years ago the last thing Pierre ever said to me was, 'Remember, you've always got a place to stay in France and we have the finest red wine in the world!"
"Je vais boire un toast à votre mémoire…Repose en paix mon ami."