Swim Collective January 2018 Trend Report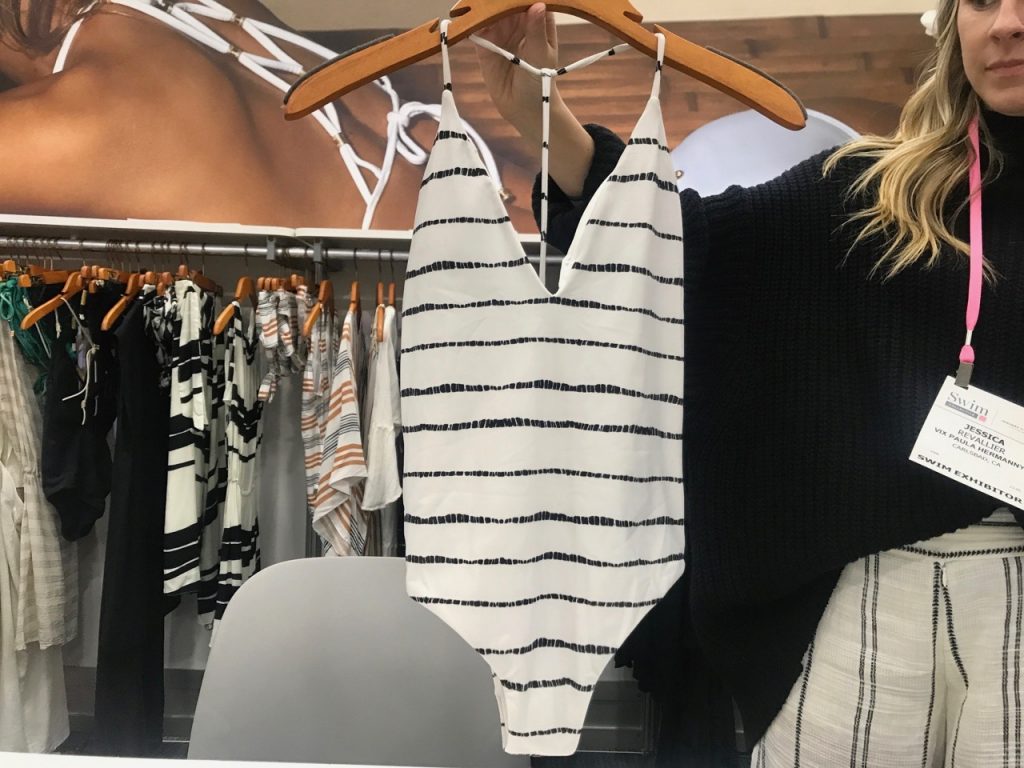 Swim Collective is taking place this week at the Anaheim Convention Center. 
The show, which was previously held at the Hyatt Regency in Huntington Beach, had a more open layout with almost 100 swimwear brands showcasing their lines. 
Opening day of the show was busy, with many brands booked back-to-back. 
We sat down with several brands to view their upcoming lines. We noticed some popular styles and trends that will be in stores later this year and next: 
Feminine florals and stripes are popular patterns for the upcoming seasons. Small, romantic floral prints are represented in Bond-Eye, Tavik, Tori Praver, Reef, Maaji and Rhythm's lines. Stripes of all widths are included in Tavik, Solid+Striped, Tori Praver, Seea, Rhythm and Vix's lines. 
Many brands are playing with different textures for the upcoming Summer and Fall collections. Ribbed fabric is the most popular. Frankie's Bikinis, Tavik, Body Glove, Tori Praver, Reef, Rhythm and Koa all have solid-colored, ribbed pieces in their collections. Brands such as Bond-Eye, Tori Praver and L*Space have incorporated smocking material into their lines as well. Various brands have also added crepe, shimmer fabric, basket weave and mesh pieces.
The '90s remains a strong inspiration for the upcoming seasons. Off-the-shoulder and tube tops are making a comeback as seen with Bond-Eye, Kaohs, Rhythm, Maaji, Solid+Striped, Frankie's Bikinis, L*Space and Chaser. High-waisted bottoms with high-cut legs, neon, plaid and gingham are also used throughout the collections. 
While many lines incorporate a pop of color, muted, natural tones such as dusty rose, tan and olive green remain strong in the upcoming seasons. 
Many brands are adding more feminine, playful details to their upcoming lines. Rose gold hardware and ruffled detailing are increasingly popular among brands such as Kaohs, Tori Praver, Rhythm, L*Space and Frankie's Bikinis. 
Check out photos from the show in the slideshow above.