Photos and Report From Agenda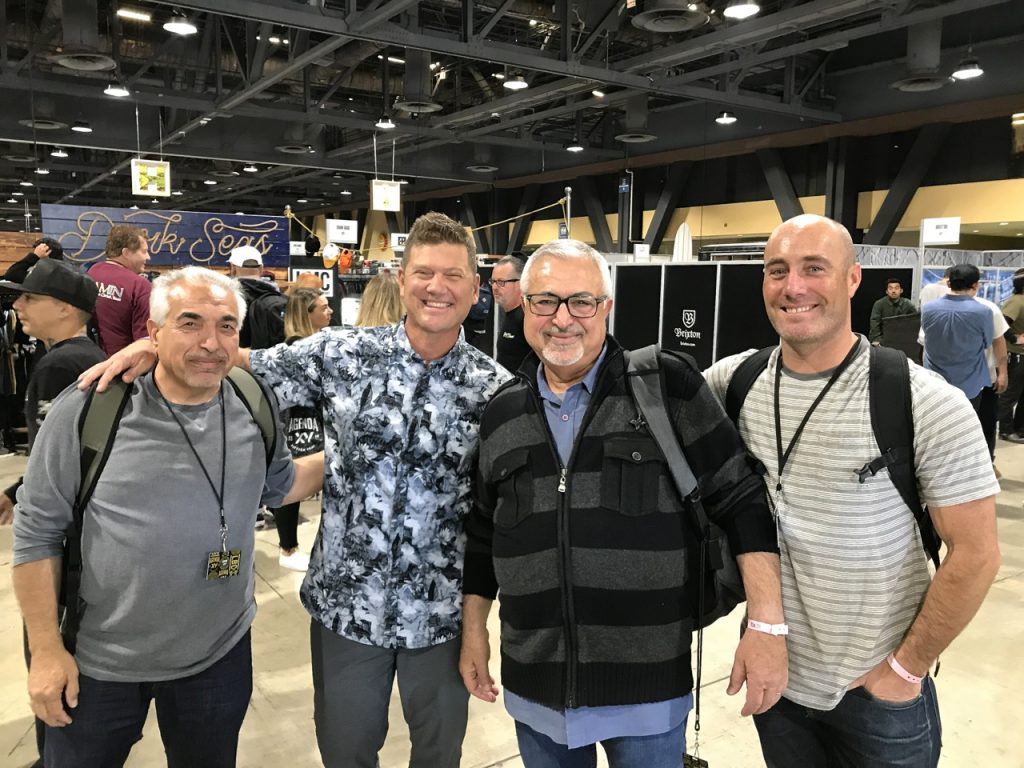 An interesting Agenda got underway Thursday in Long Beach to kick off 2018.
Several notable brands were not on the show floor, including RVCA, Stance, Volcom, Billabong, Quiksilver, Salty Crew, Roark and Vissla. The show was definitely quieter in spots.
Some brands choose to forgo their big booths of the past and do something different, including Nixon, which showcased its customer watch experience in a prime location and then met with retailers in a meeting room to show the full line.
Nixon commited to the show late, and had fewer appointments on the books then last year. However, VP of Sales Brian White said he felt it was worth it to attend because the timing aligned well with Nixon's seasonal product calendar.
As he looked around the open booth that showed the Nixon customization story, he noted that at that moment, Zumiez buyers were there, along with new retailers and industry friends of Nixon.
"Seeing that mix, and having (a booth) that is interactive is worth it for the business," he said.
DC Shoes saw an opportunity to make a big statement at this Agenda.
DC expanded its redesigned, newly colorful booth by 30% and moved to a prime location in the main part of the show, a space used by Billabong and RVCA in the past.
The new graphics on the booth represent DC's go-forward look and feel and are a departure from the previous black and white aesthetic.
"We thought it was important to support the industry with a bigger presence and it was time for that," said DC Global GM Mike Jensen.
"Day one is always the crazy day, and looking at the appointment sheets, we're full. And what really matters to us is that the right retailers are here," he said.
Having fewer brands at the show meant that some brands landed better locations. Slow Tide moved to a larger, prime spot on a major aisle. On Thursday morning, they had already written orders for a few new accounts, including from a store in Venice that had seen Slow Tide products at REI.
"So far it's been good, we are writing orders and meeting with our bigger accounts that are here," said Slow Tide Partner Dario Phillips.
We heard from several brands that many important retailers were at the show, including The Buckle, Tilly's, Zumiez, Boathouse, PacSun, Active, Urban Outfitters, REI and others.
Lots of core accounts were there as well, including a contingent from the East Coast and Hawaii.
While several brands were missing, especially on the surf side of the show, the Berrics skate area seemed busy.
The Element booth was cranking from what we saw.  The brand opted for a bigger booth so they could showcase the full breadth of the line.
Head of Sales Dave Rosenberger said it was definitely worth it to come to the show.
"There are still plenty of retailers here – we are busy with lots of appointments," he said.
"Our Midwest guy is slammed, and there's no way he could have seen this many accounts in two days on the road. We are getting so much done."
"Even if key accounts have seen the line, it's a time to review things again. I just met with the DM of the Boathouse, and Zumiez, Tilly's, and Active have already been by," Dave said.
"Retailers have told us they like talking face-to-face rather than just communicating with email," he said.
As we were talking to Dave, a sales rep interrupted, and asked Dave to do a showing for The Buckle because the rep that usually handles them wasn't available, and The Buckle was "going crazy" for the line.
Apparel Trends
On the apparel front, we noticed a few trends for Fall 2018 at the show.
As seen at Katin and Lira, washed fleece is a best selling men's style for Fall 2018.
The traditional fall colors of burnt orange, dark turquoise, olive green and tan remain popular. The already trendy dusty pink and mustard yellow continue to be strong colors as well.
The '90s streetwear style continues to be strong for Fall 2018. We saw boyfriend-fit apparel, cut-off hoodies and tees, and checked patterns in several lines including OP, Gotcha, Lira and Vans lines.
Mourning Wholesale
The booth that may have gotten the most attention is Rebel8's coffin presentation complete with a funeral sash that read "In Loving Memory of Wholesale."
It was definitely a showstopper.
We spoke with the people at Rebel8, and they said the brand is about being honest and transparent, and they thought it was important to talk about what is happening at retail.
The brand has a wholesale business but has lost many accounts, and those that are still in business have shrunk in size.
Inside the coffin, the brand had little pamphlets like the ones you would be handed during a funeral that highlight the deceased's life.
The pamphlet talked about the brand's history, then on the back said, "If you are still alive, hit [email protected]."
Definitely an interesting sales tactic, but who knows, the retailers that carry Rebel8 may appreciate their willingness to talk about tough issues.
Executive Moves
Founder Aaron Levant's upcoming departure from Agenda and his retirement from the trade show business, first reported on SES, was a very hot topic of conversation.
During our travels on the show floor we learned of a few other job changes.
Mike Carter is no longer at Agenda. He left a few months ago to work on his consulting business and to pursue some entrepreneurial ventures.
Todd Schweinbold, formerly with Vans, is the new East Coast Sales Manager for Herschel Supply Co.
John Lee, a marketing consultant who most recently worked at GoPro, is the new VP of Marketing at Neff.