Sustainable Startups Graduate From Kering's Innovation Accelerator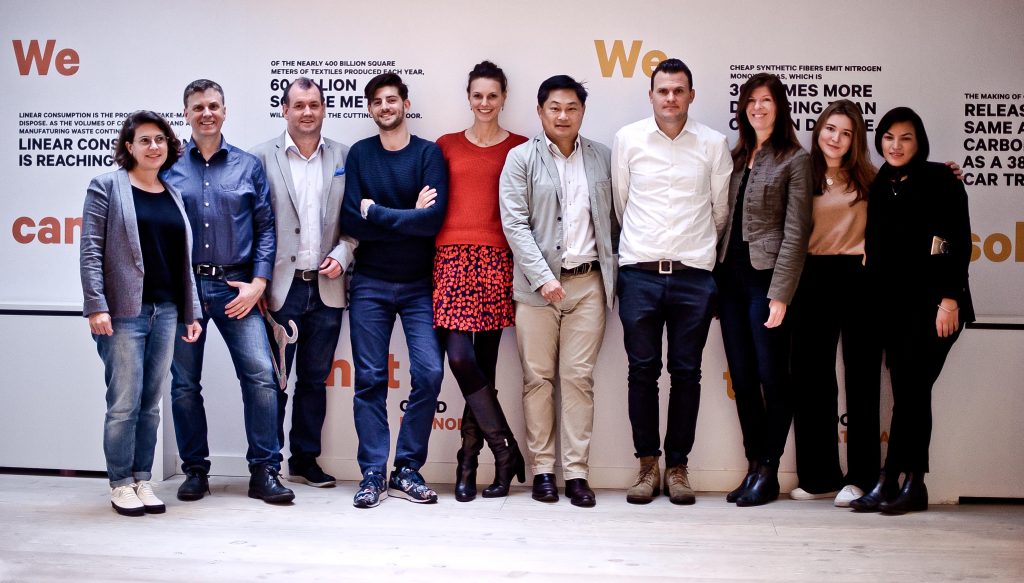 Fashion for Good, Plug and Play, and Kering saw the second batch of start-ups graduate from their Fashion for Good-Plug and Play Accelerator program, during an industry event on "Accelerating and Scaling Daring Innovation" held at the Fashion for Good hub in central Amsterdam today. Approximately 180 brand representatives, suppliers, non-profit organizations, innovators and funders convened at today's event to discover the start-ups' break-through ideas.
The event featured Demo Day pitches from the nine start-ups in the latest batch of the Fashion for Good-Plug and Play Accelerator, an intensive 12-week startup program run with Plug and Play, a leading Silicon Valley accelerator, and corporate partners C&A, Galeries Lafayette Group and Kering. Nine start-ups from around the world – representing varied fields and backgrounds – participated in the Accelerator's second session: Carcel, Colorifix, Eon ID, LiteHide™ by LeatherTeq, Nature Coatings, Normn Hangers, A Transparent Company, Texloop and We aRe SpinDye®. Since September last, the start-ups have followed a robust curriculum including mentorship and training by Kering experts, the preparation for over 50 investor meetings, and the coordination of nearly 100 deal flow sessions with major brands. The third and next batch of start-ups awarded a place in the Accelerator program will be announced in early 2018.
About Kering
A global Luxury group, Kering develops an ensemble of luxury houses in fashion, leather goods, jewellery and watches: Gucci, Bottega Veneta, Saint Laurent, Alexander McQueen, Balenciaga, Brioni, Christopher Kane, McQ, Stella McCartney, Tomas Maier, Boucheron, Dodo, Girard-Perregaux, Pomellato, Qeelin and Ulysse Nardin. Kering is also developing the Sport & Lifestyle brands Puma, Volcom and Cobra. By 'empowering imagination', Kering encourages its brands to reach their potential, in the most sustainable manner. The Group generated revenue of €12.385 billion in 2016 and had more than 40,000 employees at year end. The Kering share is listed on Euronext Paris (FR 0000121485, KER.PA, KER.FP).
About Plug and Play
Plug and Play is a global innovation platform. We connect startups to corporations and invest in over 150 companies every year. Since inception in 2006, our programs have expanded worldwide to include a presence in 22 locations globally giving startups the necessary resources to succeed in Silicon Valley and beyond. With over 6,000 startups and 180 official corporate partners, we have created the ultimate startup ecosystem in many industries. We provide active investments with 200 leading Silicon Valley VCs, and host more than 365 networking events per year. Companies in our community have raised over $5 billion in funding, with successful portfolio exits including Danger, Dropbox, Lending Club, PayPal, SoundHound, and Zoosk.
About Fashion for Good
Fashion for Good is the global initiative that is here to make all fashion good. Fashion for Good sparks and scales innovation by offering practical action in the form of support and funding, shares best practice and lessons learned in open-source roadmaps and fosters sector-wide collaboration for the entire apparel industry to change. Fashion for Good invites brands, producers, retailers, suppliers, non-profit organisations, innovators and funders to jointly transform the industry. Fashion for Good was launched in 2017 with C&A Foundation as a founding partner, and is supported by partners Plug and Play, McDonough Innovation, the Cradle to Cradle Products Innovation Institute, IDH – the Sustainable Trade Initiative, the Sustainable Apparel Coalition, the Ellen MacArthur Foundation and Impact Hub Amsterdam. The first brands to partner with Fashion for Good are C&A, Galeries Lafayette Group and Kering.