Huntington Surf and Sport Repeats West Oakley Surf Shop Challenge Victory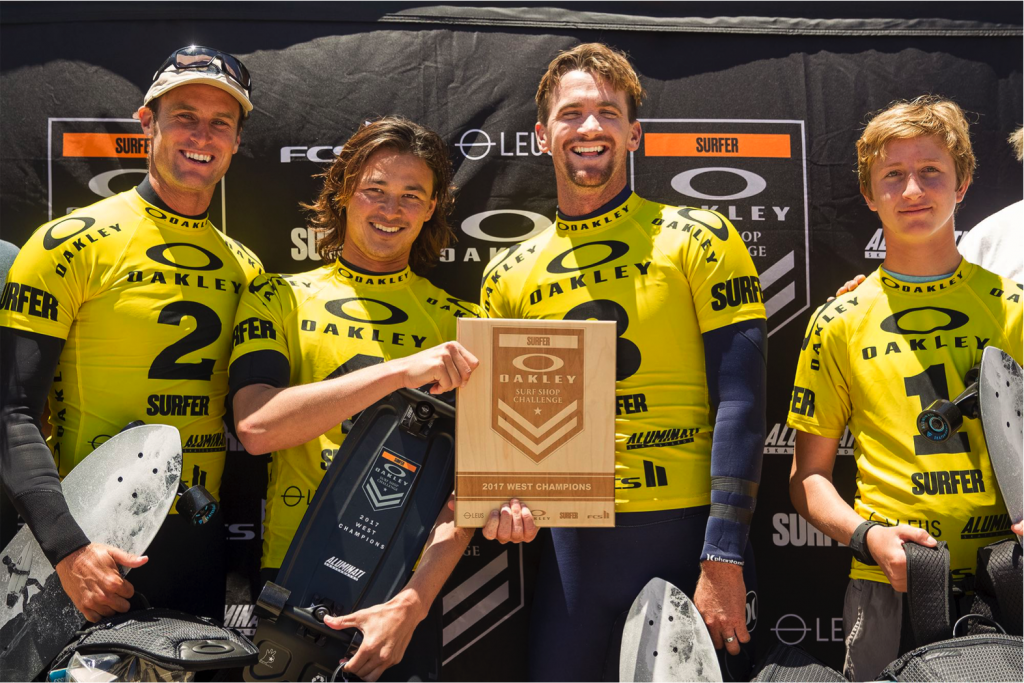 Huntington Surf and Sport (HSS) claimed its second back-to-back West regional victory at the Oakley Surf Shop Challenge on Friday afternoon. Some of the best surf shops from around Orange County and Los Angeles competed in the three-to-five-foot conditions for the title and golden ticket into the National Championships this fall.
Round one started with 10 teams, but only five advanced into the final where conditions had gotten a little bumpier from the clean morning conditions. Second man out, HSS's Brad Ettinger found a nearly stand up barrel, drove through it and finished with a turn earning the best tube ride and only 10-point score of the competition.
Fellow veteran HSS teammate and team captain Brett Simpson whammied a jackpot 7.77 score. And rookies Griffin Foy and Taylor Pai backed them up with solid scores to seal the deal for HSS.
"Griffin got us a good start. It's nice when someone goes out there and posts like a 6-plus, it kind of relieves a lot of the pressure. Brad dropped a 10, so the pressure was on me to whammy something and I had like two waves that were mediocre. I just felt like I had to give myself that third chance. Then Taylor went out and did his job. At that point we were in a good position. Everyone got enough time to get their waves. . .bring on (the National Championships)!"
Final Results:
1 – Huntington Surf & Sport (35.34)
2 – Spyder Surfboards (32.03)
3 – Catalyst (19.87)
4 – Jack's HB (14.39)
5 – Sakal Surfboards (11.39)
The 2017 Oakley Surf Shop Challenge schedule:
·       March 24 – Southwest – Seaside Reef, Cardiff, Calif. (Sun Diego)
·       April 6 – Southeast – Paradise Beach Park, Melbourne, Fla. (Sunrise)
·       April 11 – Northeast – Belmar, NJ (7th Street Surf Shop)
·       May 25 – Northwest – Pleasure Point, Santa Cruz, Calif. (Pacific Wave)
·       June 9 – West – 54th Street – Newport Beach, Calif. (Huntington Surf & Sport)
·       July 10/11 – Hawaii – Ala Moana Bowls, South Shore, Haw.
·       Aug. 18/19 (rescheduled) – Mid-Atlantic – Nags Head, Outer Banks, NC
·       Fall 2017 – National Championship – TBD
For all of the latest information including photos, video footage, results and more, check out surfshopchallenge.com.
Special thanks to Oakley, SURFER and event partners, FCS, Leus and Aluminati Skateboards for their support, without which the Surf Shop Challenge series would not be possible.
About Surf Shop Challenge
Originally conceived to provide a fun and competitive format for the hardcore surf shop riders, the SURFER Shop Team Challenge was one of the most popular and exciting Southern California contests of the early 1980s.  Through the years the contest has evolved, with seven qualifying regional events around the country, culminating in a national championship in Bali, Indonesia for the first time in 2012. The underlying principles, however, have remained the same. The Oakley Surf Shop Challenge is still about giving back to the shops, the true backbone of the industry and the heart of the sport of surfing. Each year the competition level rises, the stakes become greater and the prizes become bigger.
About Oakley, Inc.
Established in 1975 and headquartered in Southern California, Oakley is one of the leading product design and sport performance brands in the world. The holder of more than 600 patents, Oakley is a culture of creators, inventors, idealists and scientists obsessed with using design and innovation to create products and experiences that inspire greatness. This philosophy has made Oakley one of the most iconic and inimitable brands on the market, with products that world-class athletes around the globe depend on to compete at the highest level possible. Oakley is known for its High Definition Optics®, which feature unparalleled optical clarity and precision along with impact resistance and UV protection, incorporated into all of the brand's sun, prescription eyewear and premium goggles. Oakley extended its position as the world's leading sports eyewear brand into apparel and accessories. Oakley has men's and women's product lines that appeal to Sports Performance, Active and Lifestyle consumers. Oakley is a subsidiary of Luxottica Group. Additional information is available at oakley.com.
About SURFER
In 1960, SURFER began as the original surf magazine. With a long history of delivering provocative and insightful editorial features, revealing interviews and award-winning, state-of-the-art photography, SURFER remains the authoritative voice of the surfing world and thus earned the moniker "the bible of the sport." Through its website, social media channels, magazine, and television programming, SURFER continues to be the most current and reliable source of information to the surf community, reaching more than 22-million active sports enthusiasts. SURFER is published by TEN: The Enthusiast Network. To learn more, visit surfermag.com
About TEN: The Enthusiast Network
TEN: The Enthusiast Network is the world's premier transmedia network of enthusiast brands, such as MOTOR TREND, AUTOMOBILE, HOT ROD, SURFER, TRANSWORLD SKATEBOARDING, and GRINDTV. With more than 60 websites, 50 publications, 50 annual events, the Motor Trend OnDemand subscription video-on-demand service, as well as the world's largest automotive and action/adventure sports media platforms, TEN inspires enthusiasts to pursue their passions. For more information, visit enthusiastnetwork.com.