SPY launches BrosYouKnow Ad Campaign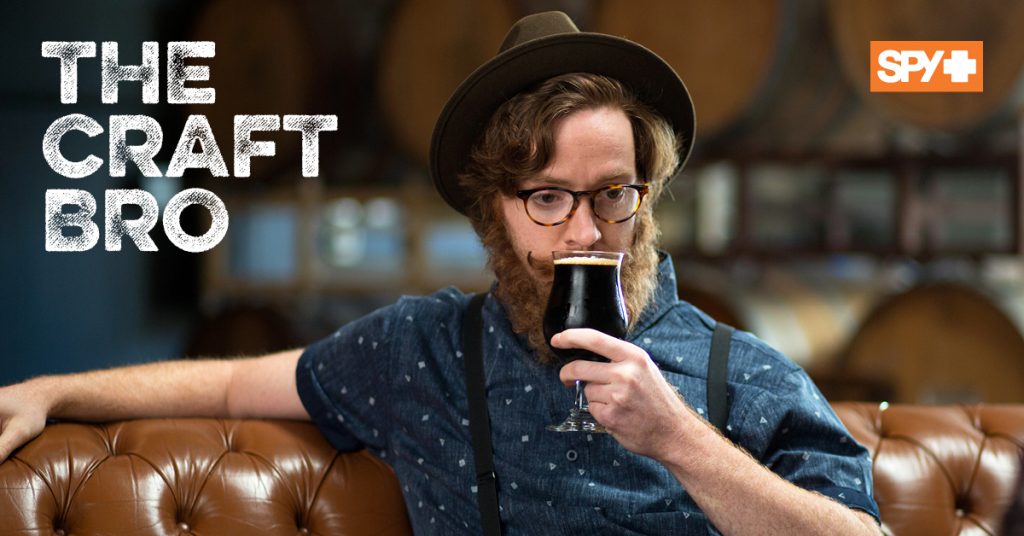 (Editor's note: Click here to read our interview with SPY VP of Sales Charline Ninegar and Marketing Director Bonnie Chevalier. They talk about how SPY managed to return to profitability, what operating at a deficit meant in the past, previous turn-around efforts, how the brand is now more tightly focused going forward, and how the Bros campaign came about.)
SPY Gets The Bros Together In New #BrosYouKnow Ad Campaign
CARLSBAD, Calif.—SPY is launching a new advertising campaign, dubbed Bros or #BrosYouKnow, that pokes fun at the stereotypes surrounding action sports and outdoor enthusiasts. From the dirt bike riding Moto Bros to the Craft Bros who take a stern approach to their stout selections, the campaign comes to life through improv comedy and a slew of SPY athletes. Bros will launch on May 1, 2017, coinciding with a complete overhaul of SPY's new website at www.spyoptic.com.
Designed to appeal both to SPY loyalists and those new to the brand, the campaign features the misadventures of two character bros as they hang out at surf shops, go camping, sample craft beer, and cross paths with SPY athletes who represent authentic doses of reality for the bros' "talk more, do less" lifestyles. The campaign leans on the SPY brand's sense of humor to appeal to consumers, while taking a low key approach in integrating key pieces from SPY's sunglass and optical product lines.
The Bros are played by actor/comedians Brett Elam and Joshua D. Logan, whose comedic talents have been featured everywhere from nationally aired TV commercials to District Chicago's web series, Liars. SPY athletes who play notable roles in the Bros Campaign include:
Ahmet Dadali (professional skier)
Alex Gray (professional surfer)
Axell Hodges (professional motocross rider)
Bob Soven (professional wakeboarder)
Chris Rasman (professional snowboarder)
Eric Jackson (professional snowboarder)
Jeremy McGrath (seven-time Supercross champion)
Pat Goodnough (professional skier)
"The idea behind this campaign was to have fun with some of the cultural stereotypes found in the SPY brand and our industry," commented Bonnie Chevalier, director of marketing for SPY.
"The 'bros' are intentionally over the top, fully exaggerated versions of the stereotypes we chose. Though, almost anyone who is an avid participant in action sports and the outdoor space has encountered someone just like them, thus the #BrosYouKnow hashtag we're using. We enjoyed making them and hope that both SPY fans and those new to the brand will share in the laughs, and also share them with friends who can relate or maybe are 'bros' themselves."
SPY chose a deliberately loose, unscripted format in producing the campaign, letting the bros and pros improv in each video to create natural and authentic conversations. The comedians and SPY athletes were given few scenarios to guide them, but largely left to their own devices when it came to each videos content. The end result is a comedic series of shorts, designed to be shared and start conversations among the groups who know these "bros" all too well.
The campaign will include a series of 20 and 30-second length video teasers, digital shorts, out-takes, longer videos of up to three minutes and various out-of-home executions, including billboards, wild postings, and drink coasters distributed to craft breweries throughout the West Coast. As an extension of the campaign, SPY will partner with theCHIVE on web advertising and social promotions, including an Instagram story, "bro starter kits," and "bro quotes."
The types of "bros" featured during the campaign will include:
Craft Bro: This bro may not be a brewmaster, but that won't keep him from telling you he's the master of brews.
Shop Bro: A guy who claims to know everything about anything in his local surf shop, which would be commendable if he actually worked there.
Gear Bro: The bro who brings Kilimanjaro-worthy gear on his car camping expeditions.
Dad Bro: The father that never grew up and is now reliving his glory days through his kids.
Frothy Bro: A surfer bro whose stories are always bigger than the waves in front of him.
Mountain Bro: Connected to nature and his parent's bank account, this bro lives the best of both worlds outdoors and wonders how anyone else could choose not to.
Moto Bro: Covered in neon and fueled by energy drinks, this bro only knows one speed on and off his motorcycle.
The "Bros Campaign" will extend through the end of July 2017. It was conceived and produced by the San Diego based creative agency, Carousel (http://crsl.co/). The media buy was facilitated by New York based agency, Media Gravity (http://www.mediagravity.com/) and San Diego based agency, Muscle Marketing (http://www.musclemarketingco.com/).
About SPY:
SPY is an unconventional, fun-loving family of athletes and artists committed to creating exceptional optical products. Established in 1994, we are an independent Southern California-based company.
We design products—sunglasses, goggles, and prescription frames—that take style cues from the outdoor sports community we're engrained in, as well as the lifestyle that surrounds it. Our exclusive Happy Lens technology is the only lens on the market which harnesses the beneficial aspects of long-wave blue light, while offering protection from short-wave blue light known to damage the eyes. The Happy Lens name comes from independent studies which have shown that long-wave blue light can positively affect a person's mood and alertness. To learn more about SPY, go to www.spyoptic.com.