Join Group Y for "101: Brand Marketing Through Music"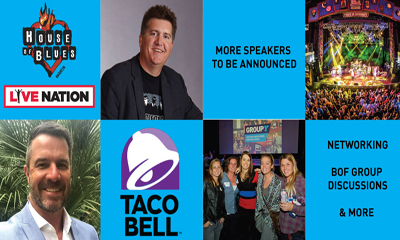 Join Group Y for "101: BRAND MARKETING THROUGH MUSIC," a networking and educational event taking place Tuesday, March 28th at the NEW House of Blues in Anaheim, CA.
This insightful event will feature top executives from LIVE NATION, HOUSE OF BLUES ENTERTAINMENT, TACO BELL and more sharing best practices for building an engaged brand utilizing music & live entertainment. Participants will hear from industry leaders about real world examples of successful initiatives they've led. 
> Find out why Music is, has been and will always be one of the best platforms to market to a young demo.
> How social and digital has changed the marketing landscape for the music industry.
> Learn about how Taco Bell's "Feed The Beat" helps fans discover new bands and bands discover new fans.
PRESENTERS
• JOHN BEHLING – EVP of Marketing –  LIVE NATION / HOUSE OF BLUES ENTERTAINMENT
• WILL BORTZ – Director, Brand Partnerships – TACO BELL
BOF GROUP DISCUSSION LEADERS
• Cristina Kown – Marketing Consultant – Fender
• Danny Evans – VP Marketing – Ethika
• Dave Curtin – Music Industry Exec.
• Eric Jacks – Chief Strategy Officer – Collab
• Tim Nickloff – VP Marketing – Incase
• Toni Wallace – Head of Music Brand Partnerships – United Talent Agency
• More To Be Announced
**SES Members get special discount on event admission – CLICK HERE
Attendees will also actively engage with the speakers as they participate in unique BOF "BIRDS OF A FEATHER" interactive group discussions. Each group will be presented with a real-life situation that relates to brand marketing utilizing music & live entertainment to collectively discuss challenges and find solutions. The results will be critiqued by our presenters and shared among those attending as well as on the Group Y website for future reading and discussion.
The "101" series was created to provide ongoing relevant learning opportunities to encourage professional growth among participants who work in Youth Culture & Marketing.
TIME
6:00pm – Check In, Networking, House of Blues VIP Tours, Drinks & Appetizers
7:00pm – 8:30pm – Intro & Presentations
8:30pm – 9:30pm – BOF Interactive Group Discussions
9:30pm – 10:00pm – Follow up Networking & Drinks
REGISTRATION
$40 – Event Registration – includes Presentations, Networking, Drinks & Apps, House of Blues VIP Tour & more.
EVENT SPONSORS: